Report: Isaiah Thomas working in scrimmages with teammates, staff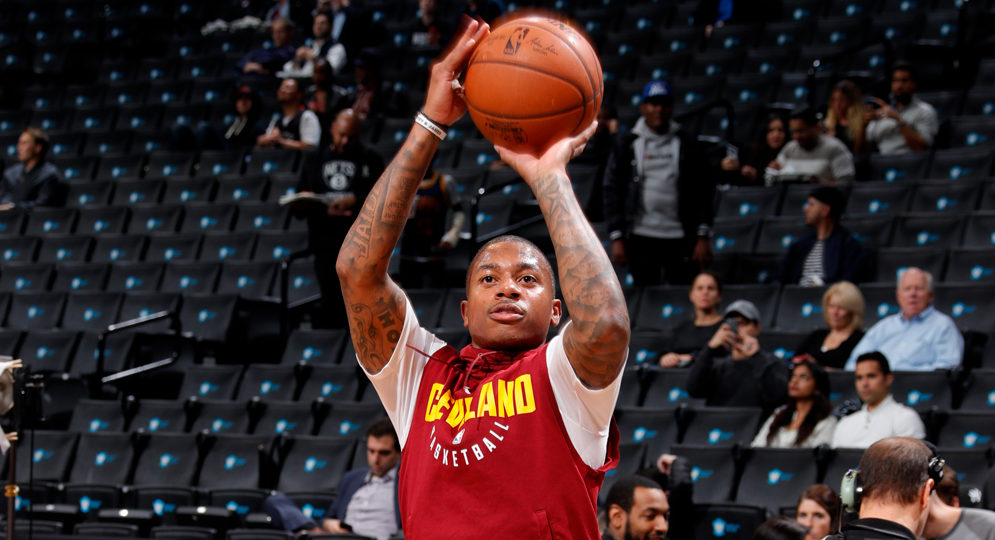 Cleveland Cavaliers point guard Isaiah Thomas is continuing to make progress with regards to his recovery.
As most hoops fans know, Thomas, now 28 years of age, suffered a hip injury during last season's Easter Conference playoffs. He was later traded to the Cavs in what became one of the bigger deals of the 2017 offseason.
Thomas' recovery, which some say is slightly ahead of schedule, seems to be going well. And in fact, the two-time All-Star was seen playing a game of four-on-four with several members of Cleveland's bench unit after Wednesday morning's practice at Cleveland Clinic Courts, including Cedi Osman and Ante Zizic. Tristan Thompson, who has been dealing with a calf injury, was also seen on the floor with his teammates.
Great to watch Isaiah & Tristan get some 4-on-4 action w/ some of the Cavs coaching staff right now following shoot around ..

… as other memebers of the coaching staff, LBJ, Jae & JR stick around to watch. #Cavs (positive steps)

— Allie Clifton (@FSOAllieOop) December 6, 2017
Isaiah Thomas and Tristan Thompson are playing 3 on 3 with staff and Cedi and Zizic. I'll have a ton of footage on it soon

— Joe Vardon (@joevardon) December 6, 2017
Isaiah Thomas and Tristan Thompson playing 4 on 4 this morning after Cavs shootaround. Tristan exploded for a dunk, Isaiah cutting on hip.

— Jason Lloyd (@JasonLloydNBA) December 6, 2017
– Via Marla Ridenhour of the Akron Beacon Journal:
– Via Joe Vardon of cleveland.com:
Thomas turned in some of the best statistical averages of his life for the Celtics last season. In his 76 games played, the crafty ball-handler averaged a career-high 28.9 points on .463 percent shooting from the field (career-high), 5.9 assists, 2.7 rebounds, and just under one steal (.9) per game — all while recording a career-high .909 mark from the free-throw line.
Without question, Thomas is itching to make his return. "That slow grind," as he often says when referring to his recovery process, is almost over.
The Cavs are now the second-ranked team in the Eastern Conference standings with a 17-7 record. They'll look to extend their impressive 13-game winning streak on Wednesday night when they take on the Sacramento Kings inside Quicken Loans Arena. Tip-off is scheduled for 7:00 p.m. EST with Fox Sports Ohio having live broadcast coverage.