On Monday night, the Cavs and former Cavaliers guard agreed on a two-year pact that would bring Mo Williams back to Cleveland to play with LeBron James in The Land. It was something that both sides seemed interested in and ready for, so the addition of Williams as a backup scorer will help the Cavs.
RELATED: 12 Free Agents The Cavs Should Go After This Offseason
Another former Cavalier, however, is also looking to make a comeback. Former Cavs forward Jamario Moon, who played with the Cavs from 2009-2011, has been looking to make an NBA comeback for some time now and has the Cavs on his radar. Of course, which free agent wouldn't have Cleveland on their radar?
Patiently waiting….

— Jamario Moon (@IAmJamarioMoon) July 4, 2015
My resume shows my dedication and determination. Nothing was given to me, so u know I'm built to work hard #iWillGetBack#NBAReturn#ImReady

— Jamario Moon (@IAmJamarioMoon) July 6, 2015
I would love to come back and crank that Defense up and ignite those fans in the Q! I'm ready! Let's make it happen! @cavsdan@cavs

— Jamario Moon (@IAmJamarioMoon) July 7, 2015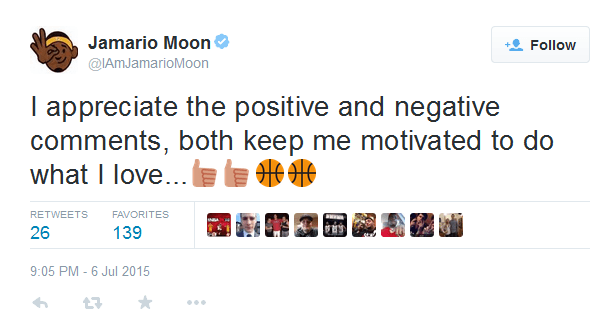 RELATED: 5 Best Trade Options For Brendan Haywood And His Valuable Contract
Moon averaged 4.8 points and 3.1 rebounds in 18 minutes for the Cavs over those two years, but was mainly used a lengthy and athletic defender in his heyday in the NBA. Moon made the transition to the NBA in 2007 after going undrafted in 2001. He's played for the Toronto Raptors, Miami Heat, Cleveland Cavaliers, Los Angeles Clippers, and Charlotte Bobcats (now the Hornets).
There's no word from anyone in the Cavs organization on whether or not Cleveland has interest in Moon's services.