In this editorial I'll be taking a look at how Cedi Osman could possibly fit in with the team, and the many reasons a Cavs fan should be excited about him. We'll start by reviewing the role he played on the team last year and highlighting some of his most intriguing attributes as a contributor.
Next we'll discuss his summer league and Turkish league performances and see what he's improved on over the offseason using film from those games. Finally we'll end on talking about a few possibilities regarding the role he could play this coming season.
Last Season Retrospective
Cedi Osman, a 23-year-old guard/forward from Macedonia and Turkey, played his first season with the Cleveland Cavaliers this season after being traded from the Minnesota Timberwolves on 2015 draft night.
The guard/forward played 61 games and averaged 3.9 points per game (PPG) playing 11 minutes per game (MPG), on 57.7% true shooting (TS). Though his stats don't jump off the page, many Cavs fans and players acknowledged his potential, skill, and general sense for the game.
With his positive attitude towards and infectious smile he's become a favorite of the fans and the players. LeBron James even took a liking to him. In a post-game presser following a victory over the Indiana Pacers in the playoffs with a 3 point buzzer beater, LeBron spoke on Cedi being one of the guys he celebrates with first (comparing it to the two's celebration following a buzzer beater vs. the Timberwolves):
"That's my guy. That's my rook. He's always on time, on target, so I found my guy once again. Deja Vu all over again."
Offense: On Ball and Off Ball
Cedi struggled to find minutes in the rotation last season, but when he did play, he played with an undeniable air of confidence, professionalism, and experience. He played as a primary ball handler in some of the lineups the Cavs ran.
In these lineups, I consistently noted that despite his confidence he always played within himself, and never tried to do too much. He found the open man, got to the rim, and limited his use of inefficient midrange jumpers, despite being able to make them. He also produced many highlight reel type plays when he was given the ball.
Some favorites from the regular season include this crossover on Anthony Tolliver, his full court pass to Kevin Love, and this entire game vs. the New York Knicks. In this game, Cedi was given the green light to handle the ball way more than usual, and almost racked up a triple double statline with 18 points, 7 rebounds, and 6 assists.
Cedi has also shown a lot of potential as an off-ball player. Last season he shot the 3 ball at a 36.8% clip, though it was only with 1.4 3 pointer attempts per game (3PA). Even considering the low volume, his shot looked fundamentally sound, and since the season has ended, he seems to have made improvements on his shooting form.
Aside from just catch and shoot situations, he proved his value as a cutter and especially a floor runner. Cedi loved to go coast to coast and finish at the rim, especially in the situations where the ball started in a teammate's hands. Many times last season LeBron would catch a rebound, Cedi would sprint to the other end, and LeBron would find Cedi for the easy finish.
That exact situation occurs in this clip and this clip. So, it's easy to see potential situations next season where perhaps Collin Sexton rebounds a miss from the other team, and Cedi is already on the other end out-hustling the defense and Collin finds him for some quick transition points.
Defense
Cedi has gained a bit of a reputation similar to what Matthew Dellavedova had during his stint with the Cavs as being a high-energy, hustle type player. Despite the Cavs' defensive struggles last season, Cedi proved himself to be an exception. Despite the sometimes lackadaisical attitude the team had on the defensive end at times, Cedi always showed up to defend with grit and hustle.
He's taken tough tasks with stride such as guarding Kyrie Irving during the February 11th game in Boston. In this clip, Cedi takes the challenge of defending one of the best isolation scorers in the league on national television – as a rookie. He goes hard above a tough Aron Baynes screen, stays in front of Kyrie, and makes him work to score.
Despite the possession ending with a foul called on Cedi, he is at the very least able to keep Kyrie honest and make him work to score. As he gains more experience, Cedi will become better at defending without fouling. For now, it's just good to see that he cares and hustles on that end of the floor.
With his youth, great size at 6'8″, and his above average wingspan and athleticism, he has potential to be even better as a defender than he is now. Cedi has showcased his defensive chops during crucial moments this season, including this clutch steal vs. the Washington Wizards to ice 17 point a Cavs comeback.
If the Cavs opt to run a switch-style defense next season (see: Houston Rockets), Cedi fits in perfectly as a player who can potentially switch onto anyone from the opposing point guard to power forward. All in all, there's a lot to like and look forward to when it comes to Cedi's development on the defensive end, based on his physical tools and what we've already seen from him.
Working in the Summer
Despite not receiving much playing time outside of garbage time in the 2018 playoffs, Cedi didn't let this get him down. He played shortly after the season ended on the Turkey national team in the FIBA basketball league. In FIBA he operated much like he did for the Cavs – as a ball handler, a fast break initiator, and a catch and shoot target. One of the most interesting things I noticed was the difference in Cedi's shooting form, compared to early in the NBA regular season.
Compare this catch and shoot three from early in the regular season to this catch and shoot three taken from a highlight reel of his plays in FIBA this year. In the FIBA clip (and in the rest of the highlight reel here), Cedi looks way more confident in his shot and seems to have his off shooting shoulder more rigid and less unstable so it doesn't disrupt the arc of his shot.
Doesn't it look familiar, like that of a certain sharpshooter on the team? Kyle Korver has been known to help out with the shooting mechanics of his teammates, and based on the most recent footage of Cedi's shooting, it seems pretty apparent that there's been some collaboration between the two, behind the scenes.
Cedi continued to show out in the Las Vegas summer league. Though he was only able to play 2 games, Cedi stuffed the stat sheet and put up 20 PPG, 8 rebounds per game (RPG), and 4.5 assists per game (APG) to go with 2.5 steals per game (SPG). Outside of just putting up great stats, Cedi benefited greatly from summer league by getting some run with Collin Sexton and Ante Zizic, two players he'll likely be getting a lot of minutes with next season.
Speaking of which, here a couple of examples of what I mean: Zizic dime and Cedi steal into catch and shoot from Sexton. Being one of the more experienced players on the summer league roster, Cedi had to take on more of a leadership role. He took on this duty with stride, and looks forward to his increased responsibility on the team next season. When asked about his feelings on leading the summer league team, following a victory against the Wizards, he responded:
"You know, it's great for me that the coach and team trusted in me and give me the opportunity to take a couple of shots to lead the team. I feel great, tired a little bit, but it's all good. I mean, I struggled a bit today, but I'll be better."
Following the summer league, Cedi continued to put in work. A certain photo in recent weeks went viral in the basketball world:
Though Cedi may already be at the pinnacle of small forwards in the NBA, even he can learn a few things from the up-and-comers around him. It appears that he's really stepping into greatness with good company. Even after LeBron signed his recent deal with the Los Angeles Lakers, LeBron continues to work with him. Looks like they've forged a bond for a long time to come! As Cleveland fans would know, LeBron is a pretty good player to learn from – especially for a versatile guard/forward like Cedi.
Looking Ahead: What's his role?
Now that we've taken a good look at what Cedi has already done for the Cavs during the regular season and summer league, and discussed some of his strengths, we can begin to envision the kind of role he could play on the team next year.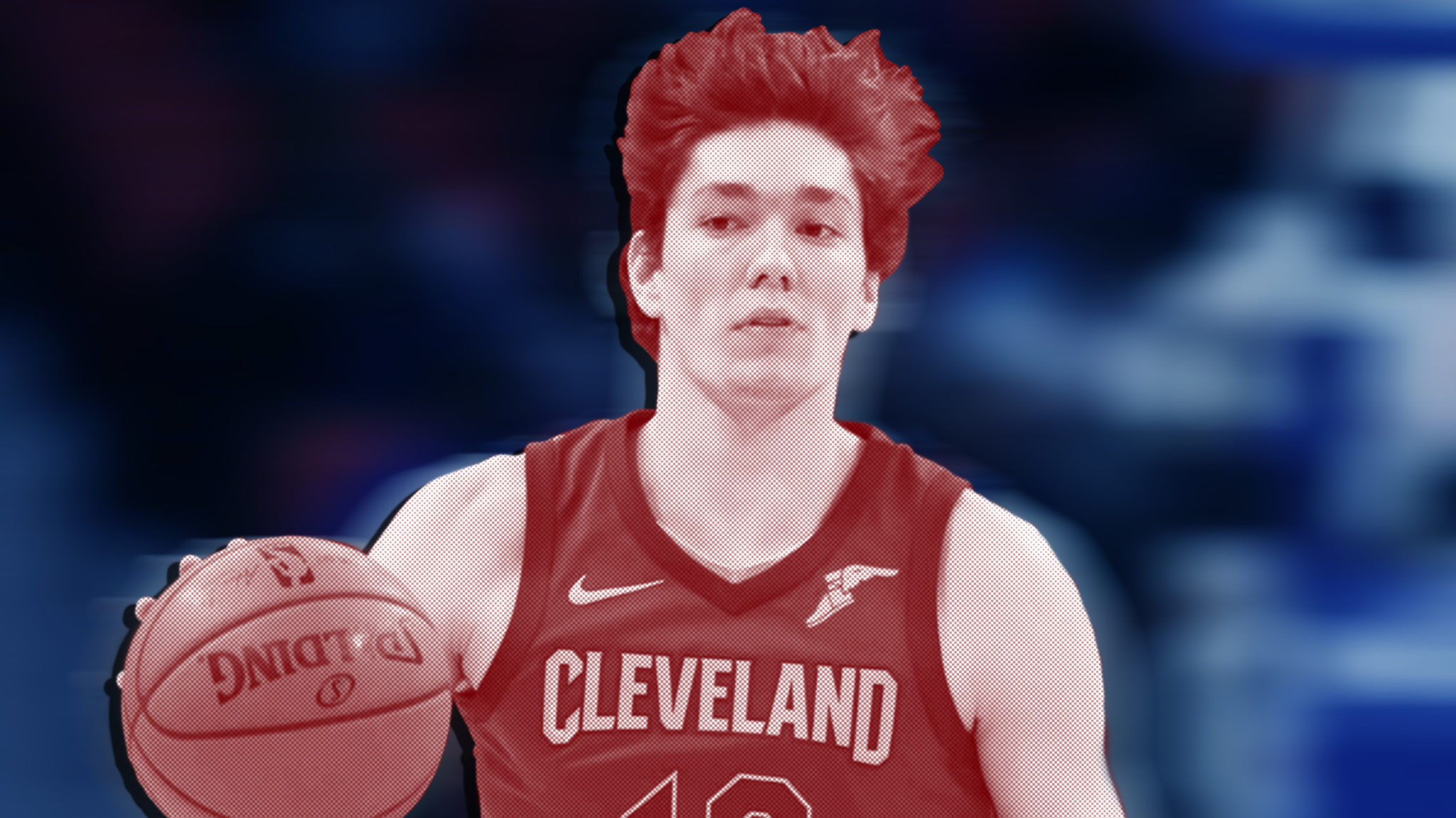 First of all, what position could Cedi even play? Conventional wisdom tells us he's a small forward, and according to Basketball Reference's positional estimator he played most of his minutes at the 3, though he also split the remainder of his minutes at shooting guard and power forward. So, this shows us that position-wise he's able to fit into the "positionless basketball" that's becoming more popular around the league.
He's quick enough and has the body type to stay in front of guards and not get bullied easily by forwards. I can see him being a defensive lynchpin on next year's team if he's given starter or 6th man type minutes. His energy and hustle will prove infectious and inspire other Cavs players to play as hard as they can on both ends.
Furthermore, I can envision a reality where Cedi possibly starts at the 3 next season, or starts midway through the season after some time coming off the bench. In a starter role he'll likely play more off ball assuming players like George Hill and Collin Sexton handle the ball more.
So as shown in an earlier highlight, I can see a lot of situations where Cedi is on the receiving end of a catch and shoot, or is running the floor to receive a full court pass for easy points. He plays smartly and makes the right play, so ball handlers on the team can be confident when deferring to Cedi that he'll play within himself, and find the open man.
I can also see him possibly having a bench role for the team. To be sure, I believe he's capable of starting, but coach Tyronn Lue may decide his talents are best utilized coming off the bench. Against other team's bench units Cedi could operate as a floor general thanks to his feel for the game.
He can zip passes to players cutting to the basket, drive and dish, or defer to say an Ante Zizic posted up on a mismatch and space the floor on the perimeter. With his prowess as a rebounder he should also help the Cavs' second unit run the floor and generate fast breaks when Collin Sexton (who will likely run a lot of fast breaks with the first unit) isn't in the game.
The best part of all of this, however, is that no matter what role Cedi Osman is slotted into next season, there are no doubts in my mind that he will exceed expectations and contribute a needed energy to the team. Whether he's the starting 3 or coming off the bench, he'll embrace his role and give Cavs fans even more to be excited about with next year's team. That's just who Cedi is as a player.
In Conclusion
A player with Cedi Osman's physical tools and basketball sense is a great thing to have in today's NBA. The Cavs seem to have really hit on the second round selection here, as Cedi has already shown improvement this summer and has the right approach to the game.
His hustle and energy go far beyond just his physical tools and make him into a veritable threat on both ends of the floor. He's learning from some of the best, and has put in the work to become better. Myself and many other Cavs fans are eager to see the role he has and what he will contribute to the team. Watch out, because it's Cedi szn.