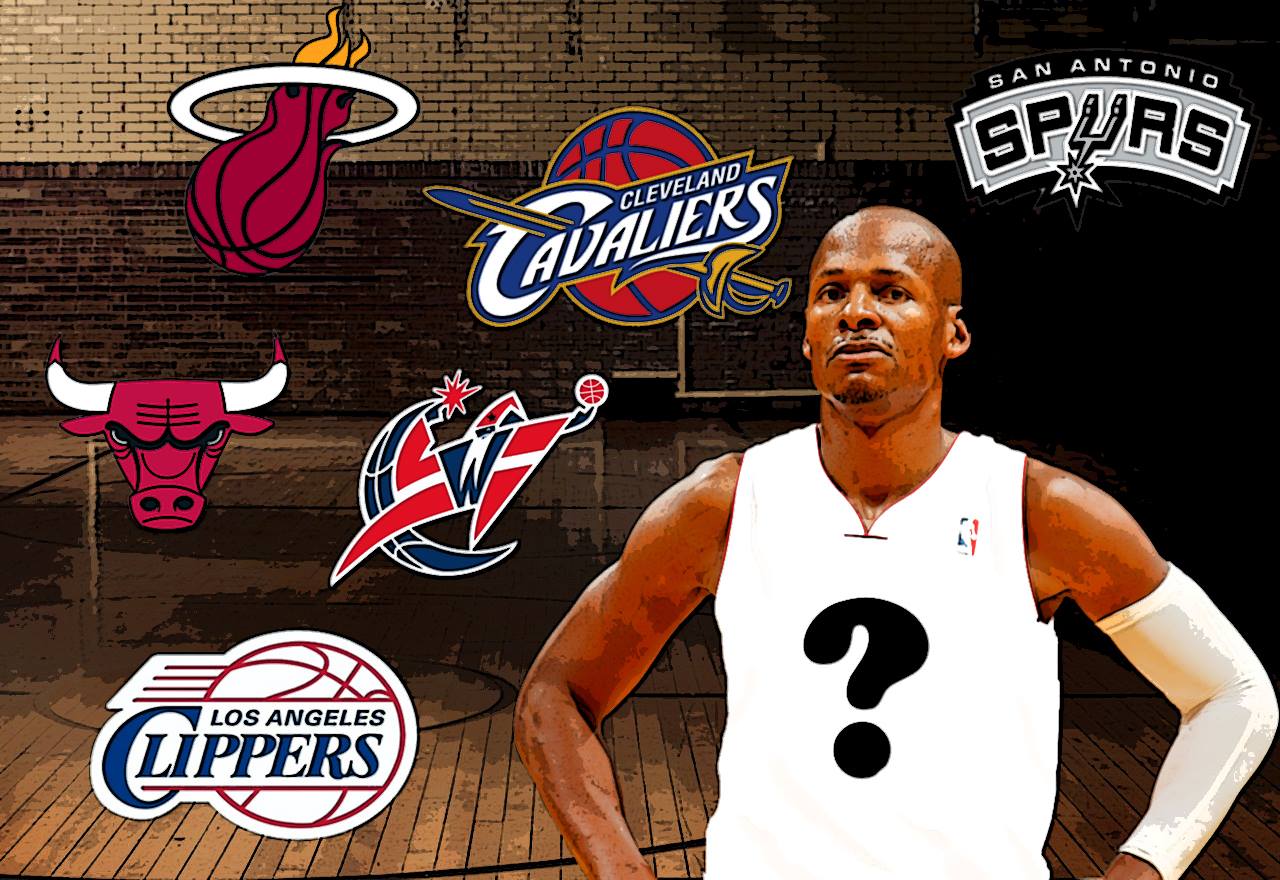 Cavs Nation's Matt Thomas
Out of all the popular free agents from this past summer, one big name has yet to decide whether or not he wants to return to the NBA let alone his next team. Shooting Guard Ray Allen, who is entering his 19th year in the NBA, is arguably the best available free agent right now. In his latest season with the Miami Heat, Allen averaged 9.6 PPG while shooting 37.5% from deep. Thus far in his career, Ray Allen has averaged 18.9 PPG and 4.1 RPG, holding the NBA's 3-point shooting crown with a 3-point shooting percentage of 40.0% and nearly 3,000 jumpers made from beyond the arc.
Shortly after the Miami Heat fell to the San Antonio Spurs in 5 games in the 2014 NBA Finals, Allen announced that he would take some time off to vacation and then decide whether or not to come back. While the season tip-off is still about a month away, we expect Ray Allen to make a decision soon, so that he can get acclimated with his (potential) new team and contribute on and off the court. Although there is speculation around potential retirement, Allen is known for his impeccable workout discipline and it is widely assumed throughout the NBA that he will return for at least one last season.
The San Antonio Spurs, Los Angeles Clippers, Washington Wizards, Chicago Bulls, Miami Heat and, of course, Cleveland Cavaliers are all rumored to be in the running to land Ray Allen if he elects a 19th season. Given his ability to perform in the clutch, which team will Allen most likely pick? Will it be the Cavs? We break it down, starting on the next page!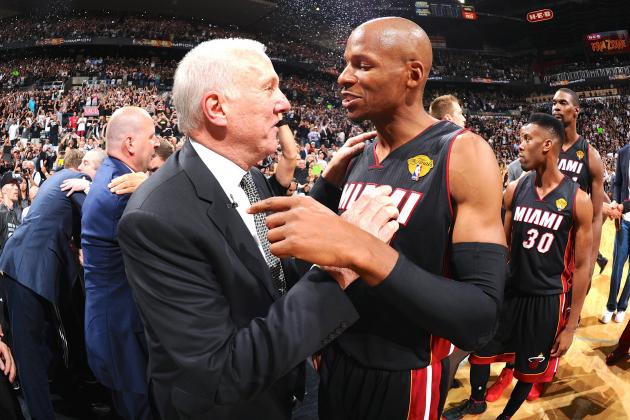 Getty images
San Antonio Spurs

After winning the 2014 Finals, the Spurs are gearing up for another run at a title after retaining most of their championship roster under Head Coach Gregg Popovich. They already have many players for their backcourt, including PG Tony Parker, SG Manu Ginobili, SF Kawhi Leonard, PG Patty Mills, SG Danny Green, and SG Marco Belinelli. This Spurs roster already has a good combination of veterans and younger players with flawless chemistry as well as a bench with plenty of shooting ability, making any additional veteran support or shooting unnecessary. Spurs are likely just being diligent by pursuing Ray Allen as a rare but gratuitous opportunity.
Chances of Allen signing with the San Antonio Spurs: 0%


Mike Ehrmann/Getty Images
Los Angeles Clippers

With Steve Ballmer as the new owner, along with franchise coach Doc Rivers and players Chris Paul and Blake Griffin, everything seems to be going right for the Clips. While they have had problems in the past with getting past the second round of the playoffs in the tough western conference, their confidence is running high for the upcoming season. They also have many role players, including SG JJ Redick, SF Matt Barnes, SG Jamal Crawford, PG Jordan Farmar, SG Reggie Bullock, SF Chris Douglas-Roberts, and SF CJ Wilcox.
With such a deep bench, the Clippers do not need another shooter. In addition, it was reported earlier this week that Doc Rivers announced that the Clippers are out of the contention for Ray Allen, as they decided as a team that they no longer are pursuing Ray Allen.
Chances of Allen signing with the Los Angeles Clippers: 0%


Issac Baldizon/NBAE via Getty Images
Washington Wizards

Following a more-than surprising playoff run into the Eastern Conference Semifinals, the Washington Wizards hope to build off last season's success to make a push to the Finals. While Allen would be very welcomed by the team, Coach Randy Wittman seems to be aiming for a younger team, which alienates Ray Allen.
The Wizards already have PG John Wall, SG Bradley Beal, SF Martell Webster, along with the leaders of the Wizards' summer league team: SF Otto Porter and SG Glen Rice Jr., and free-agent signee SF Paul Pierce.
Allen's name has always been tied to the Wizards, most likely dating back to his years playing for the Boston Celtics, where he, Paul Pierce, and Kevin Garnett formed a big 3. The Wizards would probably prefer giving playing time to the younger players rather than a player approaching his 40's.
Chances of Allen signing with the Washington Wizards: 10%


Getty Images
Chicago Bulls

With the much-anticipated return of Derrick Rose, the Chicago Bulls are a prime contender for the Eastern Conference crown. They have never been a team to shy away from free agents, as they recently signed PF Pau Gasol, F Nikola Mirotic, and PG Aaron Brooks. In addition to returning players SF Jimmy Butler, SG Tony Snell, and SG Mike Dunleavy Jr, the Bulls also drafted SG Doug McDermott.
While playing with Rose under his former assistant coach Tom Thibodeau is very appealing, the Bulls most likely would not be able to offer Allen much playing time, which could be a deal-breaker.
Chances of Allen signing with the Chicago Bulls: 20%


Garrett Ellwood/NBAE/Getty Images
Miami Heat

At the beginning of Free Agency, the Miami Heat renounced their rights to Ray Allen in order to remove his potential salary from their salary cap as to create space for potential free agents such as SF LeBron James, SG Dwyane Wade, PF/C Chris Bosh, PG Kyle Lowry, and SF Luol Deng, among others. By doing this, the Heat can only re-sign Allen at the Veteran's Minimum salary, which is projected to be $1,399,507 for a 10+ year NBA veteran such as Allen.
While returning to the heat seems like a viable option, Miami seems to have moved on from Allen, re-signing Wade and PG Mario Chalmers, while also signing F Danny Granger, SF Luol Deng, SF James Ennis, SF Shawn Williams, SF Reggie Williams, SG Shannon Brown, SG Tyler Johnson, and PG Toney Douglas, and drafting PG Shabazz Napier.
Although the Heat have more than enough shooters who can knock down threes, it wouldn't hurt for them to have another veteran leader with championship experience on their team. In addition, Allen's bond with Heat coach Erik Spolestra and previous teammates Udonis Haslem and Dwyane Wade should not go unnoticed.
Chances of Allen signing with the Miami Heat: 15%


Steve Mitchell-USA TODAY Sports
Cleveland Cavaliers
RECOMMENDED
The Cavaliers had by far the busiest and most successful offseason in the NBA, signing SF LeBron James, the best active player in the NBA. In addition, they also traded first overall pick Andrew Wiggins and some other pieces to the Minnesota Timberwolves in exchange for All-Star PF Kevin Love. Through Free Agency, the Cavs also picked up SF James Jones, SG Mike Miller, and SF Shawn Marion in addition to retaining SG Dion Waiters, PG Kyrie Irving, and PG Matt Delladova.
Although the Cavs seem to have quite a bit of depth in their backcourt, half of those players are fast-approaching 35 years old, which means that playing time has to be cut. In comes Ray Allen, who can provide a spark off the bench, even if he only gets 15-20 minutes a game. The bond that Allen has with LeBron James, Mike Miller, and James Jones will definitely have an impact on Allen's decision, as they have publicly announced their desire to once again play with the NBA leader in 3-pointers made.
Although the Cavs most likely cannot offer Allen very much money, he will still be attracted by the fact that the Cavs give him the best chance to another championship in what will likely be his last stand in the NBA.
Chances that Allen signs with the Cleveland Cavaliers: 50%

If you did your math correctly, there's still a chance for something else to happen.

Associated Press
Throwing in the Towel

Ultimately, assuming that Ray Allen returns for a 19th season, we see him joining James and Miller on the Cleveland Cavaliers. The Cavs give him the largest chance to win another championship while also playing with his close friends and getting substantial playing time.
That said, Ray Allen has not ruled out retirement:
"I'm not in any rush [to make a decision]," Allen said at his basketball camp, per Don Amore of the Hartford Courant, earlier this month, "I've played 18 years, and the way I look at my career, I'm content with everything that I've done. I just want to take this summer and see how it goes."
Regardless, we hope to see Ray Allen in Wine and Gold. If no one can have him, then we wish him the best for the rest of his endeavors.
Chances that Allen decides to end his spectacular career: 5%