VIDEO: LeBron James, Kyrie Irving Break Down In Laughter As Mo Williams Crashes Interview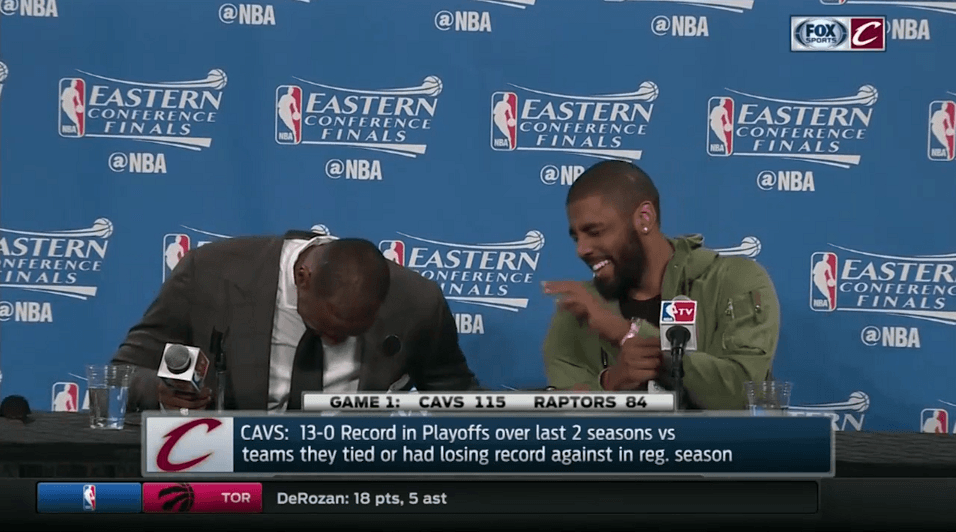 LeBron James and Kyrie Irving combined for 51 points on 22/30 shooting from the field, a whopping 73%. Aside from their highly efficient scoring, they also combined for eight rebounds, 11 assists, four steals, and three blocks. It was an outstanding performance by the duo, and one that helped the Cavs to an easy Game 1 victory.
RELATED: VIDEO: Kevin Love's Comparison Of LeBron James And Kyrie Irving Leaves LeBron Hilariously Speechless
After the game, both took to the podium to speak with the media. During the interview, however, a certain party crasher decided to hop in and take it all in. Mo Williams entered the podium room, where he started taking pictures and recording James and Irving. The two had to stop answering questions for a few seconds because they could not contain themselves.
Mo Williams crashes LeBron and Kyrie's postgame interview #CavsNation pic.twitter.com/4v4CXKGXKR

— Cavs Nation TV (@CavsNationTV) May 18, 2016