Cavs head coach Tyronn Lue has high praise for Pacers swingman Paul George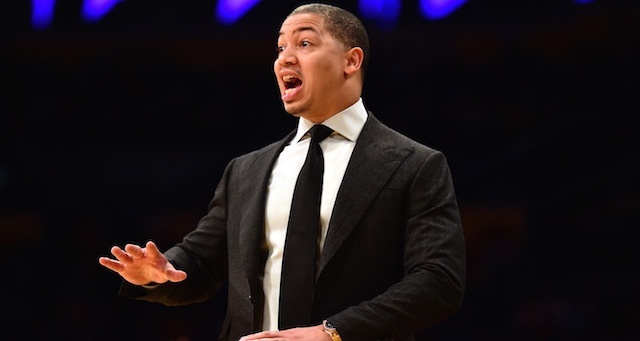 Tonight, the defending champion Cleveland Cavaliers will square off against the Indiana Pacers inside Bankers Life Fieldhouse at 7:00 p.m. EST for Game 3 of their first-round matchup in the 2016-17 NBA Playoffs. Currently, the Cavs are leading the series, 2-0.
Prior to this morning's shootaround session in Indianapolis, Cavaliers head coach Tyronn Lue spoke to members of the media with regards to Pacers swingman Paul George. The second-year coach says George doesn't have many weaknesses.
Via Chris Fedor of Cleveland.com:
"He really doesn't have a weakness offensively," coach Lue said of George. "He can also pass the ball out of double teams. It's a tough cover and we know we have to do it by committee and not just one person. Then we have to throw a lot of bodies at him and a lot of different looks."
Coach Lue is right about needing to cover George by committee. In his first two games of this series, George is averaging 30.5 points (48.7 percent from the field and 55.6 percent from beyond the arc), 7.0 assists, and 6.5 rebounds in 41.5 minutes per game.
"Paul George one on one has given us some problems, which we expect," Lue continued. "But overall I thought our effort and energy, attention to detail was there. The focus was there. That third quarter was really a meaningful quarter for us for that game. Just continuing to put it together like that and we'll be fine."
This marks the fourth postseason meeting between George and LeBron James. However, as most basketball players and fans know, every series is different in its own right.
"Each game has its own challenges," James said after today's shootaround. "So today is Game 3 and we look forward to the challenge."

"Paul George is one of those type of players that you have to just have your eyes on him every single possession because he's capable of hurting you," James said. "As a defense, it's not just the guy that's guarding him, it's the other four guys as well. It's the bench communicating as well, talking to you, knowing where he's at and just trying to make it difficult on him."