Tyronn Lue has to figure out minutes distribution with complete roster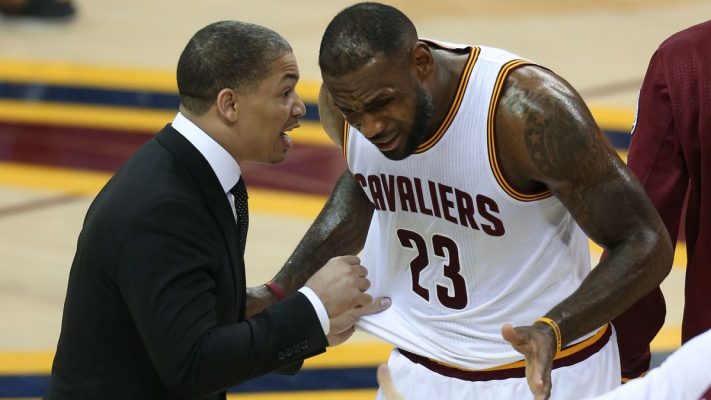 The Cleveland Cavaliers have arguably the deepest team in the NBA once Andrew Bogut makes his Cavs' debut on Monday night against the Miami Heat. A team that made just one trade since the regular season started, bringing Kyle Korver to Cleveland, has turned Mike Dunleavy, Chis Andersen, and Jordan McRae into Korver, Deron Williams, Derrick Williams, and Bogut. Here's a look at the Cavs' depth chart starting Monday:
PG: Kyrie Irving – Deron Williams – Kay Felder
SG: J.R. Smith* – Iman Shumpert – DeAndre Liggins
SF: LeBron James – Kyle Korver – Richard Jefferson – James Jones
PF: Kevin Love* – Channing Frye – Derrick Williams
C: Tristan Thompson – Andrew Bogut
* – injured
With this team full of weapons, coach Tyronn Lue is tasked with an even tougher job that before. The Cavs have arguably 12 guys Lue can throw out there on a nightly basis and expect production on both ends of the floor. Cleveland got a much needed talented and veteran playmaker to come off the bench in Deron Williams, a much-needed backup for Tristan Thompson at the center position, and an wing who can hit the outside shot as well as soar to the basket with his athleticism.
Lue's biggest problem now is finding consistent minutes to keep every one of those players in rhythm and happy. Let's not get anything twisted: every player on this Cavs team from 1-15 knows their role, but playing time is significant when it comes to staying in rhythm. Via Joe Vardon of Cleveland.com:
"I don't know how I'm going to use all of these people I got yet," Lue said. "I got three new players coming back. Got J.R., who we haven't seen in a long time, got Kevin, and now we've got Bogut. And now we're trying to implement (Deron Williams) right now, so.

"It's going to be a process but it's a great process to have when we've got great players that now we have a roster of 12 guys that should be playing. That's always a good thing to happen."
After the injuries to J.R. Smith and Kevin Love prior to the All-Star break and NBA trade deadline, the remainder of the Cavs season looked like it would be a roller coaster ride with no backup for LeBron James, Kyrie Irving, and Tristan Thompson, all of whom were playing heavy minutes. Fast forward a couple weeks, and General Manager David Griffin has found a very solid backup for each of those players.
In the postseason, teams tend to rely heavily on their starters as well a bench player or two as the rotations are trimmed. Here's a look at Lue's rotation from the seven-game series in the 2016 NBA Finals, via Basketball Reference.
Tyronn Lue's got quite the job ahead of him in terms of minutes distribution, but it's a great problem to have. When asked about his rotations possibly reaching nine players, Lue was very open to it.
"Oh, for sure," Lue said.