For the fifth straight game in the Eastern Conference Finals, the home team won. The Cleveland Cavaliers are now down 3-2 to the Boston Celtics after falling in gGame 5 96-83. The team as a whole performed terribly, but head coach Tyronn Lue made some puzzling decisions that might be the easiest to blame for the loss.
Throughout the entire game, the Cavs looked tired and disinterested. As soon as the game began, some odd situations took place that prevented Cleveland from getting into a rhythm.
For example, after scoring 10 points in the first quarter, Kevin Love picked up his second "foul" with 47 seconds left, which sent him to the bench. Love would score four points over the remainder of the game. There were multiple instances of him getting a good look, but the ball bounced out of the rim after it was halfway down. Love also had seven rebounds, two blocks, two steals, and two assists. The Cavs need to find a way to get him the ball more after the first quarter.
Tristan Thompson scored one point. J.R. Smith went 1-6 from the field and finished with two points to go along with five fouls. George Hill had seven, but made just one field goal. Jordan Clarkson made two three-pointers in a row, but scored just two points aside from those. The bench unit as a whole underwhelmed greatly, and their lack of effectiveness was made worse because the starters didn't play well either.
Even LeBron James had a pedestrian outing. 26 points, 10 rebounds, and five assists is good, but it wasn't good enough to cover for the rest of the team. James also had six turnovers, bringing his total for the series to 29. The Cavs were down by 16 to begin the fourth quarter, and James went 1-4 with two turnovers in the final period.
Aside from James, the Cavs' best player throughout this postseason has not been Kevin Love. It has been Kyle Korver. Korver scored seven points in 18 minutes, which isn't great, but it's when Korver didn't play that has created such an uproar.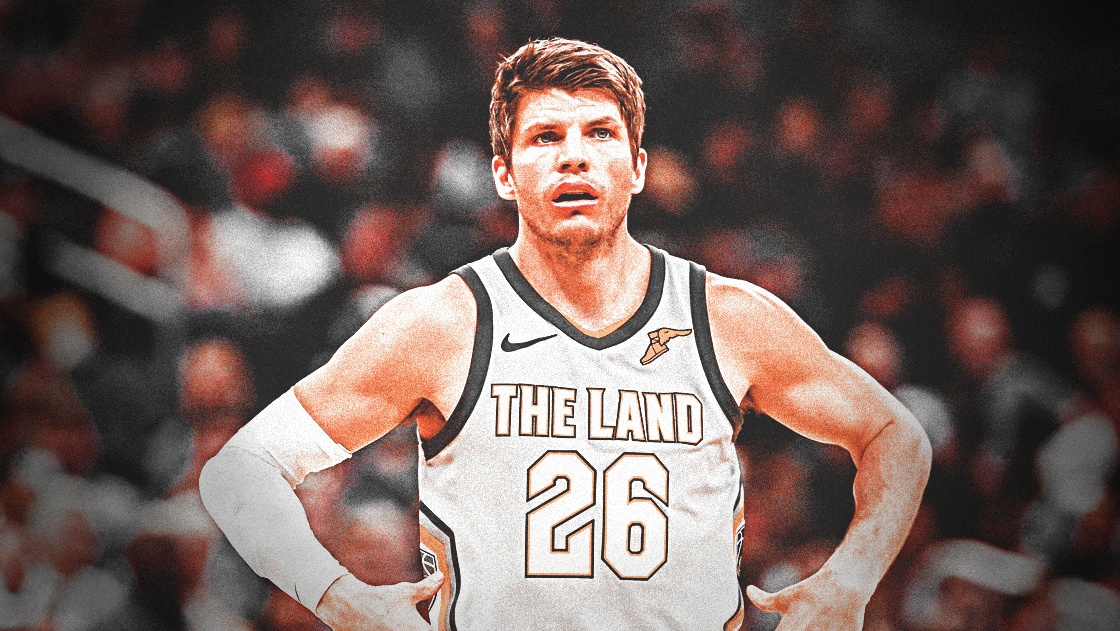 Cleveland was outscored in the first quarter by Boston 32-19. Korver did not play at all in the first period. Why? Tyronn Lue said that Brad Stevens' decision to not play rookie Semi Ojeleye "threw the Cavs through a loop". Lue said that he would insert Korver into the game when Ojeleye checked in, as Lue felt like that was Korver's best matchup. This is entirely understandable, and Lue is probably correct.
What is not understandable is why Lue would decide if he's playing his second-best player based on if the opposing team plays its ninth or tenth best. Did Lue not think that Celtics coach Brad Stevens realized that Ojeleye had a matchup disadvantage, and reduced his minutes to negate that?
It's not like Ojeleye had been a key rotation member in the series before Game 5. His minutes per game were 15, 9, 25, 9. The two larger numbers came during garbage time, as the Celtics were on both ends of blowouts during those games.
This was a very foolish strategical move by Lue, and it calls into question his decision making. Not only did he gameplan Korver's minutes around a rookie third-stringer, but he also assumed that the opposing coach would keep his rotation identical to the one that was beaten twice in a row.
Korver's playing time wasn't the only questionable decision that Lue made on Wednesday. When Korver was on the court, he didn't have much help. James, Love, and Korver shared the floor for only four minutes. They are the Cavs' most consistent and highest-scoring players — and they hardly played together.
Instead of putting his best players on the court at the same time, Lue concocted such lineups as Jordan Clarkson, J.R. Smith, Kyle Korver, Jeff Green, and Larry Nance Jr; and George Hill, Smith, Green, Nance, and Tristan Thompson.
After Love's "foul" that nearly sent Jayson Tatum to the locker room, Lue sat him. Usually, players aren't benched for foul trouble until they've picked up three fouls, but not in this case. Oh, and Love had zero fouls for the rest of the game despite playing a total of 30 minutes and being active on the defensive end.
It's abundantly clear that the Cavs beat themselves, both by poor coaching and poor offensive efficiency. 9-33 from beyond the arc just isn't good enough to win a playoff game against a good team like Boston. Cleveland shot 43% from the field and 63% from the line; neither number is great.
Boston, however, made 21 of their 23 free throw attempts and shot 33% from deep (13-39), despite shooting just 36% from the field. The starting backcourt of Terry Rozier and Jaylen Brown combined for 25 points on 7-30 shooting. The Celtics didn't put on a great offensive performance, but they still won by 13. And they're doing it without their two best players, All-Stars Kyrie Irving and Gordon Hayward. Imagine how they'd be playing if both those players were healthy.
The Cavs are now in danger of missing the NBA Finals for the firs time since the 2013-2014 season. But there could be more riding on Game 6 than just the loss of a streak. With the way his supporting cast has performed in crunch time, LeBron James shouldn't be enamored with returning to Cleveland and trying to win another NBA Championship with this team. The Cavs need to focus and win this series, because one more loss could mean so much more than just a loss.
Tyronn Lue also needs to get his stuff together.