Tyronn Lue says Cavaliers were 'being too nice' in Games 1 and 2 versus Warriors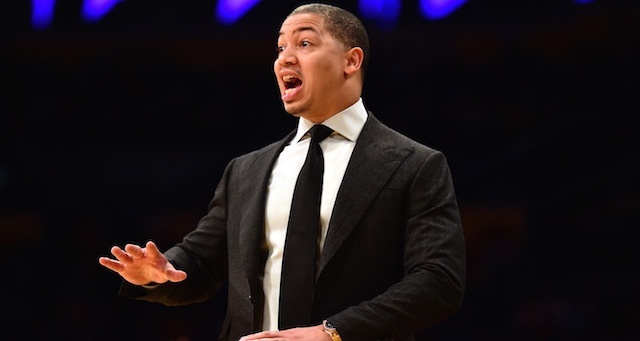 As expected, the NBA Finals matchup between the Cleveland Cavaliers and Golden State Warriors took a different complexion when the series shifted to Northeast Ohio. Although the defending champions lost Game 3 in heartbreaking fashion, the Warriors' aura of invincibility was clearly shaken.
The Bay Area team was simply overpowering their opponents in the first two games, winning both in convincing fashion and virtually crowning themselves with their unbelievable play.
However, Cleveland's Game 4 win was a different story altogether. It was a night filled with fireworks with the Cavs on a historic zone. But for coach Tyronn Lue, there was one huge, and underrated, difference that his troops displayed while facing the possibility of being swept by the Warriors.
"I thought the first two games we were being too nice," Lue told reporters, via ASAP Sports. "The first three games, helping guys up off the floor, smiling, talking to guys and – yeah, I didn't like that. So I think Game 4, talking trash, being physical, whatever you got to do to try to get that edge to win, you got to do it."

"Our mindset has to be winning games and not smiling back and forth or talking and playing," Lue said. "I mean, they're coming right after us, so we have to go after them. I don't see anything's funny or anything's to smile about. So hitting and being physical and just everything they do to us in the first three games, we have to do that."
Simply put, the Cavs turned into a meaner team. Cleveland never took its foot off the gas pedal after dictating the tone from the onset. The Warriors had tough-as-nail players, but the Cavs never flinched. Instead, they answered back on every Warrior run that threatened their control of the game.
This is the Finals and the Cavaliers are up against a totally different Warriors team from the one they upset last year.
When the ball goes up to tip off Game 5, the hot shooting that Cleveland displayed in their previous game isn't a cinch to resurface. But what they can control is their grit and tough play that they hope would not only counter Golden State's volatile offense, but also silence an ever so raucous Oracle Arena crowd.