During the busy 2014-15 offseason, a number of teams have revamped their lineups. With the season only days away, Cavs Nation looks at the Top 5 Starting Lineups in the NBA that will be put out on opening night. These rankings are not set in stone, as injuries and development will change this list entirely by the end of the season. However, when the season starts, these are the 5 best starting lineups. Start the countdown on the next page:
Glenn James – Getty Images
#5 Dallas Mavericks
PG – Jameer Nelson/Devin Harris
SG – Monta Ellis
SF – Chandler Parsons
PF – Dirk Nowitzki
C – Tyson Chandler
The Mavericks' offseason may have gone unnoticed, but Dallas is probably in its best position it has been in since winning the NBA Championship in 2011. Most of that is because of the veterans they added to their starting lineup. Tyson Chandler was brought in with Raymond Felton early in the offseason, and although he may not be the defensive force he was in 2011, he will still anchor the Mavs defense in a tough Western Conference. Chandler Parsons' signing with the Mavs was surprisingly not matched by the Rockets. In case you missed it, Cuban, Parsons, as well as Parsons' agent telephonically agreed on a contract; later that night, Cuban appeared before Parsons in a nightclub, inking him to the unmatched deal right then and there while showing the importance of bringing him to the team. Lastly, Dallas signed free agent Jameer Nelson, and although he has struggled since the departure of Dwight Howard in Orlando, the Mavs are hoping he can rediscover his shooting stroke alongside Dirk Nowitzki, Monta Ellis, Chandler Parsons, and Tyson Chandler.
Sam Forencich – Getty Images
#4 Portland Trailblazers
PG – Damian Lillard
SG – Wesley Matthews
SF – Nicolas Batum
PF – LaMarcus Aldridge
C – Robin Lopez
The Portland Trailblazers young squad made their first playoff appearance with their new core and head coach. They successfully avoided losing prized center LaMarcus Aldridge in a massive rebuilding stage following the loss of Brandon Roy to career ending knee injuries. Following solid draft picks and their players' improvements in the offseason, Portland has a very solid defense in addition to the offensive starting lineup featuring 2 All Stars behind 3rd year head coach Terry Stotts. In the 2013-2014, many argued that the Blazer bench was not strong enough to compete with the rest of the league, but the starters who carried them to a 54-28 record in Lillard, Matthews, Batum, Aldridge, and Lopez all return for the 2014-15 season even better. Look for the Blazers to make some possible noise in the playoff behind their now experienced lineup.
Randy Belice – Getty Images
#3 Chicago Bulls
PG – Derrick Rose
SG – Jimmy Butler
SF – Mike Dunleavy
PF – Pau Gasol
C – Joakim Noah
Chicago has perhaps the 2nd most potential offensive talent in the league. After drafting Doug McDermott, signing Pau Gasol and Nikola Mirotic, and revitalizing their 2011 MVP Derrick Rose, there's no doubt the Bulls are dangerous. With a starting lineup consisting of Derrick Rose, Jimmy Butler, Mike Dunleavy, Pau Gasol, and Joakim Noah, Chicago will be a force to be reckoned with on both sides of the ball; but one can only wonder how injury free they can stay. Derrick Rose has only played 49 of the last 230 regular season games and Gasol as well as Noah have both been prone to injuries over full 82-game seasons. With Coach Tom Thibodeau, defense will be easier to play with Jimmy Butler, Taj Gibson, and Noah, but the offense is where we expect to see a major improvement. Although defensive stalwart Taj Gibson can replace either Gasol or Noah in the lineup, there's always the possibility that they stay healthy, and if they do, they could have one of the league's best records behind one of the best starting 5s.
Gregory Shamus – Getty Images
#2 Cleveland Cavaliers
PG – Kyrie Irving
SG – Dion Waiters
SF – LeBron James
PF – Kevin Love
C – Anderson Varejao
Here we are. Following the fun-filled offseason for Cleveland fans, their Cavaliers have arguably the best team the NBA has seen in a very long time. After getting LeBron James in free agency and acquiring Kevin Love through a trade with Minnesota, Cleveland now has a championship-contending starting 5. Kyrie Irving is better than ever after leading Team USA to the Gold Medal, an energetic Anderson Varejao is now healthy, and Dion Waiters is looking like an excellent shooting guard after dramatically improving in the summer. From a pure talent perspective, the Cavs seem to have everyone beat. Health and chemistry will be key for how far the Cavaliers go this season; but since both of these factors haven't been verified and since these five haven't played together for long, putting them on top of this list is hard to justify. Who takes the crown for the best starting 5 heading into the season?
Stephen Dunn – Getty Images
#1 Los Angeles Clippers
PG – Chris Paul
SG – J.J. Redick
SF – Matt Barnes
PF – Blake Griffin
C – DeAndre Jordan
After a lot of analysis, Cavs Nation believes the Clippers have the best 5 starters going into the 2014-2015 season. Led by a tremendous head coach in Doc Rivers, the Clippers have developed a 3-headed monster in their starting lineup with facilitator Chris Paul, scoring virtuoso Blake Griffin, and defensive monster DeAndre Jordan. Add in the dead-eye shooter in J.J. Redick, who cracks defenses with his ability to move without the ball and find open looks and the overall basketball toughness of the experienced Matt Barnes, and the Clippers once again have a very solid starting lineup that's looking to lead the way for the franchise's first ever Western Conference appearance. It won't be easy going through the San Antonio Spurs or the Oklahoma City Thunder, but Los Angeles has arguably the best point guard and power forward combination in the NBA next to Kyrie Irving and Kevin Love. What gives them the edge is there experience, consistent health and proven chemistry.
Who didn't make the cut but deserves it? Find out: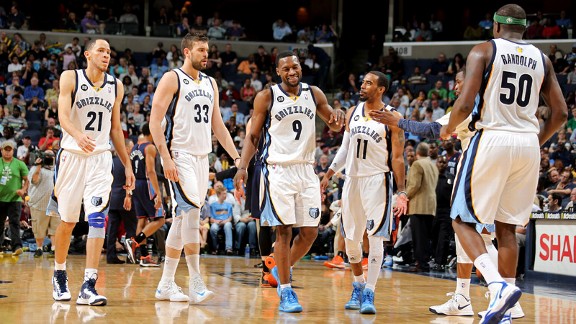 Joe Murphy/NBAE/Getty Images
Honorable Mention: Memphis Grizzlies
PG – Mike Conley
SG – Tony Allen
SF – Tayshaun Prince
PF – Zach Randolph
C – Marc Gasol
Getty Images
Honorable Mention: Golden State Warriors
PG – Stephen Curry
SG – Klay Thompson
SF – Harrison Barnes
PF – David Lee
C – Andrew Bogut