A quarter way through the regular season and teams are finding their identities and the best players are making their statements. There is a new cast of nominees for the MVP award this year, and unless LeBron wins it again, we will likely see a first-timer raise the trophy. Here are Cavs Nation's top 5 early season favorites to win MVP!
Start the countdown at #5 on the next page!
Jason Miller/Getty Images North America
#5 Kyle Lowry (19.7 points, 7.5 assists, 4.7 rebounds, 1.1 steals)
In a league driven by point guards, no one is more often overlooked than Kyle Lowry. His improvements, both on and off the court, have led the Raptors to the best record in the Eastern Conference. While it's difficult to imagine an MVP trophy being handed out in Toronto, it's very possible to see an Eastern Conference Finals being played in Toronto, and that is mainly because of Lowry's play. There is a chip on his shoulder every night, and with an injury to DeMar DeRozan, Lowry's productivity will only increase in all categories.
Continue to #4 on the next page!
Derrick E. Hingle/USA Today Sports
#4 Anthony Davis (24.3 points, 10.2 rebounds, 2.7 blocks, 1.7 assists)
On a team that likely won't make the playoffs in the mighty Western Conference, Anthony Davis is a long shot for the MVP award; but his numbers can't be ignored. Davis is in the top five in the NBA in points and field goal percentage, and he leads the league in blocks per game. His development was obvious in the World Championship games this summer, and is only being magnified now in New Orleans. He is as skilled a big man as the league has seen in a long time, and when combined with his freakish length and athleticism, and the fact that he is only 21-years-old, there really is no ceiling for his development.
Continue to #3 on the next page!
#3 LeBron James (25.5 points, 7.6 assists, 5.5 rebounds, 1.4 steals)
Yes, he is the King. No, he is not at the top of this list after a quarter through the season.
With four MVP trophies already, LeBron James has earned his reputation as the boring choice on this list. Yes, he appears to have lost a step. Yes, he isn't above the rim as frequently. Yes, his field goal percentage is way down. All these things put him at third on the list, but he is invaluable to the Cavaliers. He is taking on a different role this year, and his value won't likely be found in the stat lines, but rather in the growth and development of his teammates. Still, MVPs have been crowned doing less than he is doing now, which is evidence of how spoiled the NBA has become by his consistent, superhuman performances.
Continue to #2 on the next page!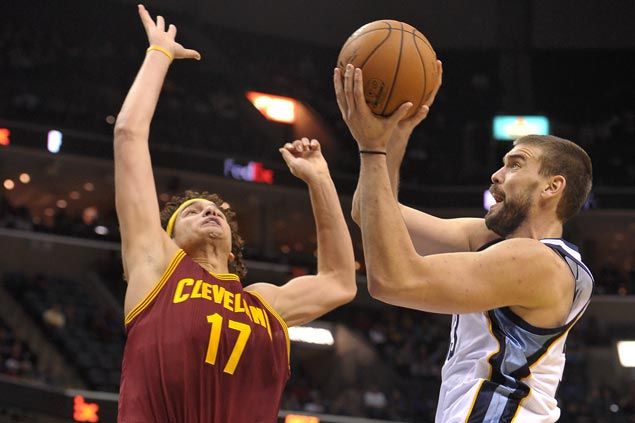 AP
#2 Marc Gasol (19.5 points, 7.7 rebounds, 3.8 assists, 1.7 blocks)

Marc Gasol is having a monster season after a frustrating first round exit from last year's playoffs. He is the anchor to a great defense, and a major catalyst from the high post on offense. If anything is hurting his chances at the award, it is that he plays in under-the-radar Memphis, and his game doesn't always warrant the stats to get MVP-caliber attention. Make no mistake, though – Marc Gasol is the reason the Grizzlies are 18-4. He will be the most coveted free agent on the market at the end of the season, and an MVP trophy will only help solidify his status as a max contract player.
Continue to #1 on the next page! David Richard/USA TODAY Sports
#1 Stephen Curry (23.2 points, 7.7 assists, 5.0 rebounds, 1.9 steals)
Stephen Curry is a clear early favorite for league MVP. Curry currently ranks in the top 10 in eight statistical categories, and is spearheading the hottest team in the league. Riding a 15-game winning streak, Curry and the Warriors are putting lineups on the court that are versatile and cohesive on both ends of the floor, and Curry is the engine that is making it all go. He is 5th in the league in scoring and assists, and is a threat to score in bunches at any time. If he doesn't content for MVP, the development of his teammates may be the reason.
RECOMMENDED
Who didn't make the list but might by the end of the season? Click next page to see honorable mentions!
Honorable Mentions
James Harden (26.3 points, 6.7 assists, 6.4 rebounds)
Lamarcus Aldridge (22.2 points, 10.0 rebounds, 1.3 blocks)
Blake Griffin (22.7 points, 7.3 rebounds)