Manny Millan/SI, Keith Allison
The Cleveland Cavaliers have been in existence since they were brought in as an expansion team in 1970. Over time, the franchise has developed history. This history has given fans some great teams, memorable moments, and meaningful players. Here is our list of the top 10 most meaningful players in Cavalier's franchise history. Begin the countdown on the next page!
Dick Raphael/NBAE/ Getty Images
10. Bingo Smith (1970 – 1979)
Smith was the first true star of the Cavs. He started with the Cavs when they were just an expansion team in 1970 and continued his career with them for 10 seasons. His jersey, number seven, is one of the few numbers that are currently retired for the Cavalier franchise. While Smith has no team records or big awards, he was the first star that had tenure with the Cavs. Smith was on the 1975-1976 Cavs' team, which was the first in team history to make the playoffs as well as clinch the Central Division Title.
9. World B. Free (1982 – 1986)
This is the type of player that would bring crowds to a stadium. He played on Cavs' teams where they were less than average when it came to talent level. World never scored less than 22.5 points per game in the 4 seasons he played with the Cavs. Free potentially is one of the best scorers in Cavs history. Free holds a Cavaliers team record for Field Goals Attempted per 48 minutes at 27.6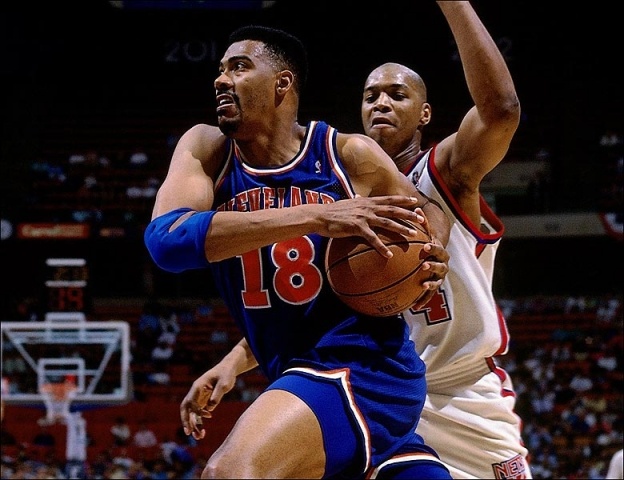 Isaac Baldizon/NBAE/Getty Images
8. John "Hot Rod" Williams (1986 – 1995)
Hot Rod played with the Cavs from 1986 – 1995 and ranks 3rd on the list for total shots blocked, he was definitely a presence on defense. Hot Rod was known for always playing big minutes and producing big time numbers for the Cavs. He had been the Cav's all-time leader in blocked shots as 1,200 but was surpassed by Zydrunas Ilgauskas.
Gregory Shamus/Getty Images
7. Kyrie Irving (2011 – present)
Irving was the new face in Cleveland after LeBron James left. He was the first overall pick in the 2011 draft and was the rookie of the year for that season. He has done well at taking on the burden of Cleveland since losing LBJ by consistently being a competitor and a top athlete in his position. He currently will be looking to help mold and shape the future for Cleveland since "The Return" has been announced. Irving has also won the NBA All-Star Game three-point shootout in 2013 and All-Star MVP in 2014.
6. Austin Carr (1971 – 1980)
Just call this guy Mr. Cavalier. Carr played for the Cavs from 1971 to 1980. He currently is one of the most entertaining announcers in the NBA! I'm sure he is excited to watch the so called "freight train", LeBron James, return to Cleveland to make some exciting plays for him to announce. His jersey number, 34, will be seen hanging in the rafters of The Q as it has been retired to honor his dedication to the franchise.
Rocky Widner/NBAE/Getty Images
5. Larry Nance (1988 -1994)
A true memorable player for Cleveland, "The High-Ayatolla of Slamola" put himself on the map for being the first winner of the NBA Slam Dunk Contest in 1984. He started with the Cavs in 1988 and played with them until he retired in 1994. Nance was known for his consistent level of play throughout his career. When he was brought into Cleveland via trade from the Suns and was looked at as the missing piece that Cleveland needed to be a title contender in the East. This two- time All-Star and Defensive First Team's jersey number, 22, has been retired with the Cavs. Nance holds the record for Blocked Shots per game for Cleveland at 2.5.
David Zalubowski, Associated Press
4. Zydrunas Ilgauskas "Big Z" (1996 – 2010)
Drafted by the Cavs in 1996, who would have known the big man from Lithuania would become a player that would go down in Cavs' history. Zydrunas Ilgauskas struggled with some serious foot and ankle injuries during his early seasons. Even with all of the injury issues that Ilgauskas had early on in his career he was able to keep at it and become an asset to the Cavaliers. Big Z helped develop the Cavs into a contender during the first LeBron era. Ilgauskas was traded the season 2009 – 2010 season due to Cleveland signing Shaquille O'Neal that summer. This trade sent him to the Wizards. This is a trade that allowed to Wizards to get rid of Antawn Jamison's contract and clear some extra space. The Wizards had no intentions of keeping Ilgauskas and bought out his contract, he never played a game for the Wizards. Ilgauskas was faced with a decision, he could sign immediately with any other other team in the league or he could wait 30 days to resign with the Cavaliers. He decided to wait out the 30 days to resign for the season with Cleveland.
The loyalty that Ilgauskas has shown towards the Cavs during his career is one of the reason he is so important to the franchise. The big fella currently serves as Grants assistant to prospect talent for Cleveland. His jersey number, 11, has been retired as of this past march. Big Z is the franchise leader for total number of career games (771), career games started (673), Offensive Rebounds (2,336), Total Rebounds (5,904), and Blocked Shots (1,269). He also holds the per game record for Offensive Rebounds (3.2). He has made 2 All-Star game appearances in his long career.
Manny Millan/SI
3. Brad Daugherty (1986 – 1994)
RECOMMENDED
Brad Daugherty played his entire pro career with the Cavs, 1986 – 1994. Daugherty was one of the Cavs many #1 overall draft picks. It was during this same draft that Cavs not only got Daugherty but Harper, Williams, and Price. These players were the players that would make the Cavs into a contender. He was a 5x NBA All-Star during his career which is plenty of reason for jersey number, 43, to be retired with his only franchise. Daugherty holds the franchise record for most career Defensive Rebounds at 4,020.
Al Messerschmidt/WireImage.com
2. Mark Price (1986 – 1995)
Price played with the Cavs from 1986 – 1995 and was known as one of the best shooters in the game during this time. He finished his career shooting 90.4 percent from the free throw line and 40 percent from behind the arc. He became the second player behind Larry Bird to join the NBA's 50-40-90 Club; 50+ percent Field Goal Percentage, 40+ percent Three Point Percentage, and 90+ percent Free Throw Percentage. He is still to this day only one of six players ever to achieve this while shooting the minimums required for each category. Price is known as the first player to reinvent attacking the screen and roll and changed the way people play the game today. Mark Price holds the franchise records for most career three pointers at 802 and most career assist at 4,206. He was a four-time NBA All-Star during his phenomenal tenure with the Cavs. This made for a good case to retire his jersey number 25.
Jonathan Daniel/Getty Images
1. LeBron James (2003 – 2010, 2014 – present)
Easily the most meaningful player to ever play for the Cavs, James redefined a franchise that had a decade of struggle. James was/is a local hero that was drafted #1 overall in 2003 to come help save a franchise in need. Playing his first 7 seasons with the Cavs he holds multiple records and has had plenty of franchising defining moments. He took a team in need of a player that could hold an entire team on his back and made them contenders. He single handedly put Cleveland into contention every year. James has now returned to his home team after making the decision to leave and go to Miami 4 seasons ago. I am certainly positive that you will see jersey number, 23, retired once his pro career is done.
James holds franchise best career records for Minutes Played (22,105), Field Goals Made (5,415), Free Throws Made (3,650), Steals (955), and Points (15,251). He holds more than a handful of Cavs records for per game stats including Minutes Played (42.5), Field Goals Made (11.1), Free Throws Made (7.3), and Points (31.4). He has been awarded NBA Rookie of the Year in 2004 and NBA MVP in 2009 and 2010. The king has also been an NBA All-Star 6 times winning NBA All-Star MVP in 2006 and 2008. If any player has been more meaningful to the Cavs it is LeBron James, now with his famous "Return," he becomes even more meaningful.