Throw Away The Past, The Warriors Will Be Facing A Different Cavs Team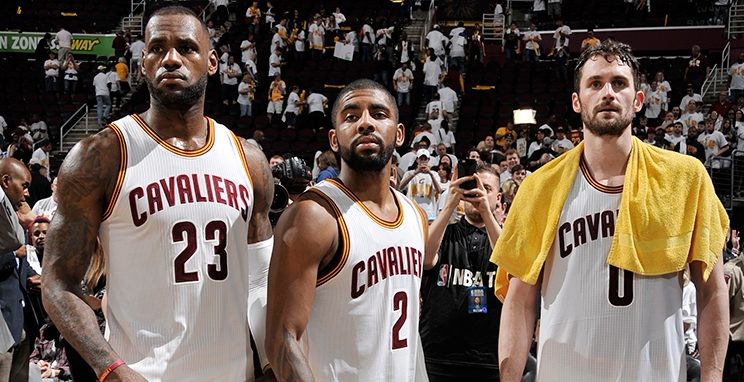 The picture of Kevin Love helplessly sitting on the bench as the Golden State Warriors ran roughshod over a depleted Cleveland Cavaliers team last year, the missing presence of Kyrie Irving, the image of LeBron James shaking Stephen Curry's hand, and the smell of champagne from the visitors' locker room at the Quicken Loans Arena. All these dealt pain to the senses of those who bled Wine and Gold.
A rematch was highly sought after, but through the course of the 2015-2016 regular season, that prospect didn't appear to be a cinch. While Golden State turned out to be even better, Cleveland had to deal with a myriad of concerns.
RELATED: UNFINISHED BUSINESS: Warriors, Come Out And Play
However, the universe had its plan all along, and everything moved in favor of the much-awaited grudge match. The Cavaliers and Warriors, once again kings of their conferences, are set for a date on the grandest stage of them all.
Before the mega fight, these two teams had two sparring sessions in the regular season, both of which the defending champions won. But how does this serve as a barometer for this upcoming finals series? A number of factors tell that their regular season series can't be given that much weight.
On their Christmas Day matchup, which the Warriors won, 89-83, the Cavaliers brought the fight to the defending champions in their home court. They made it as gritty and defensive as they could against the opponent's high-octane offense. During that time, Kyrie Irving was under a minutes restriction and was still trying to get his legs back after recovering from a knee injury.
In their second matchup, the Cavaliers were embarrassed by the Warriors in front of a stunned Cleveland crowd, 132-82. The Cavs' body language was off from the get-go and the night ended with fans booing their own team. It was perhaps the lowest point of the team's season. Some argue that the loss may have been the last straw for coach David Blatt as, shortly after, he was let go and Tyronn Lue was placed at the helm.
The Cavs team that faced Golden State in December and January was nowhere near the well-oiled machine that we are seeing now. The transformation started when coach Tyronn Lue was entrusted to lead this group. He enforced a change in culture and demanded that every single player be held accountable not only for himself, but also for his teammates. Lue`s diminutive frame coupled with a strong personality easily gained his wards` trust and respect.
Because of Tyronn Lue, Lebron James is now more vocal of his support to the coaching staff and it shows on the court, Kevin Love has finally found his niche, Kyrie Irving has a more defined role that suits his swashbuckling and aggressive style, and J.R. Smith has been playing what is arguably the best defense of his career.
Another important piece that was not yet a part of the team when they faced Golden State is Channing Frye. Acquired over the trade deadline for essentially Anderson Varejao, a fan-favorite in Cleveland, the sweet shooting big man has torched the nets this postseason.
Frye brings with him a rare skillset that is essential to how the Cavs go about with their offense and also a locker room presence that has been nothing but positive. He has excellently fulfilled his role up to this point. Cleveland's offense benefits a lot from Kevin Love`s floor spacing ability, and when he takes a breather, plugging in Frye allows James and Irving to still have ample room for penetration. Defenders simply cannot cheat especially with Frye shooting a playoff-best 57% from long distance. These were privileges that Cleveland didn't have last time around.
The overall improvement in the Cavs' play has been very noticeable, and credit goes to everyone's patience and trust in the system. Every team peaks at some point in the season, and the Cavaliers have done so in the best way at the right time.
Another interesting change in the team's scheme is the development of a certain lineup of theirs. The five of LeBron James, Iman Shumpert, Matthew Dellavedova, Richard Jefferson, and Channing Frye has been providing Cleveland with much needed spark over the playoffs. Curiously, this lineup has been anchored on a rather simple yet hard to defend play. Making full use of James' passing and Frye's spot up shooting along with his length, the pick and pop has become their bread-and-butter.
Ultimately, Kevin Love's utilization will be an extremely important factor as it has been in their previous playoff matchups. It's eerily apparent this postseason that when Love plays well, the Cavs win. Their two losses in 14 games were the ones wherein Love's shot wasn't falling. Against Golden State, he is expected to be at his most aggressive because Draymond Green is sure to abuse his weakness on the other end. An aggressive Love could even out the exchange and it might also draw early fouls from Green.
RELATED: VIDEO: ESPN Insider Reveals Who Cavs Want To Face In The NBA Finals And Why
Once again, credit goes to Tyronn Lue for bringing out the "bad" in Kevin Love. From being admittedly lost on offense, Love now enjoys more touches at the post.
When these two teams collide in a few days, there will no longer be any excuses from both ends. Even though players won't admit it, they're pretty much banged up in one way or another after enduring this long. Throw away the past because it no longer matters. This is the matchup that both teams wanted.