Welcome to Three Point Plays, my new series where I'll be listing a few things to watch from every rotation player on this season's Cleveland Cavaliers team. I'll be breaking the groups roughly down into five players per release. Today I'll feature some of the young guns on the roster.
Next I'll likely look at the older veterans including what's left of the championship squad, and for the last issue I'll line things out with some of the in between role player additions. That could change, but that's just my rough idea for what to expect from this three part series.
Going forward, the Cavs youth movement becomes increasingly more important. The team needs young guys to step up as some of the veterans start to lose their step and get on the wrong side of 30 years old. There will be plenty of bumps in the road to get over, but that's just part of the process.
Even lottery picks must learn to play NBA basketball the right way before they take leaps and become great. Some figure it out very quickly, some are late bloomers, and some never quite put it together. Despite all this, it's the team's responsibility to play these guys and give them a chance to show what they can do. For today, I've picked out the five of Collin Sexton, Cedi Osman, Larry Nance Jr., Ante Zizic, and Rodney Hood. Let's begin.
Collin Sexton
Collin Sexton is a high usage player who operates best with the ball in his hands. It seems that he may be starting games on the bench for the beginning of the season, however. Can Sexton elevate his level of play to warrant a starting spot on a winning team?
In his first preseason game vs. the Boston Celtics, Collin made 2 out of his 3 shots from long distance. In today's NBA, it helps a lot for point guards to be at least somewhat of a threat from deep. At Alabama, Sexton shot 33.6% from beyond the arc on 4 attempts a game. Can Sexton shoot the three ball at a clip that forces teams to defend him from outside?
Lastly, can Sexton play well next to floor spacers and eventually the starting lineup? Sexton has historically not been as much of a pass first point guard as much as he is a score first guard. Will he still be able to find the open man and play his game within the flow of the offense?
Cedi Osman
1- Should Osman start or come off the bench? What unit will he be most effective with? He started in the Cavs preseason opener vs. the Celtics, but coming off the bench is a role that isn't out of the question for him at all. Throughout the year, Tyronn Lue will have to experiment a little to figure out where Osman works best.
2- Will Osman continue to provide value as a competent outside shooter on higher volume? Osman shot 36.8% from 3 last season, a great percentage, but on only 1.4 3 point attempts per game (3PA) last year. With a bigger role on the team due to the departure of LeBron James, will Osman continue his hot shooting?
3- Can Osman progress defensively? Osman showed great defensive chops and hustled on defense whenever he could last season. This season, Osman will likely be tasked with guarding better wing players for long periods of time. The Cavs defense has a very high ceiling if Osman can give the better wing players in the league fits defensively, especially if Osman continues to start.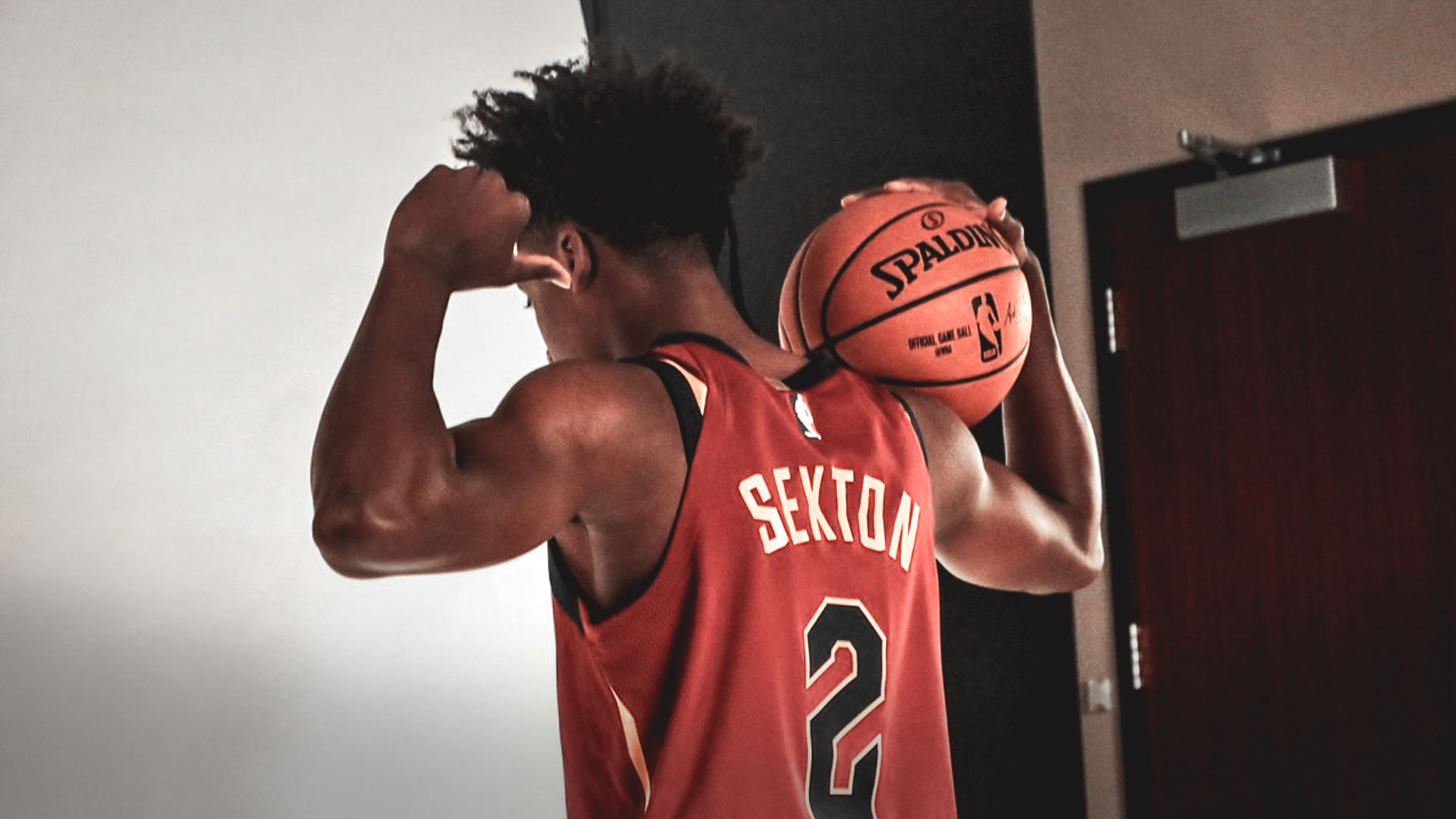 Larry Nance Jr.
1- Can Larry Nance Jr. prove himself as a valuable rotation piece for the Cavs? There have been many talks of contract extensions for Larry Nance Jr. in recent months, and the Cavs seem to be very high on him. Will he prove himself to be the center of the future for the Cavs?
2- Can Nance be threatening as a midrange jumpshooter? Nance has shown flashes of a midrange jumper when left alone in the lane. This shot has been on in some recent preseason games and at points last season, such as against the Detroit Pistons on March 5th. This gives the Cavs another weapon of attack to keep defenders' attention away from Cavs slashers and cutters.
3- Can Nance get stronger and more skilled as a post defender to where he can guard the better centers in the league? I'm not asking him to contain Anthony Davis, or stop Nikola Jokic from doing his thing, but if he can get to a point where he's bothering them during limited minutes this year, has a few good defensive highlights on them, then that's a great step forward. Right now it's better to focus on him matching up to guys like Al Horford and Jonas Valanciunas. These players will operate in the post and make him defend there often, and Nance will have to rise to the occasion on a night to night basis.
Ante Zizic
1- With the league trending more towards small-ball centers who are quick on their feet, how long can Zizic manage to stay on the floor? Should we expect to see few minutes from him primarily in garbage time, or will he be an actual rotation piece? I previously wrote an article on the center rotation and why I believe Zizic should be played more, but the decision is up to Coach Lue. He's skilled and has shown himself to be extremely efficient and have a nice touch around the basket, but in today's NBA it'll be hard for him with centers like Al Horford and Serge Ibaka and Brook Lopez who can pull him out of the paint and make him defend outside of the post.
2- If given more playing time, can Ante Zizic keep up his elite efficiency? Last season, Zizic had a 64.4% true shooting, which is well above average, even for a center. However this was on low volume with just 2.8 field goal attempts a game. I don't expect his efficiency to be that high if his minutes increase and he's taking more shots, but it's great to see that the shots he takes, he usually makes. If he can get more playing time and still be a good margin above league average in true shooting, I see a very comfortable spot for him in traditional center lineups the Cavs may run this year.
3- Can Zizic expand his game and gain an ability to pass out of the post? For centers that like to post up as Zizic does, being able to pass out of the post-up positioning is important in case double teams come or a good shot from the post-up is not found. With the Cavs' bevy of capable shooters like George Hill, JR Smith, Kyle Korver, and more, Zizic should have a few opportunities to find these guys and make a good situation out of a bad one.
Rodney Hood
1- Will Rodney Hood be able to stay healthy throughout the season and show he is not an injury liability? Hood played a combined 60 games last season with the Utah Jazz and Cavs, the closest to his second year games played high of 79. For Hood, it's important to get closer to this number in order to increase his value when looking for a new contract next offseason, whether that comes from the Cavs or elsewhere. For the Cavs, with Hood likely being a starter this season it's important for him to be out there healthy in order to make the team better and preserve lineup chemistry.
2- Will Hood be able to come closer to replicating the same type of production he had in Utah? With the Jazz, Hood averaged 16.8 points a game on 42.4% FG and 38.9% 3pt FG. With the Cavs, Hood regressed somewhat, instead averaging 10.8 PPG on 44.2% FG and 35.2% 3pt FG. Some drop off was to be expected considering the presence of a player like LeBron James, but now that Hood is likely starting and LeBron is no longer on the team, Hood must step up his contribution to ideally somewhere around his Utah productivity.
3- Can Hood become a better defender in the new Cavs system? In last season's playoffs, Hood was the worst player on the team in terms of Defensive Win Shares and Defensive Rating, according to nba.com's stats page. Hood has the capablities to defend – he's got young legs under him and good size for his position. After having the offseason, training camp, and preseason to adjust to Lue's new system and how defensive assignments will work, Hood should be able to pick things up on that end of the floor for next season.