Much of the future of the Cleveland Cavaliers was mired in mystery from the beginning of last season until this July. LeBron James ended the suspense when he signed with the Los Angeles Lakers, leaving the Cavs to fend for themselves for at least the next four seasons. His departure marks an end to the team's championship run but that did not mean that the Cavaliers brass was interested in tanking this season. Not with Kevin Love around, that is.
Love signed an extension with the Cavs on July 24, inking a four-year, $120 million deal that will make him Cleveland's cornerstone player in its bid to get back to championship contention despite losing the franchise's biggest star.
If he can channel his younger self into his soon-to-be 30-year old body (that's on September 7), then he could potentially join an elite group that includes six Hall of Famers this season.
ESPN reporting with @WindhorstESPN: Cavaliers forward Kevin Love has signed a four-year, $120 million contract extension — topping out his overall deal at five-years, $145 million, league sources tell ESPN.

— Adrian Wojnarowski (@wojespn) July 24, 2018
Joining the Legends
Sam Vecenie of The Athletic wrote that Love has an opportunity to join the likes of Shaquille O'Neal, Wilt Chamberlain, David Robinson, Hakeem Olajuwon, Kareem Abdul-Jabbar and Karl Malone as the only players to post at least 25 points and 10 rebounds in their 30's.
These players have sustained their excellence throughout their careers by keeping their bodies in shape (except for Shaq, but he's the exception because of his size and strength) and improving on their game every year. Averaging 25 and 10 is already a tall order for the young ones much less those who have more than 8-10 years of NBA mileage in their legs.
Vecenie also points out that averaging 20-10 is already quite a feat for the thirty- and thirty-somethings, too.
"Even reducing the number to 20 points and 10 rebounds a game on league-average efficiency during age-30 or over seasons, you still only add Charles Barkley, Elgin Baylor, Patrick Ewing, Kevin Garnett, Elvin Hayes, Moses Malone, and Bob Petit – all of whom would qualify as top-40 players ever."
Can Love Average 25 Points and 10 rebounds at age 30?
Expecting Love to perform above his Cavaliers career averages of 17.1 points and 10.0 rebounds may seem unreasonable to some but let's not forget that Love had to recalibrate the way he played the last four seasons in order to mesh with a team that didn't look to him to score every time down the floor.
Twice during his six-year Minnesota Timberwolves career, he averaged at least 26 points and 12 rebounds which is an indication the 10-year veteran is capable of reaching performing at a high level.
As the first option in the Cavs' offense for the first time since his career started in Cleveland, Love could return to the form that made him an Olympian and perennial All-Star when he was still playing for the Timberwolves. It's not that long ago that Love was one of the best power forwards in the game. He merely had to adjust his style of play to fit a team that had James as the primary scoring option and Kyrie Irving as second-in-command.
Love was often the third option but was sometimes relegated to fourth or even fifth depending on the situation. Without James and Irving, Love finds himself in a familiar position, something that will test his ability to perform at his best on a nightly basis. Other than the 2015-16 season, he has never had a season in Cleveland in which he didn't miss significant time on the court due to an injury.
The 6-foot-10 forward was sidelined for the rest of the playoffs after then Boston Celtics forward Kelly Olynyk tugged on his shoulder and dislocated it during the first round of the 2015 playoffs. In the 2016-17 season, he missed 22 games to injury. Then, he was out for parts of last season, playing in only 59 games.
Could his body withstand the rigors of an entire season and average 25 and 10 without his body breaking down midway through? That remains to be seen and it is up to head coach Tyronn Lue to feature the All-Star forward as his number one weapon without overworking him. Lue has a multi-dimensional player who doesn't just play with his back-to-the basket, but someone who was built for the game the way it is played today.
Improving His Game
Despite having one of the best touches from the outside among big men, Love has to work on his game in the low post. For the past few years, he has only shown flashes here and there of what he is capable of in the paint. Too many times when posting up, whether he's matched up against a bigger or a smaller player, Love's moves are so mechanical that he ends up throwing a wild shot that has very little chance of going in.
He needs more variety while developing a go-to move similar to Olajuwon's Dream Shake, with multiple options to attack when his path to the basket is blocked. While it is unreasonable to expect Love to develop the same moves as The Dream, it should be expected of him to improve his game every year.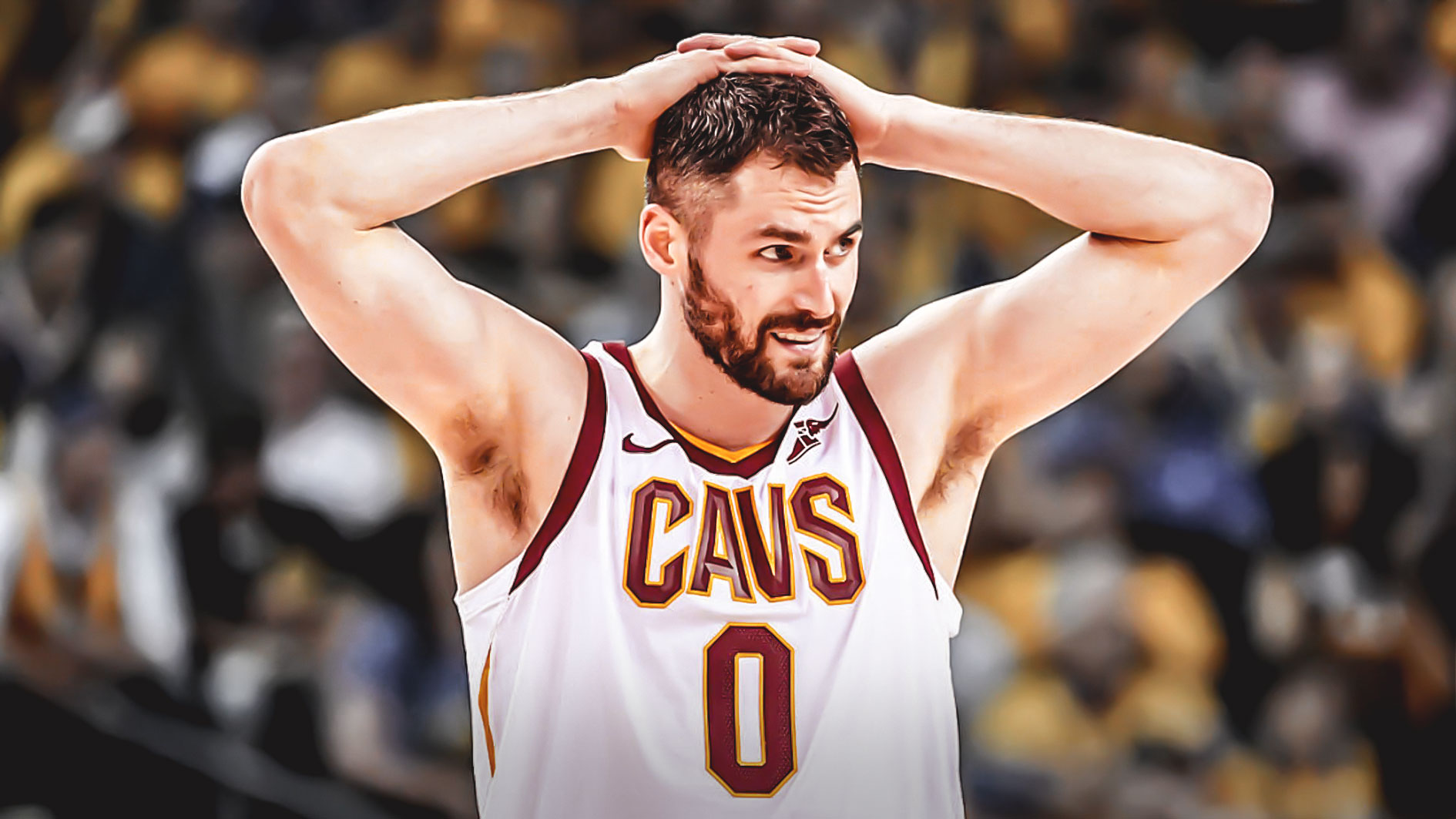 What Love has going for him is his improved stroke from three-point range. He said that the development of his shooting from beyond the arc is due in large part to an injury he suffered last season which forced him to adjust his mechanics per Chris Fedor of Cleveland.com.
"I'm out in front of my head more," Love said. "I looked at a bunch of my shots when I was out and I was kind of bringing it back a little bit more over my head.

"Just like Kyle (Korver) and I talk about it all the time and he's always trying to figure out how he can fix anybody's shot no matter if you're a 90-plus percent free-throw shooter or he's always looking in the mirror too and seeing where he can get better so I kind of did the same. Hopefully it helps and will continue to get better."
If rookie point guard Collin Sexton finds him open for three-point opportunities, the chances of him averaging 25 points a game will increase.
During Michael Jordan's run to 10 scoring titles, he revealed his mentality of how he can average 30 points per game for an entire season. He said that it was simply an average of roughly eight points per quarter which was doable if you think about it. That's about three field goals and two free throws per quarter. This is the type of mentality that every great scorer has. By boiling down scoring to quarters, it doesn't appear as if a player is being selfish by looking for his shots too often.
Love's Best Asset: Rebounding
If there is anything that Love hasn't forgotten over the years, it's that he is still one of the best rebounders in the game. Though not known for his defense, he gets into excellent position to grab defensive rebounds. Averaging 10 rebounds or more per game is not going to be a problem for him especially with James no longer competing with him for caroms under the basket.
The stage is set for Love to join an elite group of Hall of Famers that could cement his status as one of the best in the game by the time his career is over. By playing at the level of these legendary big men for the next few years, Love may find himself scheduling a trip to Springfield a few years down the line after his career is over.
And by playing like the beast that he was with the Timberwolves, he could lead the Cavs to a better finish in the regular season than anyone imagined.