Most rookies get compared to current players and all-time greats for us to get a good idea of their highest potential. It's like an annual rite of passage for players who are about to enter the NBA before they get drafted. Scouts do it and so do analysts and, likewise, so do the fans of the game.
In the case of Cleveland Cavaliers rookie Collin Sexton, he's been compared to players such as Russell Westbrook, Eric Bledsoe and Kemba Walker. Among the three players, Sexton is mostly seen as a Westbrook clone or he at least appears to approximate the NBA All-Star's tenacity and ferociousness when he steps on a basketball court.
But does Sexton's game really look like Westbrook's?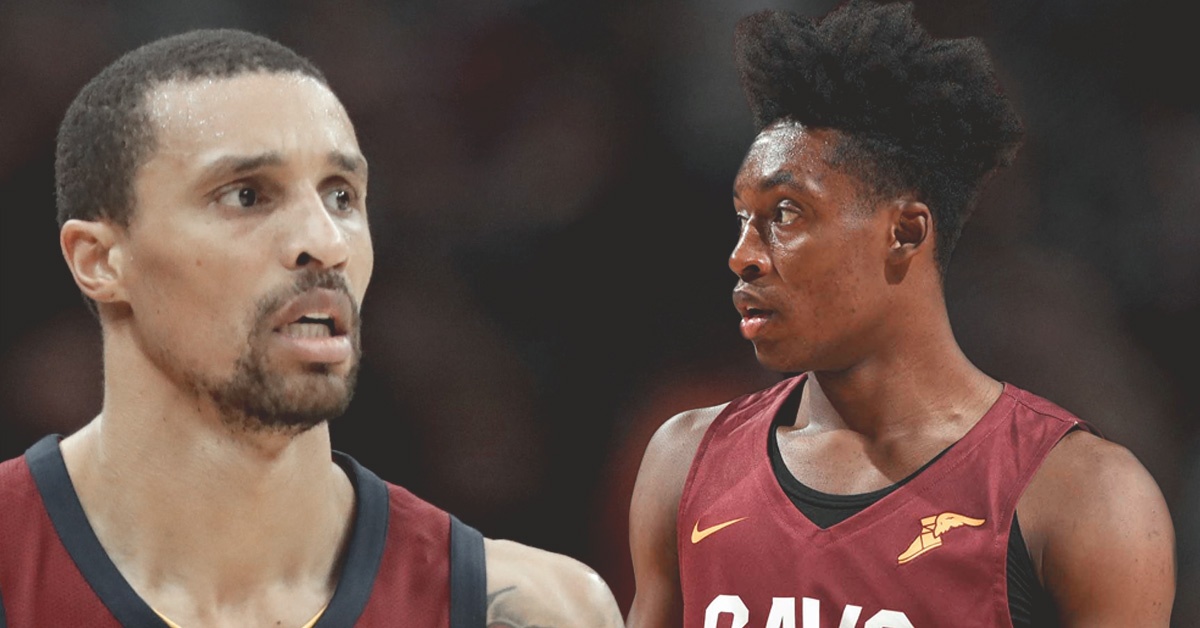 The rookie is arguably the most athletic point guard in the 2018 draft and quite possibly the most competitive among them. He isn't a traditional playmaker but has natural scoring instincts, one who can change the flow of the game with his aggressiveness in attacking the basket. In college, he averaged 19.2 points and 3.6 assists per game and earned SEC Freshman of the Year honors for coach Avery Johnson with the Alabama Crimson Tide.
Many of today's point guards have been playing less like the traditional playmakers of yesteryear and more like smaller shooting guards who shoot first and create for others second. Sexton's assist numbers show that he is fashioned in the same way but has the potential to be a seven-assist guy in the league based on the fact that he has better teammates in the pros than he did in college.
Sexton = Three Players?
A 2002 second overall pick by the Chicago Bulls turned basketball analyst, Jay Williams compared Sexton to three players, not just one. Those three players are Eric Bledsoe, Russell Westbrook and Donovan Mitchell. Here is Williams' scouting report on the rookie for ESPN:
It's hard to argue with Williams' assessment given how he is familiar with the point guard position during his days playing for Duke in the collegiate level and the Bulls in the NBA. If we were to break down what he brings to the table, he's essentially a combination of the three players he mentioned, though rather than Mitchell, I might agree with other scouts who see a bit of Walker in his game.
Sexton's Fire = Westbrook Fire
Sexton is relentless and intense in the same breath as Westbrook. During a crucial possession in a Summer League matchup between the Cavs and the Los Angeles Lakers, Cleveland's feisty point guard was all fired up. Take a look at the Young Bull below, appearing as if he's ready to avenge the death of Batman's father.
His nickname, Young Bull, is spot on given his all-out, no-nonsense approach to every game. Sexton doesn't just want to beat you. He wants to tear out your heart. The look in his eyes against the Los Angeles Lakers' sophomore guard Josh Hart is no different from Westbrook's dagger-looks against Joel Embiid in a game during the 2017-18 regular season.
On one possession, Embiid taunted Westbrook after he received a pass and dunked the ball on the Thunder playmaker. Westbrook fell down hard from the ferocity of the 7-foot center's vicious foray to the basket. To add insult to injury, Embiid stared at Westbrook as he was on his way back to the other end of the court.
Below is the video proof. A great example of the intensity Westbrook has — something many believe Sexton has within his mindset.
Like a man possessed, Westbrook took over the game and carried his team to victory. In the waning seconds of the game, he stared coldly toward the Sixers bench, specifically at Embiid who dared to humiliate him. The 2016-17 NBA MVP finished the game with 37 points, 14 assists, nine rebounds, two steals and turned the ball over only once.
Though the circumstances were different, both Sexton and Westbrook showed a passion to win, attack and dominate their opponents. As a rookie, Sexton will have to learn to pick his spots in taking over a game since he is surrounded by a number of veterans on this Cavs squad. All-Star forward Kevin Love is the undisputed leader of this team but the deputy role appears to be up for grabs. There's no question that coach Tyronn Lue will be looking for the rookie to add some scoring punch to the offense, making it highly probable that Sexton will be scoring 20 points a night, something that Westbrook never got a taste of until his third season.
Westbrook Defense = Sexton Defense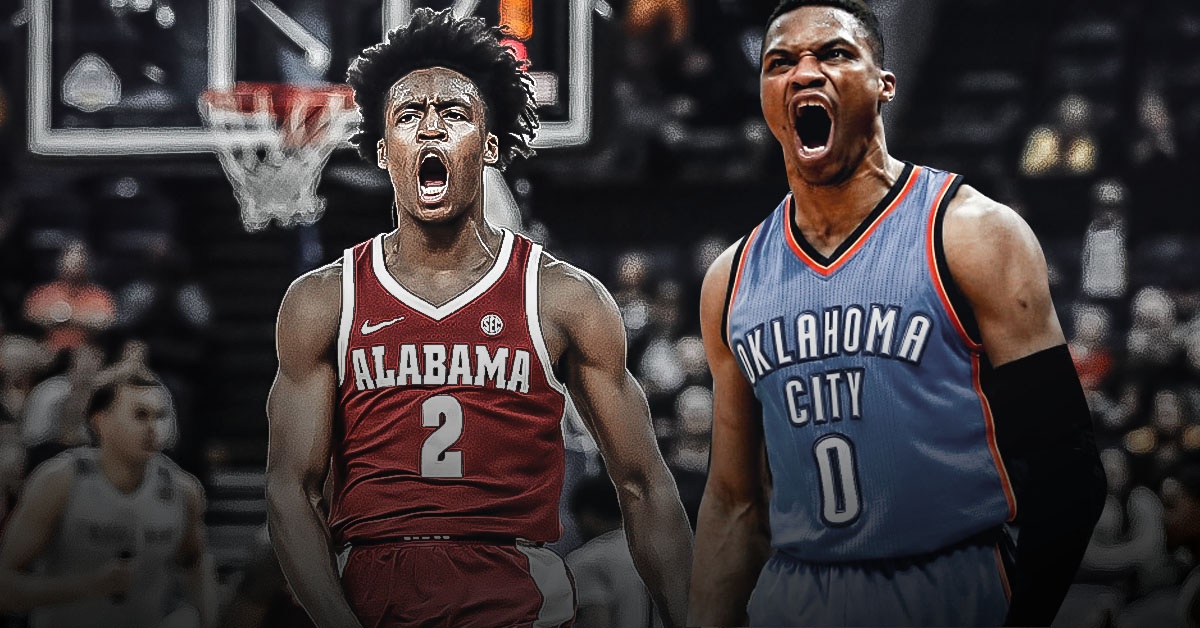 Once one of the toughest defenders at the point guard spot, Westbrook plays great defense but only when motivated. The UCLA product has the ability to shut down opposing guards if he wants to and rebound the basketball at the defensive end with the best of them.
We only have a small sample size of what Sexton brings to the table defensively against the pros but there is some indication that he can be more than an average defender at the highest level. In the team's first exhibition game versus the Boston Celtics, Sexton played well defensively. Coach Lue had this to say about his young stud:
"Thought he was good," Lue said via Chris Fedor of Cleveland.com. "Picking up full court, his toughness and things he's doing on the defensive end. Then offensively being able to get in the paint and attack. Just have to pick and choose his spots. I love his aggressiveness, pace and toughness."
In other words, he's similar to where Westbrook was during the OKC guard's first few years in the league. He should be head and shoulders above the Cavs' Young Bull but he has been inattentive on defense the past couple of years. This can be attributed to Westbrook's focus on the offensive end as his team has needed his output there more than ever after Kevin Durant's departure to Golden State.
Despite this, the Thunder star is a better defensive rebounder than Sexton who is likely not going to be in Westbrook's class at any point in his career. Westbrook is, after all, a much better rebounder than most forwards and centers in this league.
If we were to compare Sexton's defense with Westbrook's now, then the young one may be a bit ahead of his veteran counterpart. But if we were to compare the rookie to Westbrook's rookie version, then you can see some similarities there. Sexton doesn't have the same physical tools but he is capable of being a lockdown defender against other point guards if he stays aggressive.
Conclusion
Though not entirely like Westbrook in terms of style of play, Sexton's similarities to his fellow playmaker lie more on the passion with which he plays and how much he wants to win ball games rather than any singular mirror-image trait. If you watched his second game, also against Boston, you can see that he is as fearless as any player in the league, rookie or veteran.
Sexton has the potential to take over games in the same manner as Westbrook does. His no-holds barred approach to the game is commendable inasmuch as it is familiar, one that we've seen before in the fiery eyes of the All-Star point guard of the OKC Thunder.