The Cavs have three max-contract players in LeBron James (2-year, $47 million), Kyrie Irving (5-year $90 million), and Kevin Love (5-year-$110 million). They're expected to have a near max-contract player in Tristan Thompson at around 5-year, $70-80 million.
RELATED: 5 Best Trade Options For Brendan Haywood And His Valuable Contract
Factor in the contracts of Mo Williams, Iman Shumpert, and Timofey Mozgov (which is sort of a bargain), and the Cavs have very little to spend on Matthew Dellavedova and J.R. Smith. Former Assistant General Manager Bobby Marks has garnered a lot of Twitter attention due to his recent tweeting of numerous NBA teams and how they'll deal with the salary cap moving forward.
Here, he talks about how the Cavs will deal with the cap when it comes down to Matthew Dellavedova and J.R. Smith.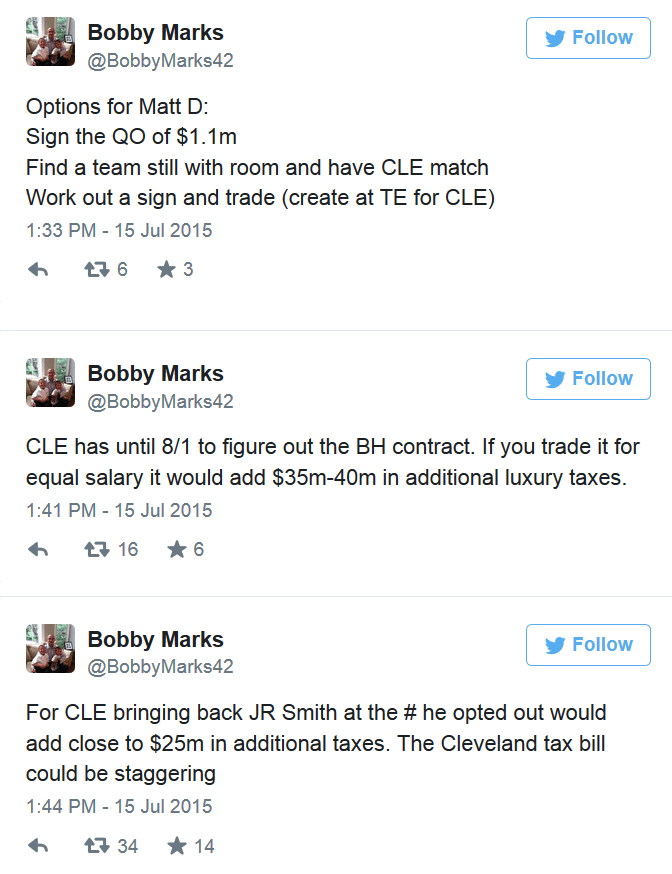 There's no doubt the Cavs want to retain the services of Dellavedova and Smith, but it will definitely be at a steep price once the salaries are all agreed upon and signed.