Mark Duncan/AP
We are through the first 6 games of the still young 2014-15 season, and the Cleveland Cavaliers have gotten off to a rugged 3-3 start. There are many things that have contributed to the Cavs 3-3 start, some excellent and other somewhat shocking. In this segment, we'll look at the Cavaliers' strong suits and weaknesses of the 3-3 start, and how they'll fair against some of the league's best in those departments.
Cavs Nation investigated the team's strengths and weaknesses of the Cavs' 6-game split. See Cleveland's strengths on the next page!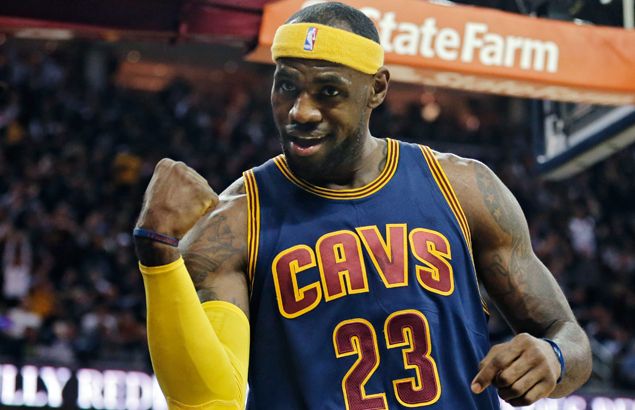 AP
Strengths
The Cavaliers have started out strong in multiple categories this season, the best ones being their three-point and free throw shooting.
Coming into the year, the Cavaliers brought in some notable and clutch 3 point shooters to their team. The Big Three of LeBron James, Kevin Love, and Kyrie Irving are all significant contributors in that department, as they've combined to make 36 threes on the season (James 9, Love 16, Irving 11). Through 6 games the Cavs are shooting 7.7/21 (36.5%) from 3 and are 10th in the NBA in 3 point percentage. Their 21 shots put them at 19th in the league in 3 pointers attempted per game, which is decent ranking for them considering they averaged 28 three point attempts while only making 10 a game in the preseason. Here's the comparison of 3-pointers attempted during the 7 preseason and the 6 regular season games for the Cavaliers:
2013-14 Preseason 3pt FGM/FGA 2014-15 Regular Season Opponent 3pt FGM/FGA
Tel Aviv 10-29 New York Knicks 9-24
Miami Heat 15-35 Chicago Bulls 3-15
Milwaukee Bucks 13-34 Portland Trailblazers 9-21
Indiana Pacers 8-22 Utah Jazz 6-16
Dallas Mavericks 15-37 Denver Nuggets 6-23
Chicago Bulls 6-17 New Orleans Pelicans 13-27
Memphis Grizzlies 7-20 3 PT % 36.5%
3 PT % 38.1%
The players that Cleveland acquired in the offseason are also tremendous free throw shooters who shoot at a high volume. Together, the Cavaliers average 28.3 free throws per game and make an average of 23.3, which is an incredible 82.4%. That is number 1 in the entire NBA ahead of the Golden State Warriors (2nd at 81.8%). If they can continue to shoot this efficiently, we may see a new leader in highest free throw percentage in a season. The highest was set by the Boston Celtics at 83.2%, so it's achievable. Also, the Cavs get to the line 5th most behind the Kings, Raptors, Rockets, and Lakers, which is a great increase from last season where they shot only 22.7 free throws per game. Of course, they have the additions of James (84.6% this season) and Love (88.2% this season) to thank for that, but Irving, Varejao, Thompson, and Waiters are also doing their parts in this category.
Another strong suit of the Cavs' start this season has been their surprisingly great ability to take care of the basketball. Including their lackluster season opener at the Q where they turned the ball over 19 times against a bad New York Knicks team (James had 8 himself), Cleveland is averaging just 11.8 turnovers per game. That's a terrific, low number which ranks 5th lowest in the NBA. Committing less turnovers means they're likely taking more shots, so the Cavaliers will have to continue to keep valuing the ball and making smart plays to gain those scoring chances that'll come in handy in close games.
With Kevin Love, Anderson Varejao, and Tristan Thompson on this roster, Cleveland was widely expected to win a lot of rebound battles. They're 2-3 in that department so far with a tie in rebounds (at 42 rebs.) against Denver. The Cavs have done a solid job of boxing out and keeping opponents from grabbing rebounds, holding them to just 41.3 rebounds per game. The 41.3 allowed is tied with the Brooklyn Nets for 9th in the NBA in fewest opponents' rebounds per game.
For all the strengths the Cavs have to silence critics, they have even more questions about their weaknesses:
Jason Miller/Getty Images
Weaknesses
Although the Cleveland Cavaliers have had a lot of bright spots in the early going of the season, there have also been many defensive lapses and some miscommunication all around that has led to some scary statistical results. These are definitely areas that should be addressed as the season progresses and the players get more associated and connected with one another.
We'll start with the biggest thing that critics were questioning the Cavaliers for, and that their incredibly low assist numbers for such a talented team. Through the first 4 games, Cleveland was last in assists at 16 per game, including a disastrous 6 total assist game against the Utah Jazz. James had 4 assists that game, Love had another, and Waiters added the last one. Irving was most criticized for finishing with 34 points and 0 assists in a whopping 45 minutes, and rightfully so. An All-Star point guard on a championship caliber team should never finish with a goose egg in the assist column, especially when playing as many as 45 minutes. They've increased that number over the last 2 games, now at 19.2 assists per game and tied with the Oklahoma City Thunder at the 24th spot. They've got a lot of work and ball movement to carry out to become a great passing team. The San Antonio Spurs showed the NBA and LeBron James firsthand that sharing the ball wins championships. On a side note, the Cavaliers also allow their opponents to get the 2nd most assists per game at 25.8 per game, just behind Atlanta, who's at 26.3 and worst in the league. They'll need to cut off a lot of passing lanes in order to get that number down.
While we're talking about offense, the Cavaliers are shooting a dismal 43.1% from the field, which is 26th overall in the NBA. With that being said, it's a little surprising that they're also averaging 102.3 points per game, which is not bad for a team still figuring out its offensive schemes and what works best for them. They'll need to be far more efficient and get that number to around 47% when they play the higher caliber teams in the league.
RECOMMENDED
Now on to the defense of the Cavaliers, where the first area we'll look at is their ability to guard the 3-point line, or their lacking of it. Cleveland's defense in the first 6 games has allowed their opponents to shoot 39.3% from three, which turns out to be the 5th worst 3-point defense in the NBA. Most notably this season, they've allowed Mike Dunleavy (CHI) to shoot 4-7, Kirk Hinrich (CHI) to shoot 3-5, Damian Lillard (POR) to shoot 5-10, and Ryan Anderson (NOP) to shoot 8-12 from 3. All of these are well known 3 point shooters, so it's not like Cleveland wasn't aware of what they were capable of. They will have to step up their close outs and rotate to the shooters when necessary. If there's anything Cleveland wants to do, it's to force contested 2's rather than open 3's.
This table shows the Cleveland Cavalier's defense in different spots on the floor:
Distance From the Rim Field Goals Made/ Attempted Field Goal Percentage Ranking
Less than 5 feet 17.0/ 27.3 62.3% 26th
5-9 feet 2.5/ 8.0 31.3% 4th
10-14 feet 1.8/ 4.7 39.3% 13th
15-19 feet 6.7/ 14.0 47.6% 27th
20-24 feet 6.0/ 16.0 37.5% 15th
25-29 feet 4.8/ 10.3 46.8% 30th
The most glaring numbers are the shots at the rim where Cavs' opponents shoot 62.3%, the 46.8% shooting from the 3-point line, and the 47.6% shooting from the midrange spots. If these stats are any indication of how Cleveland will play, then they'll struggle against teams like Houston, Golden State, and Toronto to name a few. Roy Hibbert and Dwight Howard are excelling on the low post, Kyle Korver and Klay Thompson are shooting lights out from 3, and players like DeMarcus Cousins, Blake Griffin, and Chris Bosh can mix it up with an array of moves from the low post to a long, mid-range jumpshot.
Cleveland's rebounding was mentioned above as one of their strength because they don't allow their opponents many rebounds (41.3 RPG). But their overall rebounds per game stand at only 40.5, so they're being marginally outrebounded by their opponents. Cleveland has only one player averaging over 7 rebounds in Kevin Love, who's grabbing 10.2 rebounds a game. The next closest players are LeBron James at 6.8, Tristan Thompson at 6.5, and Anderson Varejao at 6 rebounds a game. As much as they seem to be doing a good job on the boards, they'll need to step it up even more to win rebound battles and secure more opportunities for their team.
In terms of the Cavaliers statistical defense, there isn't much showing there as well. They are averaging 5.7 steals per game which is 23rd in the league. Because they don't cause a lot of turnovers, it shows in their 12.5 opponent's turnovers per game (23rd in the NBA; Philadelphia is surprisingly number 1 at creating 19 turnovers per game). As expected, the small Cavaliers team is also averaging just 3.5 blocks per game, which is 28th in the NBA just ahead of the Heat and Grizzlies. This isn't to say that you can't be successful if you don't have the defensive statistics in the boxscore, but because they likely won't have a high blocking total, the Cavs will need the extra effort to stay in the passing lanes to create steals, turnovers, loose balls, and fast-break opportunities (which we know LeBron and Kyrie live off of).
So far in the 6 games we've seen the Cavaliers play, those have been the points they're excelling in and the spots they're struggling. Again, we're only 6 games into the season and there's tons of room for improvement in the remaining 76 regular season games.