Stagnant offense and teammates for the Cavs? Not with LeBron James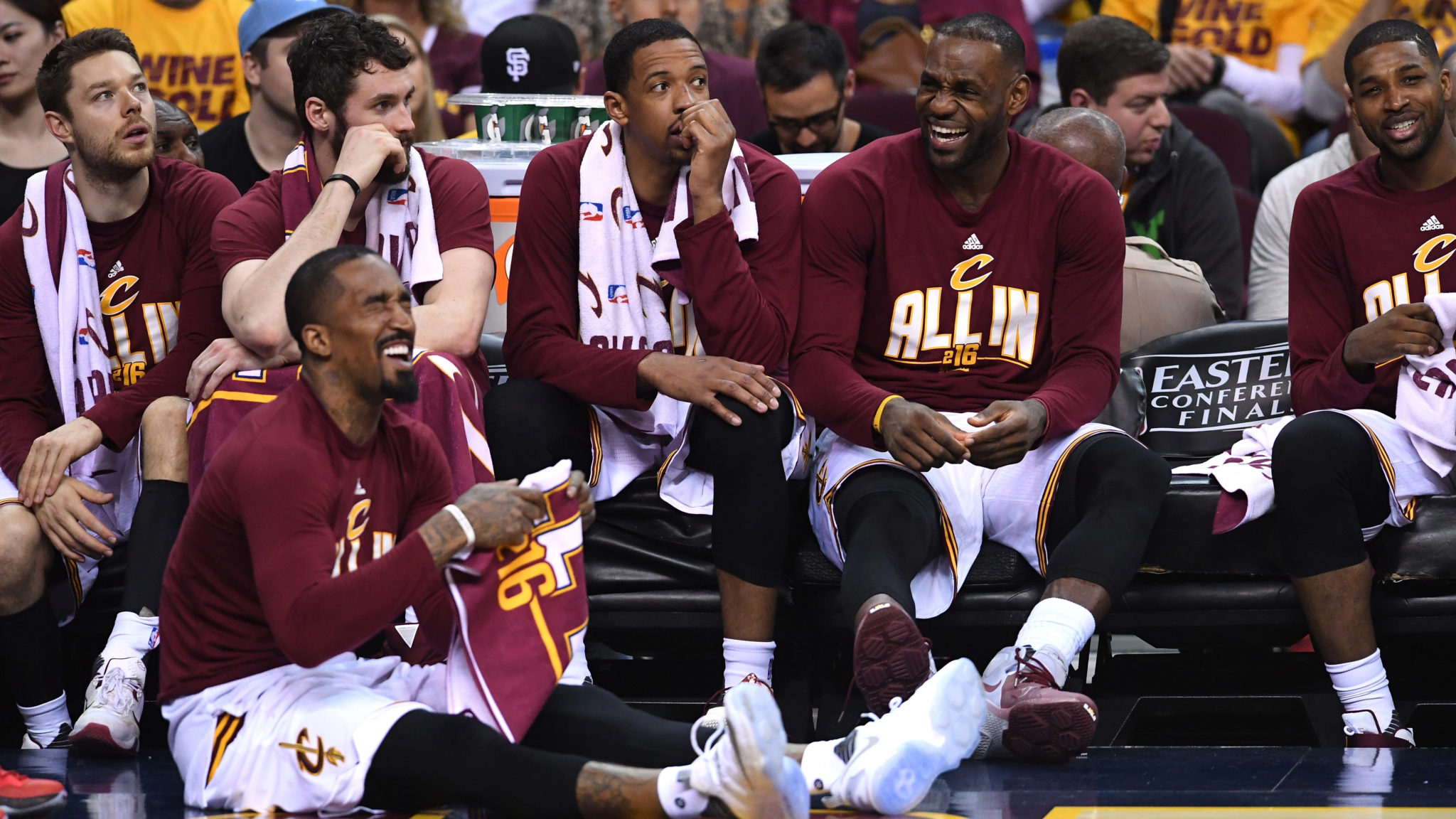 It is easy to watch a Cavs game and wonder why their offense does not have more fluidity at times. Due to the team having two superstars, Kyrie Irving and LeBron James, it is easy for the offense to fall into a pattern of one on one basketball. With sharpshooters such as Kyle Korver, Channing Frye, and Kevin Love standing around at times, there is often criticism aimed at Irving, James, and head coach Tyronn Lue. With LeBron shouldering the bulk of the criticism, it begs the question, is it fair?
The quick answer: No.
LeBron has the ability to elevate everyone around him with his quickness and vision. Rewind back to his first stint with Cleveland when he had teammates Daniel Gibson and Damon Jones looking like some of the deadliest shooters in the league, both quickly seeing their NBA careers fizzle out after their time with LeBron ended. When the LeBron comparison discussions start, one of the names that quickly arises is Magic Johnson, arguably the best passer of all time. It was tough not to think of Magic Tuesday night when LeBron's no look pass went between the legs of defender Andrew Wiggins in route to newly acquired Derrick Williams for an easy and one lay in. Magic and a stagnant offense rarely came up in the same sentence, so why are critics and fans so much harder on LeBron? True shooting percentage statistics argue just the opposite, as many players see an increase playing alongside James.
Is the Cavs offense frustrating at times, sure, but there are many more times that you will see LeBron finding a teammate for a wide open three or an easy dunk. The LeBron effect is exemplified by two players brought to Cleveland in the past few seasons via trade. Iman Shumpert came over to the Cavs in 2014, and while battling through injuries his first few years with the squad, he hovered right around his career 50% true shooting percentage. Healthy and fully acclimated to the team, Shumpert is at a career high 57%, highlighted by a 5-8 shooting day from three a few weeks ago against the Oklahoma City Thunder in Cleveland in a primetime Sunday afternoon game. Recent demands for a "playmaker" has pushed Shumpert into crosshairs of trade talks for the Cavs. The search for a backup point guard or true rim protector has become casual conversation for Cavs fans, while Shumpert's past performance and current contract make him the first major tradable asset along with Jordan McRae and DeAndre Liggins. James has optimized Shumpert offense from a career stand point, making his role on the roster more valuable when combining this trend with his defensive ability. That said, James could do this for anyone.
Take another key addition from last year's championship team, Channing Frye, for example. Frye has also eclipsed his career best true shooting percentage and has steadily increased in his season plus with the team. Not only has Frye's over percentage increased, but he is 14% better with James on the floor, while Korver (12%) and J.R. Smith (8%) have also seen their true shooting percentages increase since joining the team. Shumpert must maintain this level of chemistry with James to remain a Cavalier, and there are plenty of shooters on the team to serve as comparisons.
LeBron's ability to find open shooters is what has made the Cavaliers so deadly from 3-point range over the past few seasons. Just last year the Cavs set the playoff record for 3's in a playoff game when they made 25 against Korver's Hawks. On this year's team, many of the Cavs 3 point specialists have been percentages when their shots come off passes from LeBron. Love, Shumpert, Korver, and Frye are all shooting 42% or better from 3-point territory on passes from James, and are all higher than their season averages. Frye is leading the way as he is +8% from deep on passes from LeBron. The one exception is Irving, who has an innate ability to create open shots for himself, and thrives when shooting off the dribble.
Let's take a look back into 90's and see what impact Michael Jordan had on his Chicago Bull teammates. Obviously, it is hard to argue with six titles, but a closer look actually shows that Jordan's impact on his teammates may not be as drastic as James'. Looking at a few of Jordan's teammates from those Bulls squads from the 90's shows that they were actually more efficient without Jordan on the floor. Taking a closer look at the two years Jordan took off of basketball to pursue his baseball career, you will see that teammates Toni Kukoc and Dennis Rodman both experienced career high true shooting percentages, while Scottie Pippen stayed fairly steady. Kukoc and Rodman rapidly saw their percentages decline in the seasons following Jordan's return. This comparison shows just how impressive LeBron's effect on his teammates and the type of looks they get truly is.
The next time you see a lack of activity on the offensive end from the Cavaliers, look at it as an anomaly rather than the norm.