Richard Jefferson taking the anti-LeBron James top off a fan in Boston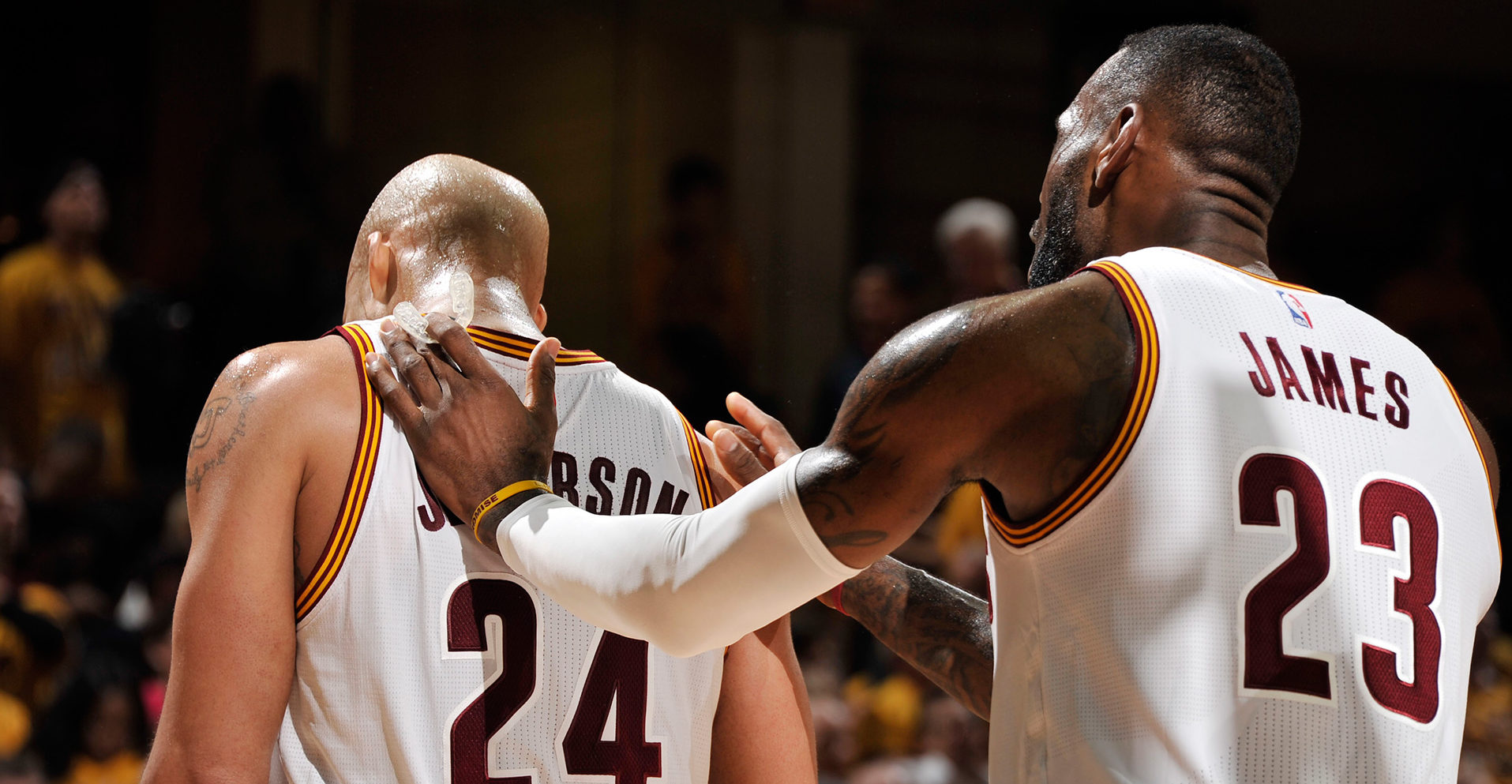 Since arriving in Cleveland from Dallas, no one expected Richard Jefferson to have the impact he has had for the world champions.
Jefferson, 36, was an integral part of the very first championship in Cavs franchise history, as he started for the concussed Kevin Love in last season's NBA finals, proving a central figure in the historical turnaround the Wine and Gold pulled off to lift the Larry O'Brien trophy.
Jefferson has proved to be a reliable and steady piece off the bench, and has had an extraordinary influence within the Cavs' locker room.
After finally becoming an NBA champion after 16 long seasons, Jefferson was overcome with emotion and nearly retired this past off-season, but was soon talked out of it by the beloved Cleveland faithful, his teammates, and coaching staff.
He is still a savvy and productive veteran, averaging 5.7 points and 2.4 rebounds in just under 20 minutes per contest this campaign.
Jefferson has found a new lease of life in Northeast Ohio, and is one of the most respected individuals in the Cavs' locker room. He always has his teammates' back, and that was on display this past week as the Cavs traveled to Boston to take on the Celtics.
As the Cavs were in the midst of a playoff type atmosphere at TD Garden, teammate LeBron James left the court at halftime and as he headed to the locker room, an excited Celtics fan was standing there holding a shirt with an offensive message directed at James.
As all great teammates do, Jefferson wasn't having any of it, and swiftly snatched the top from the Celtics fan, leaving him in shock.
At halftime of the Celtics game on Wednesday, Richard Jefferson snatched @Lu_Cash617's Lebron Is A Douche tee as he headed down the tunnel. pic.twitter.com/mUr9XJ1g7F

— Only In Boston (@OnlyInBOS) March 3, 2017
The excited Celtics fan were not expecting Jefferson to take action, but it was the perfect move by the Cavs' glue guy.
It didn't stop James from dominating the Celtics yet again, albeit coming short of a win, registering a triple-double and being named NBA player of the month for February the very next day.
The Cavs and Celtics could be headed towards a showdown in the Eastern Conference Finals, and it's bound to be a fiery encounter if the two happen to take the floor and battle it out in a seven-game series with a ticket to the NBA finals at stake.