Richard Jefferson was the reason why Stephen Curry threw his mouthpiece in 2016 Finals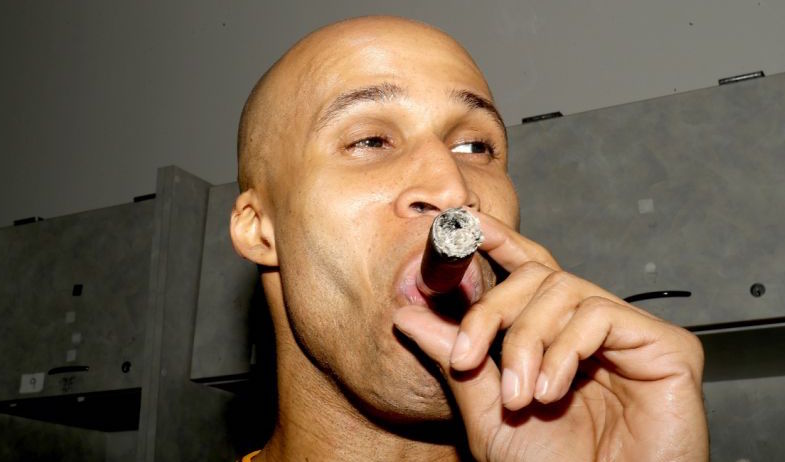 Last weekend, Cleveland Cavaliers forward Richard Jefferson and several members of the Golden State Warriors, including Steph Curry and Andre Iguodala, placed their storied rivalry on the back-burner for a short period of time. What was the occasion, you ask? Believe it or not, the competitors were all gathered for the marriage of Atlanta Hawks swingman, Kent Bazemore.
Jefferson mingling with members of the Warriors' organization may seem a bit strange to Cavs fans. However, what a lot of people forget is that he actually played with the Dubs for a short while. In fact, Jefferson, a 16-year NBA veteran who has played for seven different teams over the course of his career, was with the Warriors when several of their core players were just rookies, including Klay Thompson and Draymond Green.
In the latest episode his popular podcast, "Road Trippin," Jefferson opened up about the conversations had at Bazemore's wedding. Remember when Curry was ejected from Game 6 of the 2016 NBA Finals for throwing his mouthpiece? It seems Jefferson played a large role in the build-up to that moment.
"So, I see Steph at the wedding this weekend, and we're laughing and joking and talking," Jefferson said. "We were smoking cigars. We were talking back-and-forth about just the game, and I was like 'oh yeah, my goal was to f*ck you up every single time. Every time you walked by me, I was trying to f*ck you up.' And he was like, 'I was so pissed off. You don't understand, Richard. You're the reason why I threw my mouthpiece. Cuz that sh*t f*cking hurt.'"
Finally, after all of this time, the truth behind one of the more iconic moments in the 2016 Finals has been exposed.