Report: Richard Jefferson and Channing Frye contemplating retirement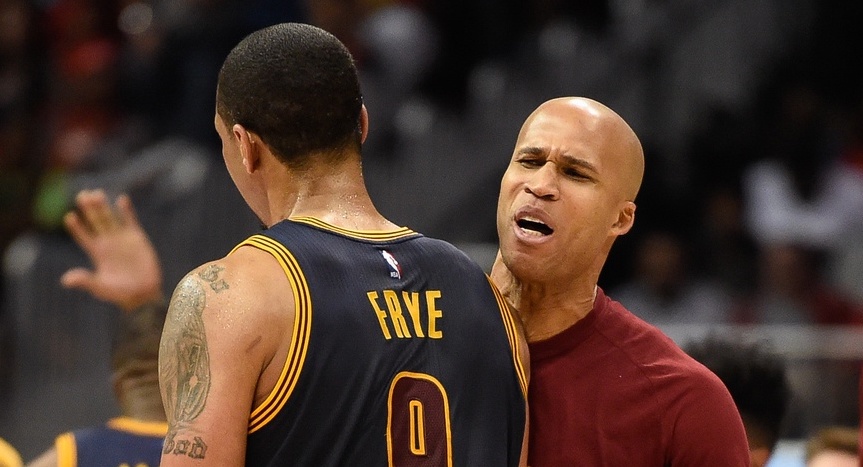 According to our friend Sam Amico of Fox Sports Ohio and AmicoHoops.net, Cleveland Cavaliers forwards Richard Jefferson and Channing Frye are contemplating retirement.
Word around league is #Cavs' Richard Jefferson and Channing Frye may be preparing to retire this offseason, creating salary/roster spots.

— Sam Amico (@AmicoHoops) June 22, 2017
Jefferson and Frye, two of the best in the podcasting business, have become beloved members of the Cavaliers. Seeing them go would certainly be a sad event for fans of the team. However, as Amico points out in his tweet, their departure would create two open roster spots and a fair amount of salary space.
As most Cavs fans know, Jefferson, a 17-year NBA veteran, normally plays the role of LeBron James' backup, though there are times when they are both on the floor at the same time. In his 79 appearances during the 2016-17 regular season, "R.J.," as he is known, averaged 5.7 points (45% filed, 33% from three), 4.0 rebounds, and 2.1 assists in 20.4 minutes per game. During a recent episode of "Road Trippin' with R.J. and Channing," James told Jefferson that he would always have a place in Cleveland, no matter what he decides to do. It seems the King smelled something in the water there.
As for Frye, one of Cleveland's deadliest marksman at range, he too is thinking of retiring. For the most part, Frye comes off the bench to spread the floor for the Cavs' fast-paced, drive-and-kick style of offense. His hot hand would surely be missed were he to decide to hang it up. In 66 games last season, Frye, a 12-year vet, averaged 8.9 points (45% field, 41% from downtown) and 3.8 rebounds in 18.9 minutes per contest.
Immediately after the news of their potential retirements, Channing Frye took to Instagram to refute that report from Amico.