REPORT: Cavs, Celtics, Knicks Deal Centered Around Kevin Love And Carmelo Anthony Discussed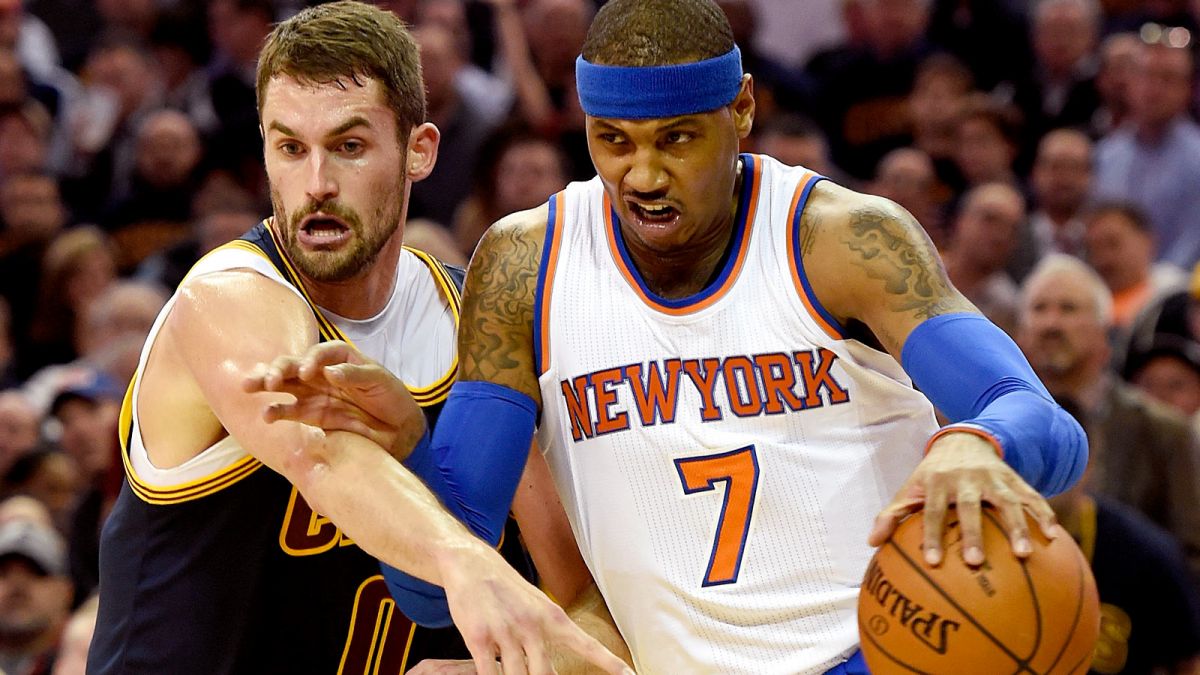 With the trade deadline fast approaching, rumors around the league are beginning to and will continue to swirl. The latest rumors, however, have been swirling around a major three-team trade between Eastern Conference teams.
According to Frank Isola of the New York Daily News, there was some discussion about a possible three-team trade between the Cleveland Cavaliers, Boston Celtics, and New York Knicks
Cavs' Most Interesting Trade Options Before February Trade Deadline
The Daily News has learned that the Boston Celtics and Cleveland Cavaliers have discussed a blockbuster trade centered around Kevin Love. There were very preliminary discussions about expanding the deal to include the Knicks and Anthony, who would have to waive his no-trade clause in order to facilitate a deal to the Cavs.

The Knicks would receive draft picks and players in return. One of those players is believed to be Timofey Mozgov, who five years ago was traded by the Knicks to Denver in the Anthony deal.

Those talks have not progressed. Plus Anthony reiterated on Friday that he has no plans to seek a trade. However, when asked if he's thought about his future with a losing organization, Anthony gave a cryptic answer.
In the trade scenario, the Celtics and Cavs discussed a trade centered around Kevin Love, and the Knicks could join in where Carmelo Anthony would be waiving his trade clause in order to head to Cleveland, while the Knicks get draft picks, and possibly Timofey Mozgov.
When asked on Friday if Anthony was going to seek a trade from the Knicks, Anthony was adamant about not doing so. When asked if he thought about the future of the team, however, he wasn't very clear.
"Not yet. I'm pretty sure I'll have that conversation with myself and my family and my team. But it's not a conversation for right now."
LeBron James and Anthony are very close friends, and who wouldn't want to play with their best friend? This trade is likely just a discussion, and there likely isn't too much behind it other than preliminary talks, but it would questionable to see the Cavs trade just seven months after signing a five-year deal with the team.