Report: Cavaliers 'backing far away' from potential Carmelo Anthony trade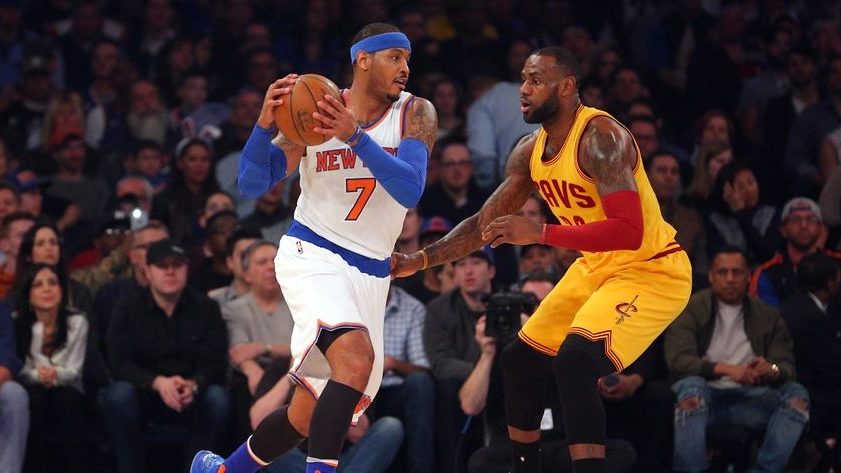 It seems despite reports on Wednesday stating that Cleveland was still interested in trading for Carmelo Anthony as long as the price was right, the Cavalier front office may be cooling off from the idea.
According to Joe Vardon of Cleveland.com, the front office is "backing far away from a potential trade for Anthony."
Cleveland hasn't ruled out any scenario when looking to improve this roster (except for those involving moving centerpiece LeBron James), though Kevin Love, lauded as the greatest trade piece Cleveland owns for two years now, is looking to stick with the Cavaliers. When asked about his future with the franchise, Love stated that he expects "to be here for a long time."
Looking objectively at a swap, a straight up Love for Carmelo trade doesn't make sense, seeing that Love is four years younger, under contract for another three years as opposed to Anthony's impending free agency. And while averaging around three points per game less than Anthony, Love is doubling up on rebounds a night, Cleveland's greatest strength outside of pure scoring.
Packaging a group deal for Anthony doesn't look great for Cleveland either. Golden State was able to sign Kevin Durant by sacrificing its depth, however they've found apt replacement for those pieces in Zaza Pachulia, David West and Ian Clark. In a swap for Anthony, Cleveland would likely have to give up not only their active depth such as Iman Shumpert, Channing Frye, and Kyle Korver. Cleveland would likely be forced to part with a pick and/or young players such as Kay Felder as well, stripping Cleveland even further of rotation players. Neither of these trades seem to make much sense for the Cavs.
More likely Cleveland will see the trade market as an opportunity to send off Chris Andersen to clear a roster spot, and unless the deal of a lifetime hits them, look for the buyout market post trade deadline to have a veteran wing defender or big man that will take a ring chasers' minimum for the rest of the year (look at guys such as Tony Allen, Andrew Bogut or Jose Calderon to fit this bill).