Report: Carmelo Anthony will go to Cavs if he secures buyout from Knicks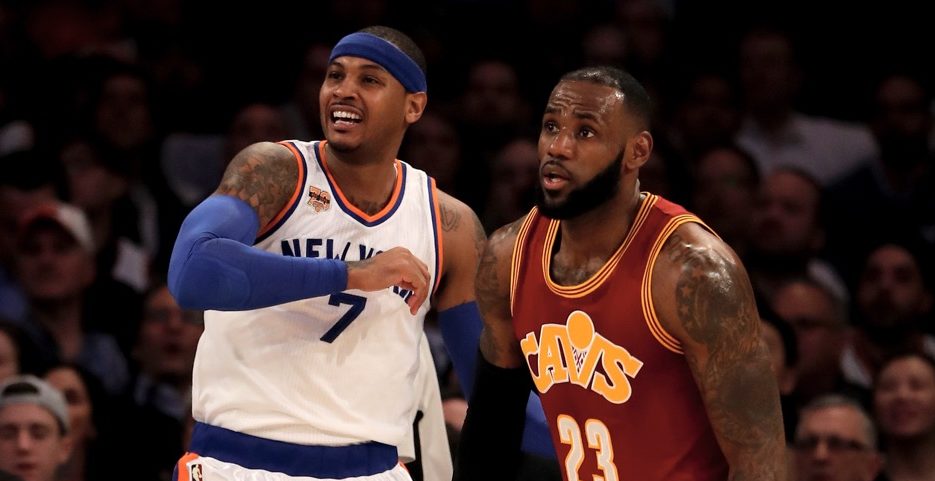 Like several other NBA teams, the Eastern Conference champion Cleveland Cavaliers have been watching the proceedings between Carmelo Anthony and the New York Knicks. While it's true that Anthony has previously stated he would like to remain in New York, there is a chance he could be bought out of his contract, leaving him with a choice of destinations.
Anthony, a 33 year-old 10-time All-Star, is slated to make $26.2 million next season. Making trade talks a bit difficult, the former Syracuse University stand-out has a "no-trade" clause, as well a 15% "trade kicker" in his contract with the Knicks, which basically means he gets paid more if he is dealt to another team.
Where might Anthony be interested in playing were he to receive a buyout, you ask? According to ESPN's Chris Haynes, who joined 92.3 The Fan's Bull and Fox show earlier today, the Cavaliers are at the front of his mind. In fact, Haynes says Cleveland would be Anthony's pick.
"If (Anthony) gets a buyout, it's a pretty forgone conclusion that — from what I'm told — that it would be Cleveland who he would pick if he gets to that point," Haynes said. "With that being said, the Cavaliers have not relinquished their hopes and desires of trying to attain Paul George. Boston is in the mix (for George as well) — they have the assets — but Cleveland isn't giving up hope."
.@ChrisBHaynes on @BullandFox re: Carmelo "If he gets a buyout, it's a pretty foregone conclusion from what I'm told, it would be Cleveland"

— Keith Britton (@KeithBritton86) June 27, 2017
More @ChrisBHaynes on Carmelo: "I think it's a high possibility he can reach a buyout in the offseason"

— Keith Britton (@KeithBritton86) June 27, 2017
There will certainly be other teams interested in Anthony's services if he is indeed bought out of his contract — and rightfully so. The San Antonio Spurs and Houston Rockets, two championship-caliber franchises, both have more cap space at their disposal than the Cavaliers, who have but a $5.1 million trade exception to use as tender. For now, it seems we'll just have to wait for more information as it becomes available.