Raptors head coach Dwane Casey is upset with LeBron James' 'taunting'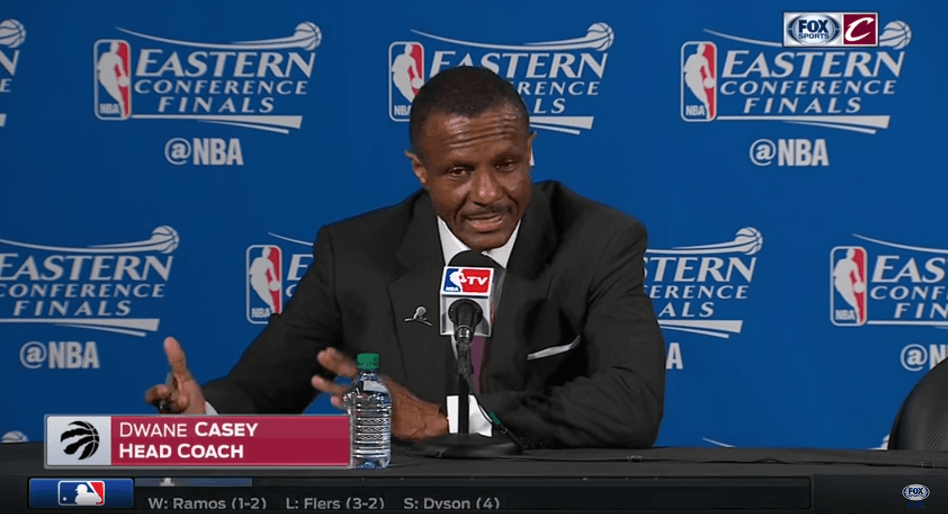 The defending champion Cleveland Cavaliers have made their way to Toronto for tonight's Game 3 matchup of the Eastern Conference Semifinals against the Raptors. Currently, the Cavs are leading the series, 2-0.
The Raptors were basically embarrassed in Game 2. Led by LeBron James' 39 points, six rebounds, four assists, three steals, and two blocks, the Cleveland cruised past Toronto for a 125-103 victory.
If you were watching Game 2, you may have witnessed James twirling the ball in his hands in the second quarter before knocking down a three-pointer over the outstretched arm of Serge Ibaka.
"I was just basically in my zone, in my comfort zone," James said of the play. "And after I spun the ball and I jabbed him, I seen what I needed to see from the defender to be able to get that shot off. If I didn't see it, I would have drove it. And if I didn't have the drive, I would have gave it up and let one of my teammates attack."
It seems the Raptors are upset with James' "taunting." After Wednesday night's game, Raptors head coach Dwane Casey was asked about the Cavaliers' dominant play through the first two games of the series. Coach Casey was less than pleased with the question.
"If people want to use the words 'we got dominated,' that should get your hair up on your neck a little bit, get you upset a little bit, getting accused of getting dominated," Casey said. "I hope so, in a smart way. I don't want to get anybody thrown out or suspended or anything like that. But yeah, you should be teed off or upset when somebody's using the word dominated, that you got dominated."

"The word dominant, that play, coming off and having a beer on the sideline, all those things should get you upset to make it a physical contest."
After this morning's shootaround, Tristan Thompson chimed in on what he expects in tonight's Game 3 matchup, which is scheduled for a 7:00 p.m. EST start on ESPN. Thompson says that he and the Cavs are expecting the Raptors to be aggressive.
What's @RealTristan13 expecting for tonight's #CavsRaptors Game 3?

WATCH: https://t.co/1j9830rmCj#DefendTheLand pic.twitter.com/vv4eVOAjhe

— Cleveland Cavaliers (@cavs) May 5, 2017
Raptors point guard Kyle Lowry injured his ankle during Wednesday night's game. Most reports are indicating that he will be a game time decision for Game 3. Whether Lowry plays or not, the Cavs will be ready for a physical contest.