Pick-And-Roll Defense Key To Cavs 2nd Finals Appearance In Franchise History
The Hawks came out with the same approach the Bulls did in Game 1 against the Cavs, utilizing their big men to set screens and get an open jumper or a mismatch. Unfortunately for the Cavs, the screens worked in the Hawk's favor most of the time. With Paul Millsap and Al Horford setting solid screens for Jeff Teague and Kyle Korver, the outcome could be devastating to the Cavs D. Jeff Teague is easily one of the fastest point guards in the league and if he gets mismatched with someone slower, he knows how to exploit them. Similarly, Kyle Korver is one of the best shooters in the league (47.8% fg, 49.2% 3pt, 89.8% ft). A screen on his defender leading to just a fraction of space is all he needs to make you pay with his stroke. The pick-n-roll offense also worked well for the Hawks, given that their bigs have a considerable size advantage over the Cav's guards. With talented passers such as Teague and Korver its easy to get the ball into the big man for some easy inside points. Here are a few examples of the Hawks' pick-and-roll offense in Game 1 that the Cavs have to fix to reach the NBA Finals
Pick-and-Roll Scenario 7:
Here DeMarre Caroll is setting a down screen on Shumpert to free Kyle Korver
Shumpert gets stuck behind the screen as Al Horford hand the ball off to Kyle Korver
Mozgov stays with Horford too long while Shump is still stuck, letting Korver dribble out for an open shot.
Mozgov steps in late to contest the shot, ending up with a foul and an and-1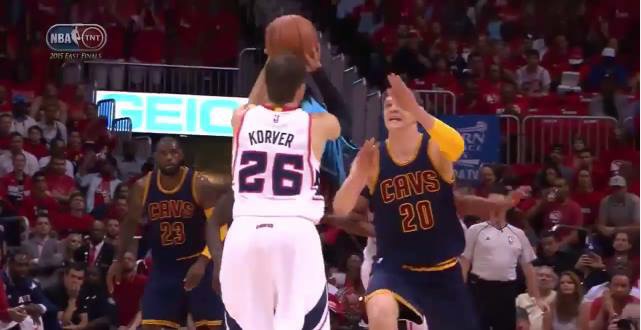 Either Mozgov has to contest Korver's shot sooner and make him dribble the basketball, or Shumpert needs to beat the screen to stick with Korver. Either way, you cannot let Korver have an open jumper.
You can find the sixth pick-and-roll scenario on the next page