The Hawks came out with the same approach the Bulls did in Game 1 against the Cavs, utilizing their big men to set screens and get an open jumper or a mismatch. Unfortunately for the Cavs, the screens worked in the Hawk's favor most of the time. With Paul Millsap and Al Horford setting solid screens for Jeff Teague and Kyle Korver, the outcome could be devastating to the Cavs D. Jeff Teague is easily one of the fastest point guards in the league and if he gets mismatched with someone slower, he knows how to exploit them. Similarly, Kyle Korver is one of the best shooters in the league (47.8% fg, 49.2% 3pt, 89.8% ft). A screen on his defender leading to just a fraction of space is all he needs to make you pay with his stroke. The pick-n-roll offense also worked well for the Hawks, given that their bigs have a considerable size advantage over the Cav's guards. With talented passers such as Teague and Korver its easy to get the ball into the big man for some easy inside points. Here are a few examples of the Hawks' pick-and-roll offense in Game 1 that the Cavs have to fix to reach the NBA Finals
Pick-and-Roll Scenario 7:
Here DeMarre Caroll is setting a down screen on Shumpert to free Kyle Korver
Shumpert gets stuck behind the screen as Al Horford hand the ball off to Kyle Korver
Mozgov stays with Horford too long while Shump is still stuck, letting Korver dribble out for an open shot.
Mozgov steps in late to contest the shot, ending up with a foul and an and-1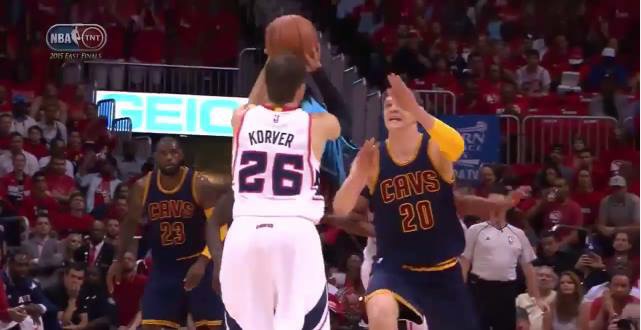 Either Mozgov has to contest Korver's shot sooner and make him dribble the basketball, or Shumpert needs to beat the screen to stick with Korver. Either way, you cannot let Korver have an open jumper.
You can find the sixth pick-and-roll scenario on the next page
Pick-and-Roll Scenario 6:
Here we have Paul Millsap setting a screen on LeBron to free Jeff Teague
Thompson then switches onto Teague
Teague recognizes the mismatch, gears up to drive, and gets Thompson on his heels
Teague head fakes and is able to beat Thompson to the basket for an easy layup.
While LeBron can guard Millsap, he needs to recognize that he can't leave Thompson to guard Jeff Teague. LeBron needs to beat the screen or Thompson needs to hedge a bit harder to allow LeBron to go under and stick on Teague.
You can find the fifth pick-and-roll scenario on the next page
Pick-and-Roll Scenario 5:
Paul Millsap gives the ball to Dennis Schrӧder and then sets a screen on J.R. Smith
Tristan Thompson switches onto Schrӧder
Schrӧder recognizes the mismatch and blows by Thompson for a layup
This is a hard screen for J.R. to recover from as it is on his backside. Thompson is just on his heels and too slow to contain Schrӧder. James Jones should have rotated earlier to allow some help side defense.
You can find the fourth pick-and-roll scenario on the next page
Pick-and-Roll Scenario 4:
Here, Al Horford sets a screen on Kyrie so Teague has room to dribble
Mozgov switches onto Teague and leaves Kyrie in a bad place against Horford
Teague is able to flip Horford the ball for an easy faux-alley-oop
Horford does a great job of sealing Kyrie here. Kyrie was a little slow off the screen and was then in a bad position being posted up on.
You can find the third pick-and-roll scenario on the next page
Pick-and-Roll Scenario 3:
Teague sets a screen on Shumpert, freeing Kyle Korver
Millsap gets ready to set a double screen as Korver gets the ball on the perimeter
Shumpert can't react fast enough and Korver is left with a catch-and-shoot three
Here's another hard screen that Shumpert almost broke up. The double screen got him though, and he was just late contesting Korver's shot.
You can find the second pick-and-roll scenario on the next page
Pick-and-Roll Scenario 2:
Teague drives while Al Horford sets a screen on Shumpert's blind side
Shump gets taken out of the play with Horford's seal and Teague ball fakes Tristan Thompson
Thompson bites on the fake and Teague is able to lay one in easily
Another hard screen to defend coming from Horford. Teague got the mismatch he wanted against Thompson; Thompson just needs to put his hands up and force Teague to make a play over him while Shump recovers.
You can find the best pick-and-roll scenario on the next page
Pick-and-Roll Scenario 1:
Here we see a double screen set on Delly by DeMarre Carroll and then Paul Millsap to free Teague
LeBron falls asleep on D and allows the backdoor cut and pass into Teague
And Teague is left with a wide open layup
This is just an example of some sloppy D by the Cavs. Delly gets screened hard and is too slow to recover, while LeBron was focused on Paul Milsap. This allowed Teague to slip in a back door cut and a nice pass delivered by Kyle Korver led to an easy basket.
Overall, the Cavs screen defense wasn't the best, but it surely wasn't as bad as Game 1 against the Bulls. The big lineup with both Mozgov and Thompson seemed to prevent a lot of shots from the Hawk's big guys. The Hawks, however, turned to their guards who were able to use their quickness to get to the basket. Luckily, the Cavs were able to play pretty good D and contest a lot of outside shots, leading the Hawks to shoot only 4 of 24 from three point land. However, this meant that the Hawks were able to shoot 30 of 54 (55%) from inside the arc with 46 of their 89 points in the paint. A good chunk of these points stemmed from sloppy Cavs defense. Either Cavs were getting beat to the basket or the Hawks had a pretty good screen offense rolling. Either way, the Cavs need to get some rest and come out with some strong D on Friday night. I'm sure Coach Blatt will find a way to limit the Hawks scoring.