Pat Riley Refutes Rumors That LeBron James Tried To Have Erik Spoelstra Fired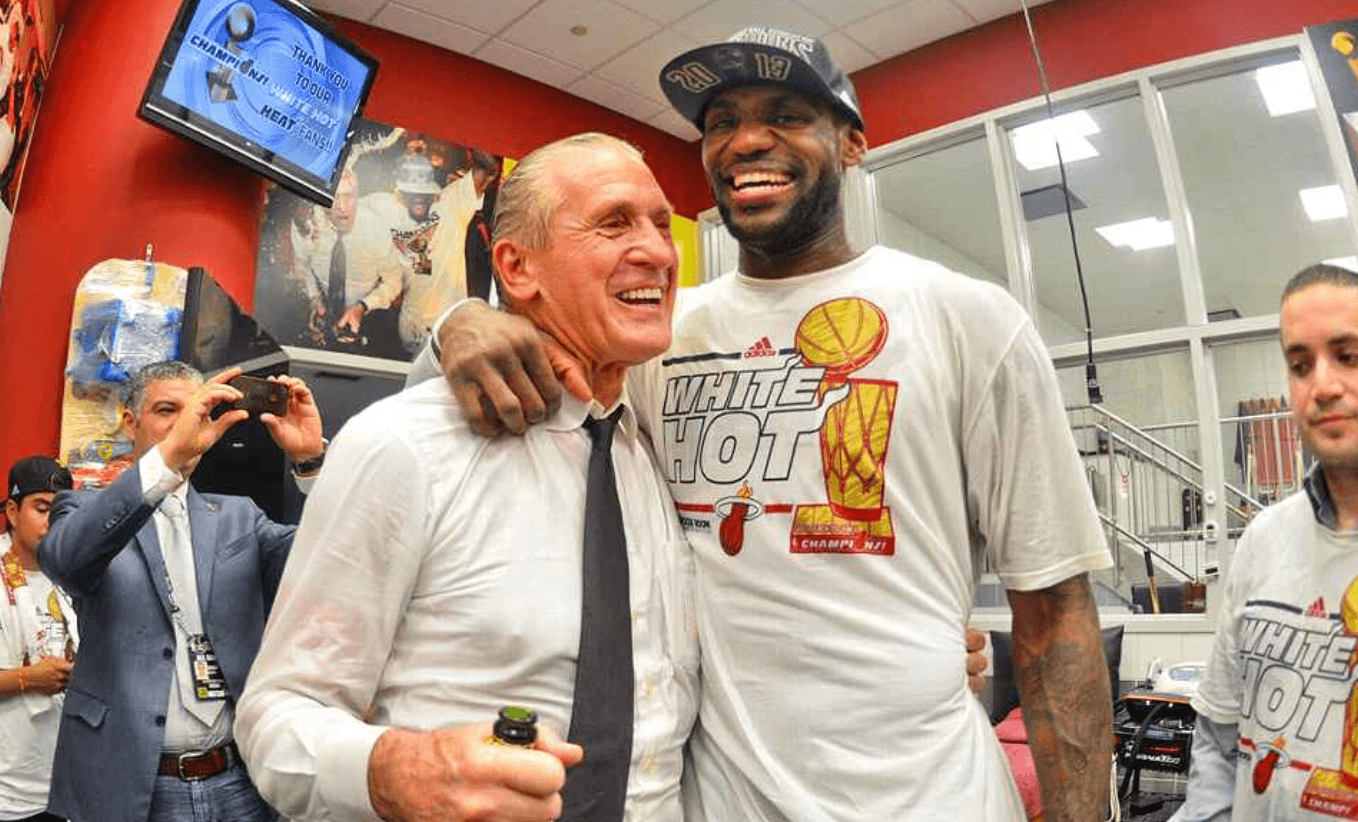 It's only been a little over a week since David Blatt was fired as the head coach of the Cleveland Cavaliers, and rumors that LeBron James was the cause circulated in an instant. Even a minority owner of the Miami Heat came out and claimed that James tried to have Heat coach Erik Spoelstra fired back when James was a member of the Miami Heat.
According to Bleacher Report's International Hoops Insider David Pick, LeBron tried to pull a similar stunt with Pat Riley and Miami Heat coach Erik Spoelstra.
RELATED: David Blatt Releases Statement After Firing
Pick reported the story based on a radio interview on an Israeli sports talk radio show from Turesday night:
Miami Heat minority owner Raanan Katz and I appeared as panelists to discuss the Cleveland Cavaliers' firing of head coach David Blatt last week. Blatt's former assistant coach, Alon Stein, was also on the show.

Katz used to be a shareholder of Maccabi Tel Aviv when Blatt coached here years ago, in addition to his role as a minority owner of the Heat. During the radio interview, Katz revealed a bomb of a story—that LeBron James "made it clear" he wanted Erik Spoelstra fired during his tenure with the Miami Heat.

Below are Katz's comments from Tuesday's radio appearance regarding LeBron James and Miami.

On why James left Miami for Cleveland:

"With the Miami Heat, LeBron James—before and after his four seasons when his contract was up with the team—made it clear that he wanted to dump head coach Erik Spoelstra. At one point, [Heat President] Pat Riley called LeBron into his office said that no one will tell him how to run the organization. Riley told James that Spoelstra is his guy, and that firing Spoelstra is out of the question. That was the main reason LeBron returned to Cleveland."

On James influencing Miami front-office decisions:

"LeBron screwed us badly, we weren't prepared for his departure from the Miami Heat. We made the wrong decisions because of LeBron James—he told us to draft a point guard [Shabazz Napier] who didn't meet the expectations, but we chose him because that's what LeBron wanted."
Pat Riley has come out and refuted that statement, saying that James never came to him and said that he wanted Spoelstra gone. Michael Wallace of ESPN reports:
"Not from him to me, ever," Riley said of James. "So a lot of stuff is following him out the door. Whether it's right or wrong, it's just the nature of it. But as far as that goes, no, he never, ever walked in and said anything."
RELATED: REPORT: Was LeBron James Consulted On David Blatt's Firing
According to Michael Wallace of ESPN reports that Katz actually doesn't have a big role, if any, with the Heat.
Katz, who owns less than 10 percent of the Heat, has since told multiple media outlets that his comments in the interview with an Israeli radio station were taken out of context. James also denied that he had any meaningful dealings with Katz, who sits courtside at most Heat home games and routinely interacts with visiting players and coaches at AmericanAirlines Arena.

Aside from Katz's courtside access during games and attendance at season-ticket holder events, multiple team sources told ESPN.com that he has essentially no role in the Heat's basketball operations or personnel decisions.
James was also a little frustrated from the recent accusations and rumors that he was being labeled a coach killer.. He spoke with members of the media to respond to some of the criticism, ESPN's Dave McMenamin reports:
LeBron James Fires Back At Haters and Critics:
"I think it does suck that people want to throw my name in the dirt. It sucks," James said. "But what can I do about it? I've never, in my time since I picked up a basketball, ever undermined a coach, ever disrespected a coach. You ask any of my little league coaches, my high school coaches, coaches I've played for in tournaments, camps, my NBA coaches. I've always respected what they wanted to do. And I'm not the owner of a team, I'm not the GM of a team. I'm the player of a team."