Other than winning their first title in 2016, Tuesday night was one of the biggest nights in Cleveland Cavaliers history. After what seems like five years ago, the final piece of the infamous Kyrie Irving trade would be decided. It was closure from a deal made months ago.
The coveted 2018 Brooklyn Nets pick was going to be decided in the annual NBA Draft Lottery and where it landed would make the trade either an explosive boom or a colossal bust.
Representing the Cavs was team owner Dan Gilbert's son Nick Gilbert. Gilbert was a staple during the Cavs' rebuilding years after LeBron James' first stint, and dropped this famous one-liner after the team landed the #1 overall pick in the 2011 NBA Draft:
Gilbert kept giving Cavs' fans plenty more to like when he again represented the team in 2013.
Naturally, with being in the lottery for the first time in four years, fans hoped Gilbert would bring plenty of luck to Wine and Gold Nation. Unfortunately, luck was not on the team's side this time, as the Phoenix Suns ended up winning the #1 pick in the 2018 NBA Draft. The Cavs will select eighth overall — barring any transactions.
While the Cavs certainly had lofty goals of trying to secure a top pick for the fourth time in seven years, eighth is still a fairly respectable consolation prize.
While the Cavs were pretty putrid when they were picking so high long ago, this year they are a legit title contender. Throwing in a potential young star is just icing on the cake. Thankfully, with the position they are in, the team can select from quite a few players that can be the face of the franchise for years to come.
As mentioned before, the Cavs are in a unique spot. The teams ahead of them like the Suns, the Atlanta Hawks, the Dallas Mavericks, and plenty of the others all have specific needs. It also helps that there are a few poorly run teams picking ahead of the Cavs as well:
Needless to say, this year's NBA Draft could shape up to be like this year's NFL Draft. The best example of this is when the Denver Broncos were able to nab Bradley Chubb fifth overall and add to an already loaded defense. Teams that are bad are going to get the best player for them while the Cavs can get both the best player for them and the best player available.
While there is a chance the Cavs could try and include the pick in a trade for a proven star, they will also consider using the pick for a player to build around for the future. So today, we will be taking a look at the top five prospects for the Cavs when they are on the clock on June 25th.
5. Collin Sexton – PG, Alabama – 19.2 points, 3.8 rebounds, 3.6 assists, 0.8 steals
While George Hill has been a steady option in the playoffs, especially against the Toronto Raptors, he is getting up there in age. Heading into next season, Hill will be entering his eleventh season. Coupled with the fact that he has been dealing with a nagging back injury in the playoffs, it may make sense for the Cavs to find their starting point guard of the future.
Enter former Alabama point guard Collin Sexton.
Sexton was the lone star on coach Avery Johnson's team and dragged the Crimson Tide by the tusks to the annual March Madness tournament. He plays with the swagger, confidence, and tenacity of the best player in the world and really showcased it in the SEC Tournament.
This tenacity is something the Cavs have been lacking sorely, especially at the point guard spot. With Sexton in the fold, it would finally bring some grit at the one spot.
Not to mention some upside, proven skills and the likely characteristic of being able to improve his game over the course of the next few years.
Speaking of grit, Sexton will earn his paychecks at the next level because of his defensive intensity. There are countless highlight reels of his defense, but Sexton's tenacity shown brightest in the SEC Tournament against Auburn:
Sexton can easily grow into a lockdown defender at the next level. The Cavs have dealt with turnstiles on defense with their point guards in the past and can buck the trend with Sexton.
While Sexton has proven his defensive ability time and again, he also has a polished offensive game as well. He has a lightning-quick first step and can easily get to the rim with a bunch of moves. When he does get to the rim, Sexton truly shines on offense. Whether it is with a nimble finger roll:
Or a flashy dunk:
It is almost a near-guarantee that Sexton will finish at the rim. In his time in college, Sexton has violently attacked the rim time and again. He would be able to score in bursts at a fairly consistent rate for the Cavs.
While he is the embodiment of toughness, Sexton does come with his fair share of knocks on his game as well. As mentioned before, Sexton dragged the Crimson Tide to the NCAA Tournament. While doing so he really showed that he is semi-allergic to passing the ball. Surely learning from a player like LeBron James would help, but it is concerning that Sexton only averaged a measly 3.6 assists per game.
The other flaw with his game is the fact while he can destroy the rim until the backboard shatters, he cannot consistently hit a three-point shot. He shot 33.6% from beyond the arc with Alabama and the spotty shooting is a big red flag. Modern NBA offenses all try to emulate what the Golden State Warriors and Houston Rockets do with three-pointers, and Sexton is the antithesis of that.
The NBA player that Sexton most compares to is Milwaukee Bucks guard Eric Bledsoe. Both Bledsoe and Sexton are defensive-minded guards who are terrific finishers at the rim. Both also struggle at times with three-point shooting, and both sometimes pass up obvious passes.
In the end, Sexton would be a solid addition for the Cavs with the eighth pick. There is a chance he could end up with the Orlando Magic, who is in dire need of a point guard and will go as low as the Los Angeles Clippers at twelve. He has a lot of potential, and plenty of swagger, and would be a logical choice at eight for the Cavs.
NBA Comparison: Eric Bledsoe
NBA Draft Range: Orlando (6)-Los Angeles (12)
4. Mikal Bridges – SG, Villanova – 17.7 points, 5.3 rebounds, 1.9 assists
Like George Hill, the Cavs are also getting long in the tooth with their other starting guard. JR Smith, who has been a fan favorite for years, is going to be 33-years-old heading into next season. Smith is a shell of the player he once was, and the Cavs could look for a younger, more reliable option in the upcoming draft.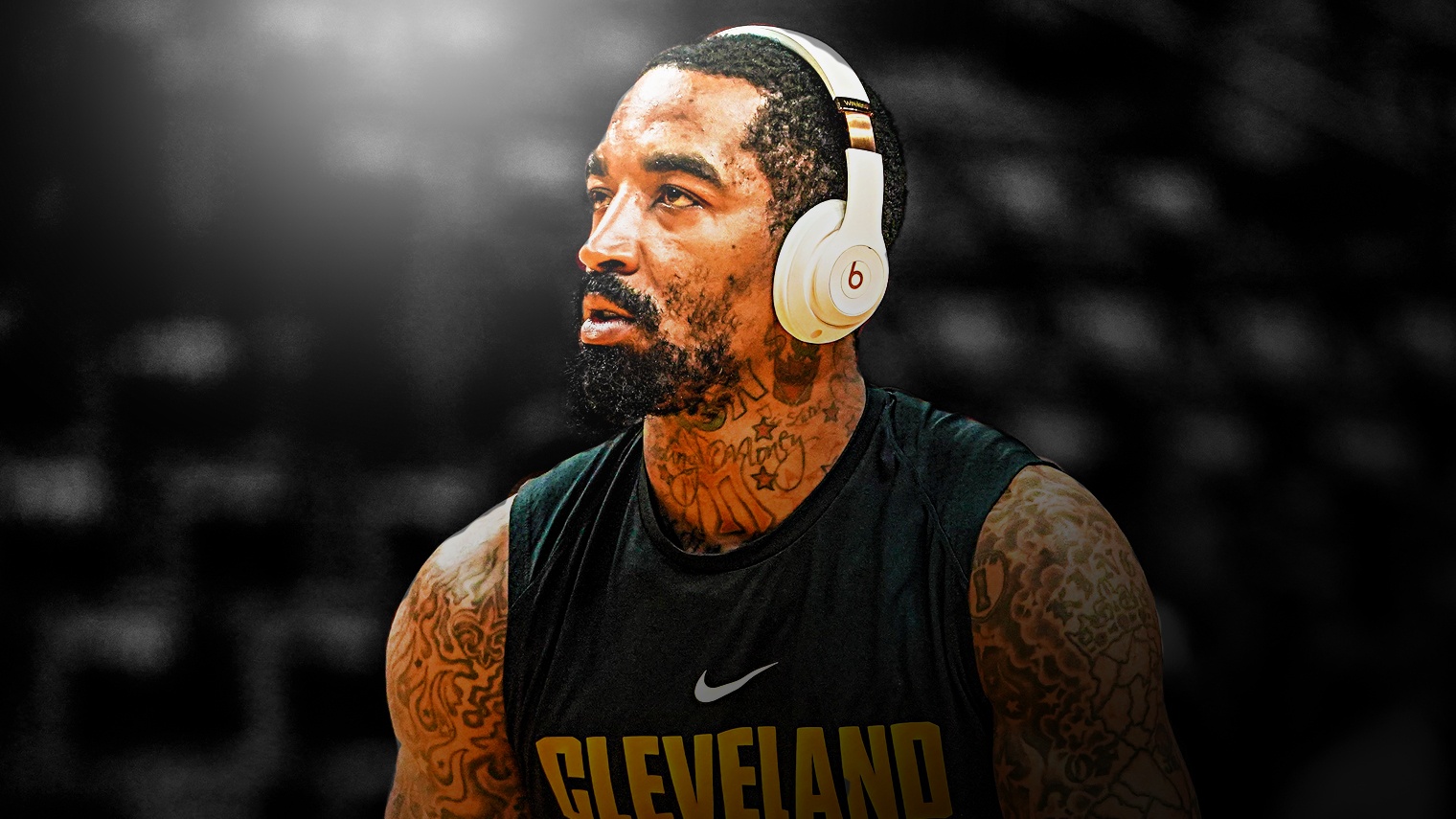 The home run choice would be former Villanova Wildcats talent Mikal Bridges.
One of the best two-way prospects in the draft, Bridges was consistently great throughout the NCAA season. Much like Sexton before, Bridges has a mean streak that can help him grow into a solid NBA defender. This is thanks, in part, to Bridges' 7-foot-2 wingspan, but the defensive potential of a backcourt of Hill and Bridges would be suffocating on the perimeter.
Unlike Sexton, though, Bridges was also one of the best three-point shooters in college last season. He shot at a sizzling 43.5% clip from beyond the arc and that is always welcome in the Association. Other than three-point shooting, Bridges is also able to attack the rim with a ton of force as well. His best game last season that showcased all of his offensive gifts was in a huge win over the Gonzaga Bulldogs:
And he shone even brighter against Sexton's Crimson Tide:
The other thing Bridges brings to the table is a championship pedigree. In his three collegiate seasons, Bridges was the 2018 Big East Tournament MVP, 2018 First-team All-Big East, and he also won two national championships.
Having the mental fortitude to win a National Title not only once, but twice, really projects to a player that can handle the rigors of the NBA. The Cavs have a really big team, and need some really big rings, and will need a huge one for Bridges.
Despite his defense, scoring ability, and mental fortitude, there are some concerns about Bridges. After three years in college, there is plenty of tape on Bridges and what NBA teams and fans see now is what they are going to get. Of course, he will develop further, but he may never grow into a superstar. While being a consistent force is always needed, the lack of star power Bridges has holds him back from being higher on the list.
Bridges' ceiling at the next level is as the prototypical "three-and-D" type player. The NBA player he compares best to is Tayshaun Prince. Bridges, like Prince, will probably not put up high scoring numbers, but his three-point shooting and defense will always be consistent.
If the Cavs were able to get a stellar defender and reliable shooter at eight in Bridges, it would be a great pick up. Bridges really does not need a lot of time to develop and can be an impact player from the opening tip. Eight is probably the highest Bridges can go in the upcoming Draft and will certainly be an option for the Cavs. The thing is, there may be more tantalizing prospects still on the board that would force the Cavs to pass on him. Stay tuned.
NBA Comparison: Tayshaun Prince
NBA Draft Range: Cleveland (8) – Charlotte (11)
3. Trae Young – PG, Oklahoma – 27.4 points, 3.9 rebounds, 8.7 assists
As mentioned before, the Cavs really should consider picking up a franchise point guard after trading away Kyrie Irving. At number eight, they could easily consider the most polarizing point guard prospect in Oklahoma's Trae Young.
Young, throughout the season, was the most talked about collegiate player. He was torching teams from beyond the arc, as there are far too many games to choose from when it comes to showcasing his three-point shooting ability. One of his best three-point shooting game came against the Northwestern Wildcats, where he connected on eight of his thirteen attempts:
This game against Northwestern also put a lot of NBA front offices on notice and numerous sites considered Young the #1 pick in the draft. This is mostly because Young's three-point shooting stroke drew him plenty of comparisons to Golden State Warriors superstar Stephen Curry.
This is a pretty lofty comparison, but it does make some sense for casual fans to say this. Young can hit a three-point shot from the parking lot if left open and has a similar quick release to Curry. He also has a knack for piling on assists and has displayed accurate passing vision throughout the season. He is also a steady pick-and-roll handler and can easily create space throughout a litany of moves to burn teams with his shooting.
With the Curry comparisons and plethora of abilities that best translate to the NBA, the Cavs would be insane to not take him at eighth overall, right?
Well, perhaps the Curry comparisons were a bit unfair, as once opposing teams figured out that Young was Oklahoma's only real threat, they focused in on him and his shooting percentages floundered. He still shot the ball with no fear, but there is some reason to take pause when you look at some of his bad shooting nights (23.1% against Kansas, 25.0% against Texas Tech). Shot selection is a concern, and some teams will wonder if Young can play in a proper NBA system.
Another knock on Young is the fact that he is a turnstile on defense. He would carry on the tradition of Cavs' point guards who do not play defense, but it would create plenty of further pressure on an already soft defensive squad. If the Cavs do draft Young, their next priority would be to find a defensive-minded shooting guard to pair him with.
While the Curry comparisons are unfair to Young, he does really look similar to former NBA guard Mike Bibby. During his time in the NBA, Bibby was known as a smart passing guard that could kill teams from the perimeter. Young can easily do the same at the next level as long as he stops taking so many boneheaded shots.
While there are some major red flags in terms of defense and shot selection, Trae Young would still be a pretty good pickup at eighth overall. The Cavs need an offensive sparkplug that can facilitate, score off the dribble, and hurt teams with an oh so sweet three-point shot.
Young's name also brings plenty of star power to Lake Erie and will put butts in the seats to watch him. Like fellow Sooner Baker Mayfield, Young could be the face of another Cleveland franchise. Young would be the ultimate boom or bust prospect for the Cavs at eight.
While Young could see himself wearing Wine and Gold next year, the Cavs will have some competition. Teams like the Orlando Magic will take a long look at Young as they are desperate for something to go their way for once draft-wise. If Orlando passes on Young, he can easily fall right in the Cavs' laps.
NBA Comparison: Mike Bibby
NBA Draft Range: Orlando (6) – Charlotte (11)
2. Michael Porter Jr. – SF, Missouri – 10.0 points, 6.7 rebounds, 0.3 assists
Before Trae Young took college basketball by storm, Missouri's Michael Porter Jr. was considered the consensus #1 pick heading into the season. But, tragedy struck Porter and the Tigers early into the season, as he was projected to be sidelined three to fourth months with a back injury:
There is a happy ending to this story. Surprisingly, Porter's recovery was ahead of schedule and he was able to play in Mizzou's last two games of the season. Unfortunately, this may have ended up hurting Porter's draft stock, though, as he only connected on only 33.3% of all his shot attempts.
This may work out pretty nicely for the Cavs at eight as long as Porter is 100% recovered from his back surgery. If he is, they are able to land an offensive juggernaut at a position of need. Porter is able to hurt opposing defenses from beyond the arc with a sweet three-point shot and solid catch and shoot ability, as well as at the basket as well. Before the injury, the best place to get a feel for Porter's offensive game was during his time with Team USA:
Besides the offense, Porter also has shown potential for defensive ability as well with collegiate averages of 1.0 steal per game. He is young and can continue to grow into a two-way superstar for the Cavs.
The thing is, though, Porter also suffers from the same problems as former Cavs draft pick Andrew Wiggins. Porter, like Wiggins, is a bit of a black hole on offense, with no real awareness to pass the ball. Also like Wiggins, Porter suffers from inefficient scoring at times. His draft stock hinges on being able to show to teams he is more than a black hole, but with limited tape, the odds seem against Porter right now.
With his preference to sometimes dominate the ball and the ability to kill defenses from anywhere on the floor, Porter best compares to Houston Rockets guard Joe Johnson. Johnson has hurt teams in a plethora of ways throughout his career, especially in isolation. Porter projects to do the same at the next level as well.
Even with the concerns, the Cavs would be beyond fortunate to land Porter at eighth overall. They face some stiff competition from teams like the Chicago Bulls or even the Memphis Grizzlies, but the lost season Porter suffered may allow him to slide to the Cavs. If he does, he would be a home run selection for the squad. He plugs in perfectly next to LeBron James and Kevin Love, especially if the team continues to play Love primarily at center.
NBA Comparison: Joe Johnson

NBA Draft Range: Memphis (4) – Cleveland (8)
1. Wendell Carter Jr. – C, Duke – 13.5 points, 9.1 rebounds, 2.0 assists, 2.1 blocks
Besides sending Kyrie Irving to the Cavs' biggest in-conference rival, the other roster shakeup the team went under was moving Kevin Love to the center position. While it at first seemed like a total failure, Love eventually grew into the role and performed admirably. But, Love still gets punished by other opposing bigs and is the major problem in why the Cavs are so lackluster at times when defending the rim.
Well, with the NBA Draft the Cavs can find the perfect big man to answer all of their problems at the five. Duke Blue Devils star center Wendell Carter Jr. is by far the best option for the Cavs at eighth overall, and the team should have a good chance of picking him up on draft night.
The reason why Carter is the perfect pick for the Cavs is that there really is no true flaw in his game. Carter is a thick-framed big man who is the perfect target in either lobs or pick and rolls thanks in part to his soft hands. He is also able to easily finish lobs and would be a perfect target for LeBron James. Besides attacking the basket, Carter can also stretch it to beyond the arc with connecting on 41.3% of his three-pointers.
Playing for Duke, there are always going to be big games, and Carter's best on offense came against Pittsburgh:
On the other side of the ball, Carter is just as impressive. Due to his stout frame, Carter is able to serve as an effective interior defender who can neutralize post players and also posses the length at 6'10" to protect the rim. Carter also has the ability to switch and defend the perimeter as well which allows him to not be a liability anywhere on defense. He also uses his body well to properly box out and eat the glass, something the Cavs have struggled with all season long.
The game that best showcases Carter's defensive ability was Duke's road win over Georgia Tech where he finished with 10 rebounds and 4 blocks. Carter would be a huge boost to the porous Cavs' defense and would be an anchor for years to come.
While Carter has a near-perfect game all around, the only problem he can suffer from is getting in over his head at times. This at times resulted in careless turnovers during his time with Duke which will result in growing pains at the next level. But, Carter also possesses impressive maturity for only 19 years old and is also pretty humble after having to play in Marvin Bagley's shadow for most of the year.
The NBA player that is an almost perfect comparison for Carter is Boston Celtics big man Al Horford. Horford does not have many flaws in his game, much like Carter, and has been a steady option for the Celtics after all their injuries this season. The Cavs would love to have a player like Horford, too, since Horford has been quietly killing them in the Eastern Conference Finals.
When it comes to the draft itself, the Chicago Bulls may make them sweat a little when it is their turn to pick. Thankfully, the Bulls have plenty of other needs and probably will target one of the top guards in the draft instead. All signs point to Carter being a member of the Wine and Golders next season and his impact will be felt immediately from day one.
In the end, the Cavs will have a lot of homework to do with a little over a month to go until the 2018 NBA Draft. It will be the beginning of a very busy summer for the team, with bringing back LeBron James remaining the ultimate goal. Making the right pick at eight is key in bringing James back and there are quite a few options for them. Whether it is a guard like Collin Sexton or Trae Young, a wing like Mikal Bridges or Michael Porter Jr., or even the near-perfect big man like Wendell Carter Jr., there are plenty of options for the Cavs to win now and build for the future.