Matthew Dellavedova Voted Dirtiest Player In The NBA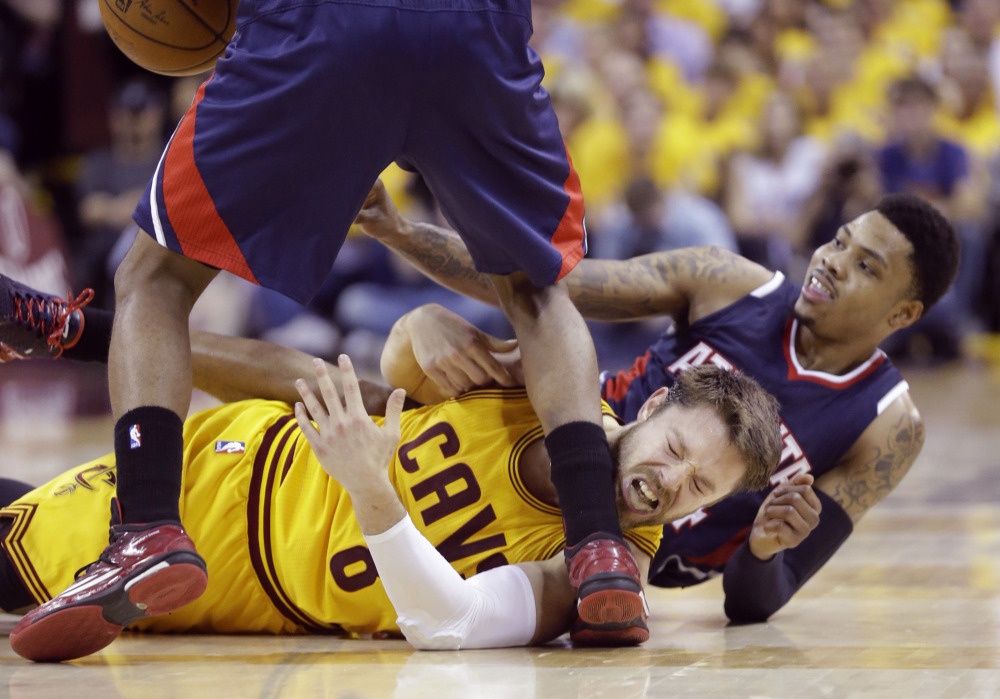 The 2015-16 postseason saw the rise of Cavs' backup point guard Matthew Dellavedova. The crappy Australian started in place of the injured Kyrie Irving in seven of the 20 postseason games. Delly's coming out party saw him score in double figures seven times and averaging 10.4 points, 3.4 rebounds, and 2.7 assists in those seven games (six of them in the Finals).
RELATED: Klay Thompson's Father And Former Laker Mychal Trash Talks Matthew Dellavedova
However, he also gained some notoriety for being dirty. He went through incidents where he dove after the ball, clearly showing more hustle than his opponent, but got a bad rap for it due to the way he did so. The Hawks' Kyle Korver came down with a series-ending ankle injury after Delly dove to recover the ball and hit Korver's ankle. Korver, however, didn't dive for the ball, he ran to it and bent down to pick it up. Unfortunately, that's not how the rest of the league sees it.
According to Broderick Turner of the L.A. Times, Matthew Dellavedova has been voted the dirtiest player in the NBA.
The 24 people who spoke anonymously — some of them voted for more than one player — listed their top five dirtiest players:

Dellavedova received 13 votes. Oklahoma City center Steven Adams was next with seven votes. Golden State center Andrew Bogut (5), Memphis forward Matt Barnes (4) and Oklahoma City forward Serge Ibaka (2) rounded out the top five.
One Eastern Conference assistant coach was not too surprised.
"Wow! Delly and Bogut are both from Australia. How about that! Delly is kind of dirty and he does cross the line. But I don't even think it's even close with Bogut. Dellavedova is a little bit wild and out of control."
Another one exaggerated every incident, and it seems like someone who coached a team that the Cavs eliminated.
"He was kind of dirty in the playoffs, for sure," an East coach said. "He broke Kyle Korver's leg. He held Taj Gibson with his legs and Al Horford's legs and got them kicked out the games because they retaliated against him."
RELATED: Matthew Dellavedova Opens Up About Being Hospitalized During NBA Finals
A few other assistants however, questioned whether Delly was really dirty or if he was just a hard nosed, high energy guy.
"He ain't dirty. He just plays hard," said an old-school East assistant coach. "See, guys resent people that play hard because they don't want to play hard. So if a guy plays hard, he's dirty. He's not dirty. He just plays hard. People question the play he made in the playoffs against Korver. I just think it was poor judgment."

"His stuff really ain't intentional. It's just like goofy." said another assistant. "It's not like John Stockton, where John Stockton was calculated. Dellavedova is accidentally dirty. He can't help himself. He's a quality backup point guard."