David Liam Kyle/Getty Images
What's harder than becoming the best basketball player on the planet? How about describing that player in one word? LeBron James, synonymous to "King," "Persevering," and "Unstoppable," is the indisputable face of basketball this decade. When someone plays as consistently and powerfully for as many years as James has, you realize there's only one word that fits: clutch. With that, here are LeBron's top 10 most clutch moments as a Cavalier!
Continue to the next page to start the countdown at #10!
#10 Massacre in Milwaukee – February 20, 2009

This isn't your regular "clutch" play moment. This is pure domination. The Cavs trailed the Milwaukee Bucks 53-57 at the half at the Bradley Centre before LeBron decided it was time for the Bucks to be put away.
In a 2:50 span, James shoots 2/2 from 2 point range, 4/4 from deep and by deep, I mean deeeeep. LeBron goes from taking a heat check just beyond the three point line to firing up near half court shots in transition to see them all drop.
In just under three minutes, the 'L Train', as AC affectionately names him in this particular play, drains 16 points to catapult the Cavs on their way to a 111-103 win. All this behind a 55 point and 9 assist night from LeBron.
Continue to #9 on the next page!
Jonathan Ferrey/Getty Images North America
#9 Stare-down in Rip City – January 30, 2008

The morale of the story for this Portland Trailblazers fan, don't make LeBron James angry. James struggled in the first half of this game, and he dealt with hearing about it from a particular Blazers fan sitting court-side. James' Cavaliers went into the locker room down 48-42 at the half.
Portland led by as many as 14 in the second half, led by Brandon Roy. LeBron was blocked a few times, and with the Blazers fan giving him hell for every botched play, something clicked for James and he simply took over the game.
James had 17 points in the fourth quarter, two more than the Portland Trailblazers as a team. LeBron hit three consecutive triples to tie the game with just over two minutes to go, he knew it was his time. With 4.2 seconds left, James takes Roy off the dribble right down the middle of the lane and makes a layup to give his Cavs their only lead of the half, and the victory.
But before going back to the bench to celebrate with his team, LeBron walks to his chirpy friend court-side, gives them a stare and makes his way to the bench. James finished with 37 points and 14 assists in the game. Game winner and attitude, this is your 9th play.
Continue to #8 on the next page!
#8 "LEBRON TO WIN THE GAME….. HE DOES!!" – January 23, 2009

This game against Golden State was a thriller. 27 lead changes, 10 of them in the fourth quarter and 15 ties, all leading to a LeBron James fader. To win the game, at the horn, on the road.
When Stephen Jackson hit a 22 footer over James to put his ball club up by one with 6.4 seconds left, the home crowd were pretty happy with the situation. Enter LeBron James, the crusher of all hope.
James received the ball on the wing, and was delighted to look up and see Rony Turiaf guarding him. After a couple jab steps, James leaned back and let it fly with 0.2 seconds left on the clock to see the ball hit the bottom of the net.
LeBron was 9/23 from the field, including 1 /4 from deep before the final shot, and had airballed his last three point attempt on the previous play. But he did what superstars do and led his team to a victory. Thank you King James, thank you.
Continue to #7 on the next page!
#7 Winner in Washington – April 28, 2006

LeBron James definitely has something against the Washington Wizards, this may be the beginning of it all. In the first round of the playoffs, Game 3, 2006, LeBron made his first ever game winning shot in the playoffs.
James set a franchise playoff record, and NBA record for most points scored in a players first ever road playoff game. With 41 points, James led his team to a 97-96 win. James shot 16/28 from the field, and went on a shootout with opposition All-Star, Gilbert Arenas. Arenas scored 17 of his 34 in the last period.
The two shots that really mattered though, were James' tough, full heavy contact layup to put his team up with 5.7 seconds left in the ball game, and Arenas' missed triple at the horn, the possible game winner.
Continue to #6 on the next page!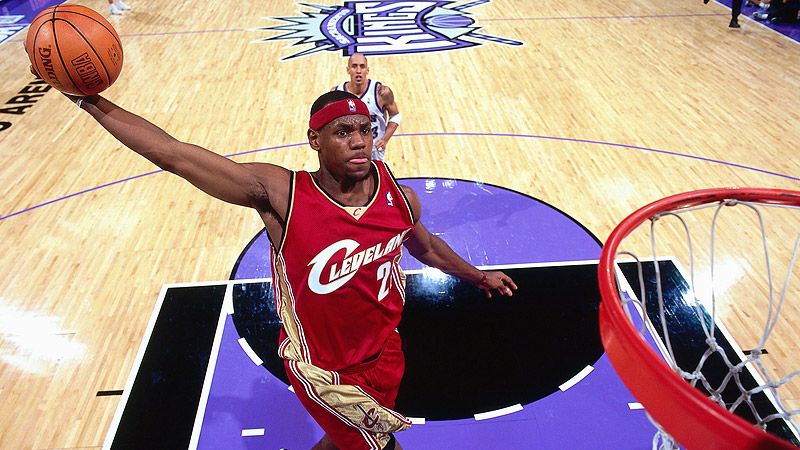 ESPN
#6 Welcome to the NBA – October 29, 2003

In a different sort of clutch, LeBron James had a very impressive NBA debut against the Sacramento Kings. Expectations couldn't have been higher for LeBron, his NBA debut as the first overall pick, playing for his home town team.
LeBron gave hope to the loyal Cavs supporters, who had just endured a 17-65 season. Boy, did LeBron deliver. In his highly anticipated debut, James had a game high 25 points, while shooting 12/20 from the floor. He also added 6 boards, 9 dimes and 4 steals, dazzling the extremely loud road crowd and completely mesmerized the world into seeing the future of the NBA.
The Cavs lost the game 92-106, but that's no surprise considering his teammates consisted of Carlos Boozer, Darius Miles, Ricky Davis and DeSagna Diop. The loss didn't mean much to Cavs fans who saw glimpses of greatness that night. Cleveland knew in LeBron it can trust.
Continue to #5 on the next page!
#5 Winner Against Washington… Again – May 3, 2006

Five nights after scoring his first playoff game winner, LeBron strikes again. This time, in overtime. LeBron slid along the baseline to find himself in a crowd of five Wizards, before calmly rising and finishing softly at the rim.
In front of 20,562 screaming Cav Fanatics, yet again it was a LeBron v Gilbert Arenas shootout that led to a James winner. James finished with 45, Arenas with 44, and that one point made a heck of a difference, the Cavs winning 121-120.
Continue to #4 on the next page!
#4 He Believes He Can Fly – March 2, 2008

With the game still in the balance late, LeBron shut it down with a monstrous dunk. James set the tone with his scoring, putting up 37 for the game, against recently traded, ex-teammates Larry Hughes and Drew Gooden.
James has a pick set on the three-point line by Anderson Varejao, before taking flight and finishing as strong as ever at the rim. This put the Cavs up by 4 with 2 minutes left, and Cleveland never looked back.
Continue to #3 on the next page!
RECOMMENDED
#3 "NO REGARD FOR HUMAN LIFE!" – May 12, 2008

At the time, this was a huge game for the Cavaliers, trailing 2-1 in the Eastern Conference Semifinals. It took a huge stage for LeBron to give us one of the greatest highlights of his Cleveland career. Due to the opponent, this makes it even better!
Almost the same situation as #2 on this list, just add a playoff feel to the game. With the game still to be decided late in the fourth, James uses a Joe Smith screen at the top of the key and raises to put Kevin Garnett and (current Cavs assistant coach) James Posey on a poster.
This wasn't just any dunk, this was a dunk with incredible force that got every single Cavs fan on their feet, and put Kevin Garnett back in his dark damp little hole, where he belongs. This is my favorite dunk of all time, in fact it gives me goose bumps just thinking about it.
Continue to #2 on the next page!
John Kuntz | The Plain Dealer
#2 "YES! LEBRON JAMES!" – May 22, 2009

A buzzer beater at home to beat the Orlando Magic in a must-win playoff game. This takes no explanation, sit back and enjoy.
Continue to LeBron's most clutch Cavalier moment on the next page!
#1 Game 5 – May 31, 2007

You mention the words 'Game 5' to a Cavs fan, and they know exactly what you are talking about. Goose bumps and a smile will immediately come to the surface, and the highlights will start playing in their head.
James had 48 points in double overtime, including the Cavs final 25 points, and 29 of the teams last 30. Also adding 9 rebounds, 7 assists and 2 steals, LeBron James had just led his team to their first NBA Finals appearance. This, ladies and gentleman, is the definition of clutch: