LeBron James: "We want the mentality of Kevin Love from Minnesota"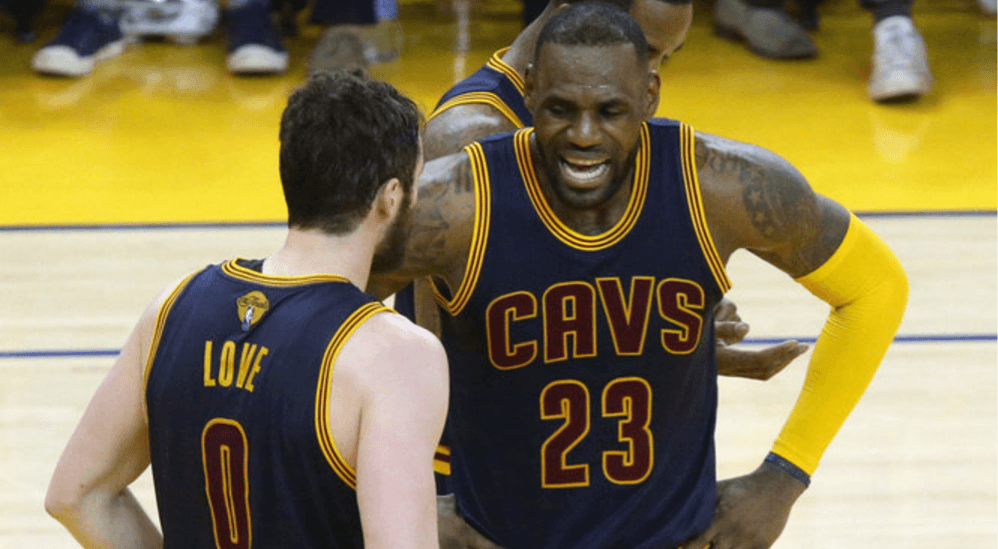 On Wednesday night, the defending champion Cleveland Cavaliers squared off against the Boston Celtics inside TD Garden for Game 1 of the Eastern Conference Finals, resulting in a 117-104 runaway victory for the road-bound Cavs.
There were several stories from Game 1 worth mention, including the excellent play of Kevin Love. In his 34 minutes of action, K-Love turned in a new personal playoff-high 32 points (6-of-9 from beyond the arc) and 12 rebounds.
LeBron James, who recorded 38 points, nine assists, and seven rebounds in Game 1, says he knew that Love was going to have a good game.
"For me, I saw that in Kev this morning," James said after Game 1. "I knew what type of game he was going to have. I mean, he came through for us."
Cavs head coach Tyronn Lue called on his reserves to start the second quarter of Game 1. However, instead of keeping James or Kyrie Irving on the floor with the bench squad, coach Lue made Love the focal point of his offensive schemes. As a result, the former UCLA stand-out went on to score 11 points in the second frame.
In the third quarter, with James and Irving back on the floor, Love was really "in the air," as Fred McLeod would say. Love tallied 18 more points on 5-of-8 shooting — all from beyond the arc.
There has been quite a bit said of Love's role as a "third wheel" on the Cavaliers' Big Three. Remember, he gave up a lead role with the Minnesota Timberwolves. During his post-game media availabilty after Game 1, James said Love was more dominant — like he was with the Timberwolves. The King wants Love to keep that Minnesota mentality going forward.
"We want the mentality of Kevin from Minnesota, but his usage rate don't have to be as high as Minnesota," James said. "Obviously, we all know that he was a featured guy pretty much every possession going down the floor, and here that's changed a little bit because we have other guys. But his mentality needs to stay the same as Minnesota, and I think as he continues to get even more comfortable and comfortable — tonight was one of those instances where every time he got the ball, it was a small guarding him or somebody was in the post. He was aggressive. He grabbed every rebound, for the most part, with him and Tristan Thompson in the paint, and he was very aggressive with his shot. He also got to the free throw line 10 times — well, nine. So, definitely, that mentality from Minnesota is what we all love."
In Wednesday night's win, James and Love became the first pair of teammates to score 30 or more points apiece in a road playoff game against the Celtics since Elgin Baylor and Jerry West in 1966.
Game 2 of the Eastern Conference Finals will tip at 8:30 p.m. tonight inside TD Garden. We'll just have to wait and see if Love and the Cavs can continue to assert their dominance.