LeBron James speaks on Carmelo Anthony possibly coming to Cavs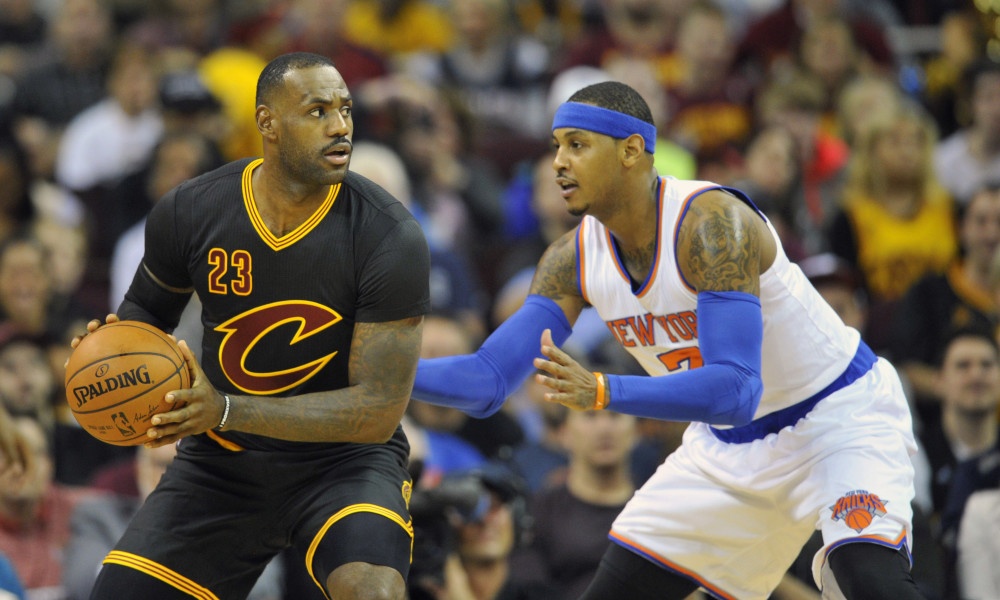 The past year, a lot of trade rumors surrounded Carmelo Anthony with the Cleveland Cavaliers being a possible team he might end up with. But after retooling and adding key pieces to their roster over the summer, the New York Knicks silenced the speculations for now.
The key words are "for now" because if the Knicks underwhelm and end up short of their expecttions, it will not be surprising to see trade chatter back once again.
During the NBA's opening night game between the Cavs and Knicks, New York had the tough task of witnessing the Cavs' ring ceremony. Reporters could not help but ask LeBron James about his relationship with Anthony and if they ever discussed teaming up together in Cleveland. He neither confirmed nor denied it, but admitted talking to him a lot, per Chris Fedor of Cleveland.com:
"We have a lot of conversations."

"Maybe. Maybe not."
Another possibility, although a long shot, is James teaming up with his good friends Chris Paul, Dwyane Wade and Anthony before they end their careers. But for now, their focus is with their respective teams and winning a championship.
James spoke about the intriguing idea of forming their own "super team" during an interview last year with Howard Beck of Bleacher Report and revealed what sacrifice he would do to make it happen.
"It would be pretty cool. I've definitely had thoughts about it. I really hope that, before our career is over, we can all play together. At least one, maybe one or two seasons — me, Melo, D-Wade, CP — we can get a year in. I would actually take a pay cut to do that."
First off, a potential trade for Anthony is highly unlikely. The Cavs are coming off their most successful season in franchise history and have to keep their core intact. Anthony on the other hand would like to see how far he can go with his new-look team. Salary cap issues and his current contract will make it a very difficult move to pull off, as well, but in a year or two, it could be a different case. Should the two superstars ever team up, or even with their two other "brothers," they would be one of the most talented duos ever.