LeBron James reminds us that it "sucks" to sit games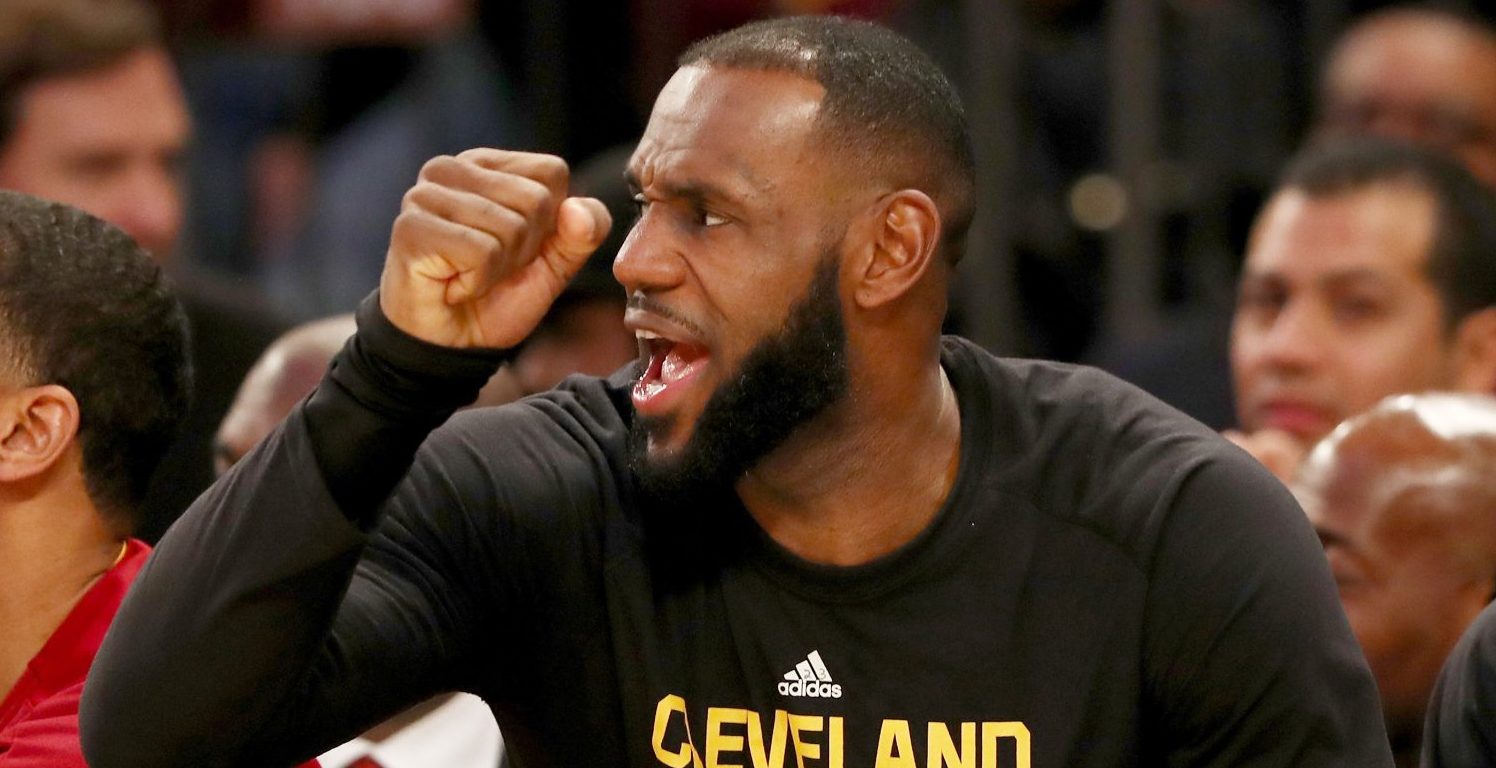 Over the weekend, the Cleveland Cavaliers kicked off their current four-game road trip in Los Angeles with a nationally-televised matchup against the Clippers on ABC. Just before tipoff, Cavs Head Coach Tyronn Lue announced that he would be resting his three star players: LeBron James, Kyrie Irving, and Kevin Love. Coach Lue's decision to rest The Big Three was not received well.
As a result of the move, Cavs General Manager David Griffin received a phone call from the league office just seven minutes into the game. Making things worse, the Cavs went on to lose by 30 points on Saturday night, 108-78.
There were valid reasons for Coach Lue's coaching decision, however. As most fans of the team know, the Cavs have been dealing with quite a few injuries this season. Love suffered a knee injury in February, which caused him to miss 13 games. Saturday night's matchup against the Clippers was his second game back in action since being cleared to play. Holding him out of the first game in a back-to-back set is clearly reasonable. Coach Lue has previously stated that he would like to give Love two or three days off between games until he is fully recovered.
Irving was held out of Saturday night's game for precautionary measures. In the fourth quarter of Thursday night's home game against the Utah Jazz, a game in which he recorded 21 points, four assists, and four rebounds, the crafty ball-handler began experiencing knee soreness, asked for a substitution, and did not return to play.
"The King", as James is justly known, logs more minutes than anyone on his team. Currently, James is averaging 26.2 points, 8.8 assists (career-high), 8.4 rebounds, and 1.3 steals in a whopping 37.6 minutes per game. Instead of having James run the show by himself against the Clippers on Saturday night, he was designated to rest as well. James, a staunch competitor, wanted to play, but also trusted Coach Lue's decision.
The Big Three were all back in action for Sunday's game against the Los Angeles Lakers. After trailing most of the game, the Cavs managed to rally for a come-from-behind victory. Love tallied another double-double (21 points and 15 rebounds), Irving racked up 46 points, and James, who offered up a few thoughts on players being rested, scored 34 points, seven assists, and six rebounds.
"Obviously it sucks at times because certain games you only play in certain cities once, or you play certain teams once on their home floor, but for me personally, I want to play in every game," James said after Sunday's 125-120 win over the Lakers. "I wanted to play last night (against the Clippers), but my coach felt like it was best that I didn't play last night, so I'm going to go with my coach and he's never steered me wrong."
James, a 14-year veteran who knows the rigors of an 82-game regular season, was asked what he thinks the NBA can do about the issue of resting players. "The Akron Hammer" gave an understanding but determined reply.
"I don't think the NBA can do anything about it," James on Sunday. "At the end of the day, it sucks at times where certain guys have to rest, but certain guys need rest."

"And it's a long, strenuous season and the NBA does a great job of putting the schedule together as best as they can," James continued. "You're going to have back-to-backs. You're going to have certain games where certain things fall on certain nights, but a coach's job is to figure out a way for their team to compete for a championship, not compete for a game."
This is starting to become a more sensitive topic by the day. On a team perspective, controlling James' court time worked for the Cavs last season when they won the title. But it's hard to deny its impact on the network and fans as well.
Don't expect the Cavs to backpedal on their strategy anytime soon, even if it warrants more backlash from the outside.