LeBron James says he is prepared for whatever the Raptors throw at him in Game 2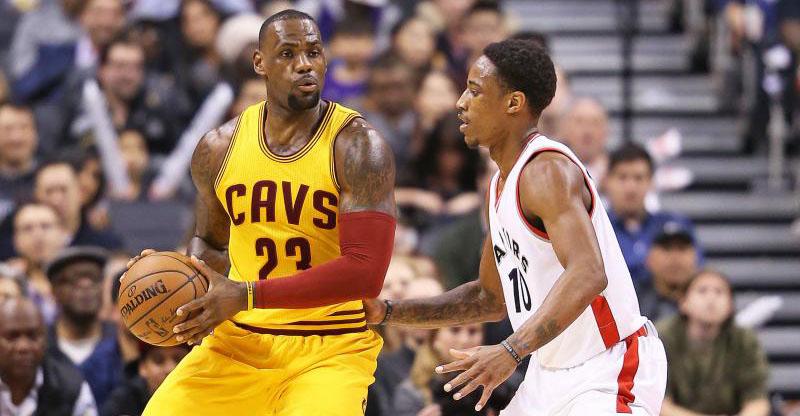 At 7:00 p.m. EST Wednesday inside Quicken Loans Arena, the NBA's defending champion Cleveland Cavaliers will face the Toronto Raptors in Game 2 of the Eastern Conference Semifinals.
The Cavs came out hot in Game 1, torching the Raptors for a 116-105 victory. LeBron James led all Cleveland scorers in the win with 35 points and 10 rebounds. After today's shootaround at Cleveland Clinic Courts, The King told reporters that he is ready for whatever the Raptors throw at him in Game 2.
Via Chris Fedor of cleveland.com:
"Mentally, I'm prepared for every situation they could put themselves in," James said Wednesday morning. "I'm prepared for them being big, going small, having three point guards on the court, having four wings and one point guard, having two bigs, me personally I'm ready for whatever that they're capable of or can do for their team."
Keen-eyed Cavs fans may have noticed that Raptors head coach Dwane Casey elected to revert back to his typical starting lineup in Game 1 to compete with the Cleveland's front-court. Prior to Monday's game, coach Casey had been experimenting with Norman Powell and Serge Ibaka in the paint. So, will the Raptors come out with a similar lineup in tonight's game? James isn't concerned.
"That's for those guys to figure out," James said. "We've got to figure out what we're going to do when they do go to the small lineup, how can we match up with them, how can we defend them, how can we execute offensively."
When facing one of the NBA's best three-point shooting teams, going small might not be a bad idea. Whatever game plan the Raptors decide to utilize tonight, James says he'll be prepared.
"I think there's no surprise for me," James said. "Fourteen years, I've been in the postseason 12 straight years and I've experienced a lot. For me just having a comfort zone, the way I prepare comforts me and I understand that. When I go on the court I'm very well prepared and just go out and live with the results."