I've had my fair share of unpopular opinions in years of writing, but this is perhaps one of the most controversial. In light of a grueling 82-game season and an even bigger grind during the postseason, the Cleveland Cavaliers have had one constant — LeBron James.
Everything about the franchise's season spells disarray — from the decision to trade Kyrie Irving over the summer to acquiring two free agents in Dwayne Wade and Derrick Rose to attempt to patch up the gaping hole left by his departure.
Having dealt with a world of adversity, James is four games away from etching his name in the history books and could do so in glorious fashion, having carried this entire roster on his broad shoulders.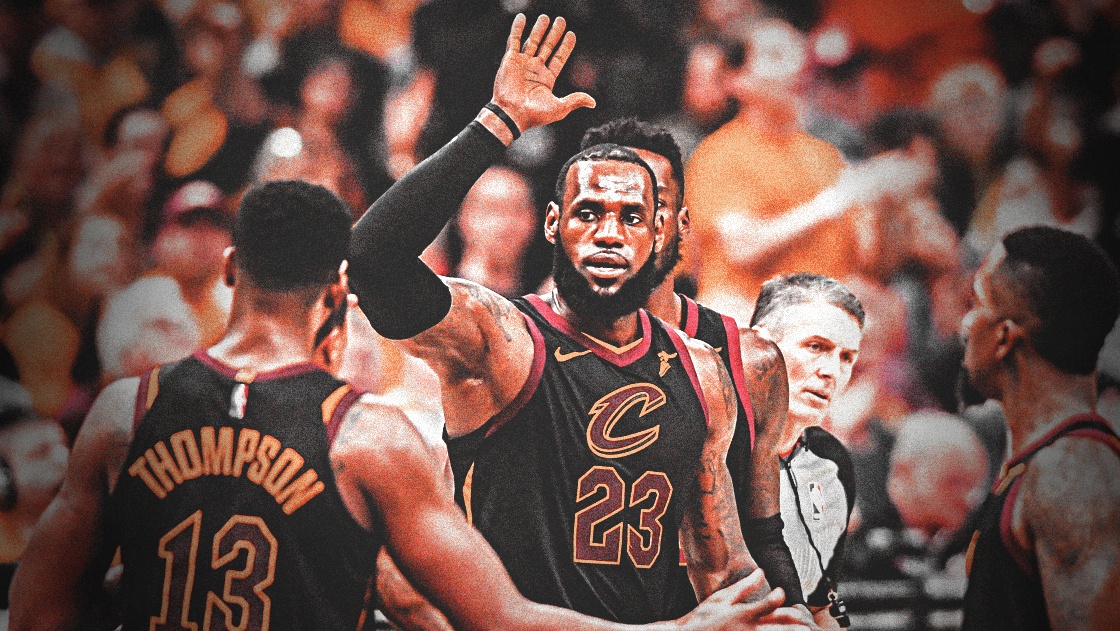 Much has been made about James' last hurrah with Cleveland and his potential destination during this offseason, but if the four-time Most Valuable Player manages to get past this Golden State Warriors team by mid-June and capture his fourth NBA title, the best possible move for his all-around legacy is to start thinking of retirement.
The ring race with Michael Jordan is just out of reach
Simply put, the jury has been out on this from long ago, we just like debating it too damn much — and I get it — it's a lot of fun, but pointless to do.
Truth be told, fans who think Jordan is the G.O.A.T. will think so until the end of day, just like older folks had the likes of Julius Erving and Wilt Chamberlain as their immovable all-time best players to stick by.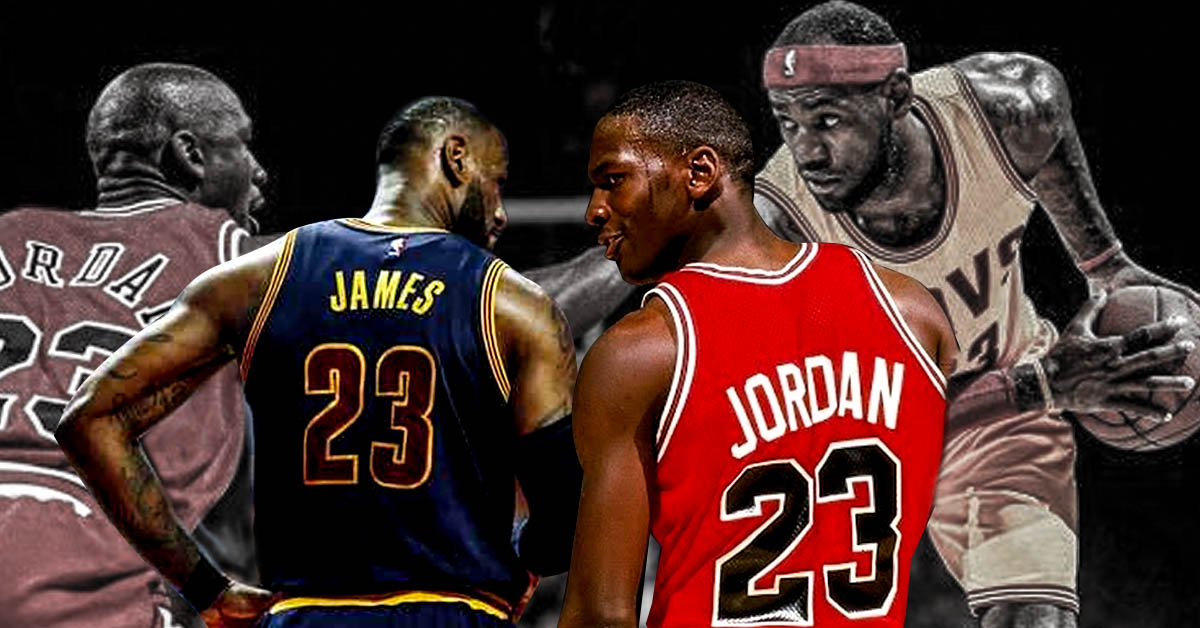 Going 6-for-6 on championships was a race lost back in the 2006-07 season, when he was swept by the San Antonio Spurs. One that can only be elevated by winning more than six championships — a task ultimately too tough with the coalition of talent in today's NBA.
Leaving on the highest note
James has done everything the city of Cleveland could ever ask him for this season.
Play 82 games at age 33? Check.
Lead the league in minutes? Check.
Pass when he has to, score when he must? Check.
Make game-winning shots in the postseason? Check.
Carry an entire roster despite four trades, a plethora of injuries, and constant lineup changes? Check.
The King has done everything he could be asked for and much more during this season — and winning a championship in the manner in which he's done so will surely attest to being his greatest achievement yet — crowning himself a champion against all odds.
Walking away from the game with this lasting image would pay more dividends for his legacy, as he stands to gain more by walking into the sunset in his hometown's jersey, gifting the city of Cleveland one more golden moment to remember him by.
What's left to do?
James has uncannily smashed through the record books based on his sheer consistence reaching the postseason, having passed Jordan for the all-time playoff scoring record and Kareem Abdul-Jabbar for all-time field goals made.
The Akron native is still seventh in the scoring books, right behind 20-year veteran Dirk Nowitzki — but he would need at least three more years of scoring at a high pace to come close to Abdul-Jabbar's 38,387 mark to become the all-time scoring king.
Three championships, three Finals MVP, four NBA MVPs, 14 All-Star selections, and being one of only three players to average 20 points through every year of his career (a short pantheon with Jordan and Kevin Durant as the only two others).
Not much is left for James to achieve in the grand scheme of things, and leaving in the highest of notes, after an Atlas-like NBA season, carrying the weight of the world on his broad shoulders — would be the best way to go out.
Not doing too much
Most fans remember Jordan's last two seasons with the Washington Wizards as some that took glory away from his prolific career. An older Jordan, even described as "Ground Jordan" in jest to his less-explosive takeoffs to the rim and a more refined approach, rather than his furious runs to the basket.
James has been a one-of-a-kind iron man, somehow surviving a full 82 games of action. Now reportedly the slowest player in an Eastern Conference Finals series against the Boston Celtics, James has admittedly had to save "pockets" of energy to come through during important parts of the game like the fourth quarter.
Even going into his early 30s, James has been throttled, putting an immense physical toll on his 6-foot-8, 250-pound frame on a nightly basis, a toll that will start to show its ugly face in the near future.
This only leads to thinking that over the course of the next few years, his body will start to slow down, despite of how many cryogenic treatments he gets and how diligently he hits the gym, which could lean into much less than the inspired performances we've witnessed this season.
If he continues into the 2018-19 season, James will be a prominent player, but much like his draftmates Dwyane Wade and Carmelo Anthony, the toll of his total career minutes suggests a dip in performance is expected sooner rather than later.
Retiring at this age could leave James' image and legacy as a dominant player that was great until the very end of his career, saying goodbye to the game of basketball after a season in which he gave his absolute 200 percent for the city and his team.
Championship window is rapidly closing
It's likely an aging James won't be very appealing to some max-capable teams and even other potential free agents. There's already been reports over the past month that the Los Angeles Lakers have re-shifted their strategy to a 2019 free agent class, opting to target a younger 26-year-old Kawhi Leonard than the 33-year-old James.
Leaving for a different team would require an adjustment period; an adjustment in system, coaching methods, plays, and players. James could get the gist of all of it within a few days, but most players are not LeBron James and will need time to incorporate that knowledge over time.
Time, above all, is the most precious thing for James; who has made the latter part of his NBA career into an obsession with hardware.
Bolting for the Lakers, the Philadelphia 76ers, or even the Houston Rockets won't necessarily assure a smooth sail from here until the end of his career, as he is now looking to partner up, but not necessarily lead a team to a championship the way he has over the last few seasons in The Land.
Staying in Cleveland for 2018-19 is spelling another ugly grind of a season, as the front office has carved up some regrettable decisions that will take time to dissolve throughout the offseason and next year's trade deadline.
Selfishly, I want James to keep playing. He's a joy to watch and one of the best players of his generation, but in terms of his legacy, mulling a potential goodbye to the game after winning a fourth title could make this the shining moment and help his case for the title of Greatest of All Time.
The same way Magic Johnson left a lasting image of his greatness by putting on a show in the last four minutes of the 1992 All-Star Game and draining a clutch 3-pointer to cap it all off. The same way Kobe Bryant erased two injury-plagued seasons at the end of his 20-year career by dropping an unforgettable 60-point performance over the Utah Jazz — James now has that chance — to end it all with a bang.