LeBron James is just a 'regular guy' to Jaylen Brown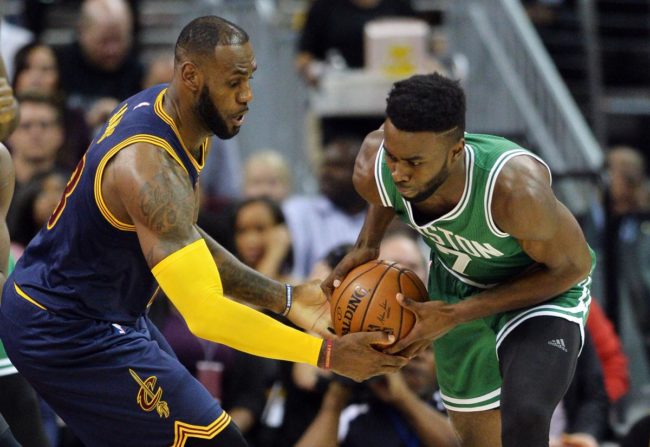 In the NBA, confidence is one of the key parts of building toward success at both a personal and team level.
Prior to Game 2 of the Eastern Conference Finals against the Cleveland Cavaliers, Boston Celtics rookie forward Jaylen Brown stated that he believes LeBron James is just a "regular guy" on the court and doesn't fear him at all.
Jaylen Brown is NOT afraid of LeBron James. Hear the full interview on Celtics Pregame Live at 7:30 on @CSNNE #CelticsTalk pic.twitter.com/U5TgwktZe4

— The Celtics on CSN (@CelticsCSN) May 19, 2017
"LeBron's a good player, but I look at him as just another guy to me. So I gotta come out and compete just like he's got to come out and compete. I gotta tie my shoes just like he ties his shoes. There's bigger threats in my neighborhood than LeBron James, so I have no fear whatsoever of LeBron."
Brown quickly ate those words in the 130-86 blowout loss in Game 2 with James leading the way with another highly efficient shooting night hitting 12-of-18 from the field including 4-of-6 from beyond the arc for 30 points with seven assists, four rebounds, and four steals.
The performance helped him tie Kareem Abdul-Jabbar for the all-time playoff mark with 10 straight postseason games scoring at least 25 points while shooting better than 50 percent from the field. It also made him the first player since Michael Jordan to notch 30 points in eight straight playoff games, which is also a personal career high.
James clearly isn't just a typical player in the league and his resume speaks for itself. He is one of the greatest players that the league has seen and he has the chance to potentially move up in that regard to Jordan's atmosphere.
The 32-year-old is in the midst of arguably his best season in his 14th year in the league that could see him grab his fourth NBA title. Brown's utmost confidence is one to admire, but to call James just a "regular guy" has no place in the conversation.