LeBron James is one of the biggest superstars in the NBA and with that comes a lot of nice expensive toys. King James is known to have a very pricey car collection and we have compiled 10 of his greatest rides. Begin the countdown starting with #10!
#10. Bentley Continental GT
Approx Price: $175,000+
HP: 616
0 to 60: 4.4
This car is the perfect mix of luxury and power. It takes into account what the driver wants and offers it. LeBron got his in white on white rims with blacked out tail lights. It really makes the car pop and for the money it's worth it.
#9. Dodge Challenger SRT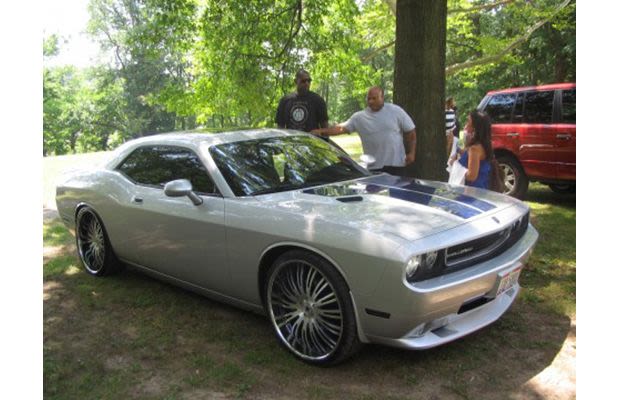 Approx Price: $45,000
HP: 340
0 to 60: 4.2
This car is a tribute to his favorite NFL team, the Dallas Cowboys. He got the paint done in silver with blue racing stripes to match. The car is sitting on some huge chrome rims and looks mean. For the money, this car is a really solid purchase. For LeBron it's a drop in the bucket.
#8. Ferrari 458
Approx Price: $233,509+
HP: 570
0 to 60: 3.7
This is one of the fastest cars LeBron owns. This thing is a straight beast too. Ferrari are one of the most prestigious car companies in the world for a reason. He got it made in the classic red and I would say that it's a solid choice.
#7. Rolls-Royce Phantom
Approx Price: $450,000+
HP: 453
0 to 60: 5.6
This car is epitome of luxury. There aren't very many other cars on the market with some of the features this car offers. It's legendary for its suicide doors. This car was a gift given to LeBron on his 25th birthday by Shaquille O'Neal. I guess being friends with Shaq has its perks.
#6. Mercedes-Benz S63 AMG
Approx Price: $140,000+
HP: 621
0 to 60: 3.3
This car is a sleeper. Sure it looks stylish but no one would suspect this beast of having over 600 horsepower just sitting on the street. LeBron got it done right in the classic white color, which he seems to reserve for only his best cars.
#5. Range Rover HSE
Approx Price: $88,000+
HP: 340
0 to 60: 8.1
This car is one that has made its rounds in the celebrity circle. It seems like every rich person has one. Maybe he likes it for the leg room.
#4. 1975 Chevy Impala
Approx Price: $20-$40,000
HP: 350
0 to 60: 14.1
This car is just a classic. He got it lifted and sat it atop some stupid big rims. Clearly LeBron just wanted a fun top down toy to drive around town. Its deep purple with white accents.
#3. Jeep Wrangler Unlimited
Approx Price: $25,000+
HP: 212
0 to 60: 10.1
This car is slow and underpowered. Maybe he just likes the look of it and has the car setup with custom headrests with his logo stitched in. My guess is that it was a promotional type deal because its bright orange and that definitely stands out from the rest of his collection.
#2. Chevy Camaro SS
Approx Price: $30-45,000
HP: 426
0 to 60: 4.8
You have to wonder what a cheaper car like this is doing in his high end collection. Well I'd guess that its far from stock especially based on the fact it has a custom white on white paint and rims.
#1 Porsche 911 Turbo S
Approx Price: $180,000+
HP: 560
0 to 60: 2.9
This car is built for power and speed. It's not built for leg room. You have to wonder how he looks stuffed into this thing. Dwyane Wade took this picture with his car on the left and LeBron's car on the right in his favorite car color, white: