LeBron James is quite the perfectionist. Although he obviously won't go unscathed in facets of his game, the Cleveland Cavaliers superstar always finds way of refining his arsenal. Whether it's developing a post game, improving his defense, and becoming a better leader, history tells that James is constantly improving.
RELATED: LeBron James Got Added Motivation From A Very Unique And Inspiring Source
The most maligned part of his game has been his outside shooting and NBA.com' s John Schuhmann recently came up with figures that show LeBron James as the worst-shooting player in the league, among those qualified, from outside the paint.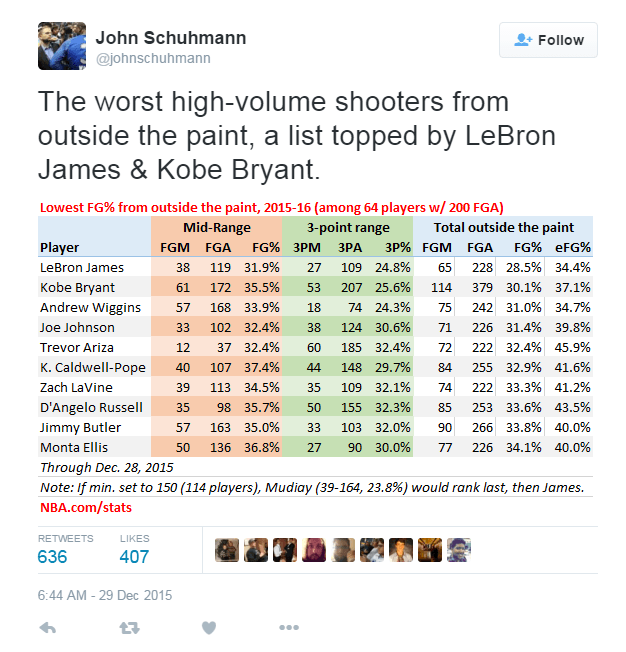 In an article by Chris Haynes of the Northeast Ohio Media Group, LeBron James confessed to being aware of this poor ranking.
"I actually saw [it] on my Instagram feed that I was the worst-shooting player in the NBA. I actually saw that when I woke up from a nap. I remember exactly when that was. Denver. Right before the Denver game, so I answered the call."

"It doesn't bother me. It puts me back in the gym."
True to his words, James appeared to have turned the corner as evidenced by his improved shooting. Let us take his long distance accuracy in particular. In the Cavs' previous game against the Philadelphia 76ers, James was a scorching 15-of-22 from the field.
RECOMMENDED
According to SI.com, James' outside shooting has drastically improved since Schuhmann's figures came out.
Since the graphic's release, James has improved his midrange shooting to 52.9% and 43.3% for his 3-pointers. The Cavaliers are 5–0 including the win against the Denver Nuggets.
It's amazing how the Cavs managed to get this far with James shooting as poorly as he did to begin the year, but with a newfound stroke now at his disposal, he only makes himself and the team even more dangerous.