LeBron James breaks long-standing playoff records in Cavs sweep of Pacers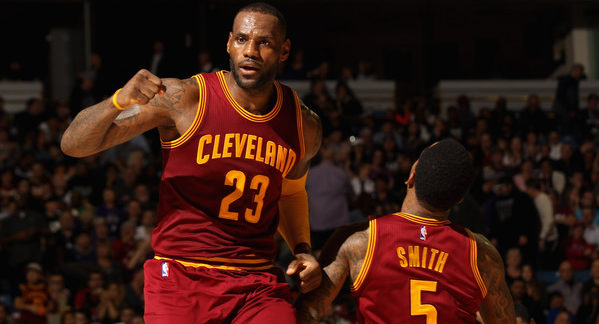 The Cleveland Cavaliers and LeBron James got their broomsticks out on Sunday night, as they swept the Indiana Pacers 4-0 in their first round match-up. The Cavs seemed in control before a late surge by the desperate Pacers nearly extended the series, but the world champions executed and got the job done in a hard-fought start to their postseason.
James was at his excellent best again in Game 4, as he kept the Wine and Gold ticking all night long on both ends of the floor. The King finished with 33 points, 10 rebounds, four assists, four steals and two blocks to close out his familiar foes.
It was an already historic first-round for James, and Game 4 delivered more milestones to the four-time MVP's already extraordinary first-round dominance.
James sent the Cavs into the next round with a clutch three-pointer, giving the Cavs the lead with less than a minute remaining. As he connected on the long trey, it was his 13th basket on the evening, and moved him past Los Angeles Lakers legend Kobe Bryant for fourth place on the NBA's all-time playoff field goals made list.
The sweep of the Pacers also gave James the most consecutive first-round playoff wins in NBA playoff history with 21, surpassing the previous mark set by Magic Johnson, Michael Cooper and James Worthy at 20 games.
Perhaps his biggest achievement on the night however was passing San Antonio Spurs legend Tim Duncan for the most sweeps by a single player in NBA playoff history with 10.
It is a testament to the greatness of James, who continues to perform at a level in the postseason that is other-worldly. His dominance in the first round has been unlike any other player that's ever taken to the floor, and with the sweep of the Pacers, James has yet to lose a first-round playoff game in five years.
For good measure, the kid from Akron averaged 32.8 points per game, 9.8 rebounds, 9 assists, three steals and two blocks for the entire series against the Pacers, and it was the first time those numbers have ever been averaged in a playoff series in NBA playoff history.