How LeBron James has bounced back from rare poor playoff performances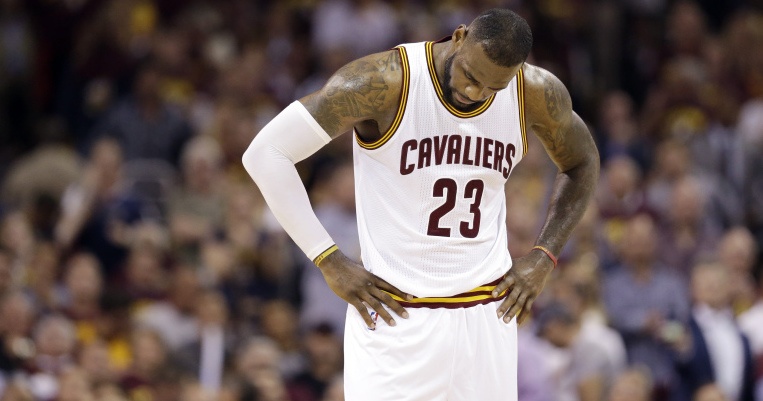 The greatest NBA player in the world today and over the last decade or so actually had a bad game. Since his unusual disappearing act in the 2011 NBA Finals, LeBron James has not accustomed to having bad games, especially in the postseason when his team needs him the most.
Much to the delight of Michael Jordan fans and LeBron haters around the world, James has had six playoff games in his career with less than 15 points, including two horrid single-digit performances on June 7, 2011 against the Dallas Mavericks (eight points on 3-11 shooting) and May 28, 2014 against the Indiana Pacers (seven points on 2-10 shooting). Everyone has a bad game, even the superstars, but it's about James and how he bounces back from these games.
LeBron finished last night's Game 3 against the Boston Celtics with a mere 11 points on 4-13 shooting, including 0-4 from beyond the arc, and added six rebounds, six assists, a steal, a block, and six turnovers. His line included three points in the second half, and just one point in the final 16 minutes of the game. After the game, James summed up his night and performance by saying it wasn't his night.
"I didn't have it," said James. "My teammates did a great job of keeping us in the game, building that lead," James said after the game. "But me personally, I didn't have it. That's all I've got to say about my performance."
Here's a look at the 11 of the worst scoring games of James' 210 playoff game career, all with 15 points or fewer., via Basketball Reference:
Every player has a bad game every once in a while, but there's a magnifying glass on James unlike any other player in the league. With social media taking off now, there's a lot less logic and a lot more baseless hate coming his way. So how does James respond? Well, Here's how James has responded following the 10 worst scoring performances of his playoff career.
The numbers don't overwhelming pop out at you, but with averages of 26.2 points, 9.4 rebounds, 6.3 assists, and two steals per game, James has shown the ability to bounce back from poor playoff performances.