Larry Sanders makes his debut with the Canton Charge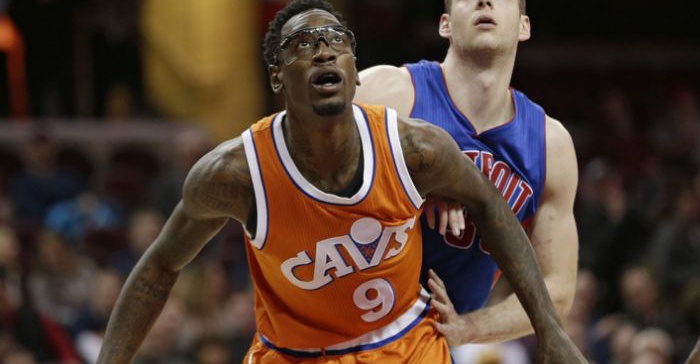 While the NBA's defending champion Cleveland Cavaliers were in Los Angeles on Sunday night for a matchup against the Lakers, their D-League affiliate team, the Canton Charge, wrapped up the last of their regular season home games with a 104-101 victory over the Windy City Bulls (Chicago Bulls affiliate) in front of a sellout crowd inside Canton Memorial Civic Center.
Larry Sanders, Cleveland's newly-acquired center, has been away from the NBA for two years due to a bout with depression and anxiety. So, in a wise move, Cavs team officials have elected to send the 6-foot-11 rim protector to the Charge in hopes of reacclimating him to professional game speed.
On assignment, Sanders recorded two points, three blocks, and five fouls in his 12 minutes of playing time. More importantly, Sanders' towering presence commanded attention in the paint the entire time he was on the floor.
Sanders checked into Sunday night's game at the beginning of the second quarter. It wasn't long before he became involved. The Charge ran a post-up play on their first possession of the period. Sanders made a strong drive to the hoop but missed the shot due to a called foul. Sanders then stepped up to the charity stripe and split a pair of free-throws. Just moments later, Sanders got a second touch on offense, resulting in another trip to the free-throw line, where he again split the pair.
Sanders spoke about the process of making his NBA return with reporters after Sunday night's win in Canton.
Via Simon Hannig of King James Gospel:
"I just started. I don't know about the longest part. We'll see, it's a process. I just invest in it, trust in it. I've been on every side of the snake pit," Sanders said. "I've been through plenty of leagues. Finding out games in the summer to average a double-double. It's a process."
Charge Head Coach Nate Reinking spoke highly of Sanders' game, but noted there may be a little rust that needs to be knocked off.
"I thought he was good," Coach Reinking said of Sanders' performance. "I mean, there's a presence to him out there. You could just feel it — veteran presence. He hasn't played for a while, you can tell a little bit with his timing. Other than that, I thought he was great. He defended well, influenced a lot of shots down low, and rebounded well."
The Charge (25-and-18), who have won nine of their last ten games, will be on the road for their final four bouts of the regular season, starting with the Maine Red Claws (Boston Celtics affiliate) on Thursday, March 23rd at 7:00 p.m. EST.