Kyrie Irving's tribute to LeBron James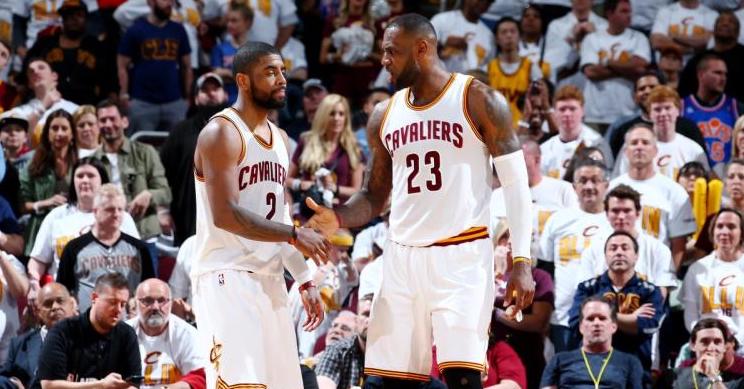 Last night, the Cleveland Cavaliers were defeated in Game 5 of the NBA Finals by the Golden State Warriors, 129-120. As a result, the Warriors were crowned 2017 champions — their second title in three years.
It was an emotional scene in the Cavaliers locker room, with coaches and players alike shedding quite a few tears. After congratulating the Warriors and reflecting on the season, Kyrie Irving made it a point to commend LeBron James in eloquent fashion.
Via Joe Vardon of cleveland.com:
"Man, that guy is — I think that some people would say that he's on the toe of — like he's on the line of greatness. But that guy is way over. Man, he's freaking awesome. As a student of the game, it would be a disservice to myself if I didn't try to learn as much as possible while I'm playing with this guy. Every single day demanding more out of himself, demanding more out of us, the true testament of a consummate professional. And understanding how things work, not only just in the game but off the court, things that matter, just taking care of your body, understanding the magnitude of what the goal is at hand and what steps it takes in order to achieve that goal."
In what can only be described as a valiant effort, James, a 14-year NBA veteran, became the first player in NBA history to average a triple-double in the Finals. Over the course of his illustrious career, the King has seen just about every defensive strategy and game plan in the book. Experience like that is basically invaluable to younger players. Irving, now 25 years of age, says there is no other man who he'd rather go to war with on a daily basis.
LeBron James finishes the 2017 NBA Finals AVERAGING a triple double at 33.6 points, 12 rebounds, and 10 assists per game. Unreal.

— Tomer Azarly (@TomerAzarly) June 13, 2017
"You can't skip any steps," Irving said. "And that was one thing that I came to understand, because as a young player you want everything to happen right now. And Bron's been in this league for a while now, and he's seen every which way from on the court, to off the court, to dealing with some of you guys, to dealing with the whole world of just choosing a side. Whether you want to believe in him or not, he's still coming.

"And that's the type of guy that I want to be with every single time I'm going to war, because I know what to expect, and you stand your ground, too, with a leader like that," Irving said. "You don't want to take a step back. You move to the front line with a guy like that, and you want to bring your game up to another level.

"That's what I'm going to continue to do, because I know that if we continue to be with one another and keep utilizing one another, man, the sky's the limit," Irving said. "So, I've learned a lot and I will continue to, and I couldn't be more proud of that guy. He left it all out there on the floor, and to average a triple-double in the freaking Finals, man, add that to the LeBron long list that everyone keeps forgetting."