Kyrie Irving's Defense Is A Major Cause For Concern In Cleveland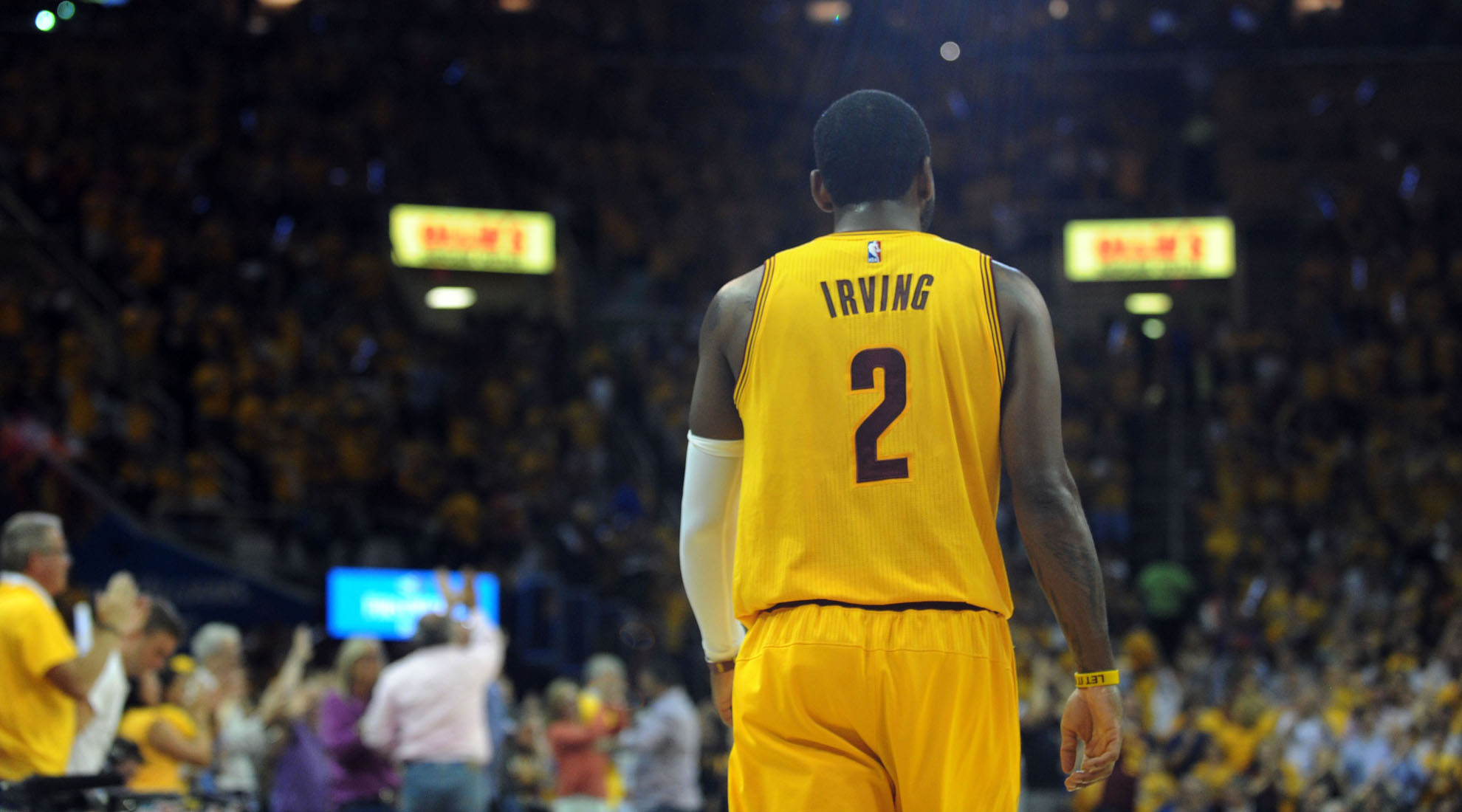 Last week on ESPN's First Take, Skip Bayless and Stephen A. Smith vehemently rejected the notion that John Wall was a Top Three point guard in the NBA, which he himself had previously claimed. Wall stated that he saw himself as the third best, behind Stephen Curry and Russell Westbrook. The hosts of the show were adamant that they disagreed, and in their reasoning listed several players who they consider higher than Wall in the rankings.
RELATED: Despite Cavs' Recent Struggles, LeBron James And Kyrie Irving Keep Things In Perspective
They specifically named seven different players. None of them were named Kyrie Irving. Curry, Westbrook, Chris Paul, Damian Lillard, Wall, Kyle Lowry, and even Tony Parker were all named in the conversation.
The Cavaliers' All Star point guard has proven himself multiple times throughout his career, but while his talent as a ball handler and scorer is plain to see, his defensive liability is hurting the team and keeping him out of the conversation of top point guards. This downfall in his game has been made evident in the past six games.
The Cavs are 3-and-3 in their past six games. Those games included horrible losses in Toronto and Washington, and great wins at Oklahoma City and at home against Chicago. Each of the games had one glaring consistency. The opposing point guard played extremely well in all aspects of the game. In this stretch, the opposing point guards have averaged 26 points, 8 assists and 6 rebounds. They've also averaged 60% shooting from the field. It isn't like Irving had six straight terrible games, but the defense just isn't there, and it is a major cause for concern in Cleveland.
The opposing point guards in those games – Derrick Rose, Russell Westbrook, Reggie Jackson, Kemba Walker, Kyle Lowry, John Wall – have all destroyed the Cavs' defense. Even in the wins against Rose, Westbrook, and Walker, Irving struggled to keep anyone out of the paint, and in most of these cases he was pulled off of the defensive matchup in favor of Matthew Dellavedova or Iman Shumpert as a more viable option to provide some sort of resistance.
Irving has stepped up before. He has risen to the challenge and accepted responsibility, but almost exclusively by taking control with the ball in his hands. When he scored 57 to beat the Spurs last year, Tony Parker had 31 on 15-23 shooting. Earlier this year, in a loss to the Charlotte Hornets, Jeremy Lin came off the bench to light up Irving for 24 clutch points. In our worst loss of the year, Stephen Curry torched Irving for 35 points before sitting out the fourth quarter.
RELATED: LeBron James Believes That A Healthy Kyrie Irving Can Become MVP
These losses are not Kyrie Irving's fault, and make no mistake, we need him on the floor, but this area of his game has to improve in order for him to be considered a top tier point guard. More importantly, it needs to improve for the Cavs to have a shot at a title run.