Kyrie Irving on being a grown up sneakerhead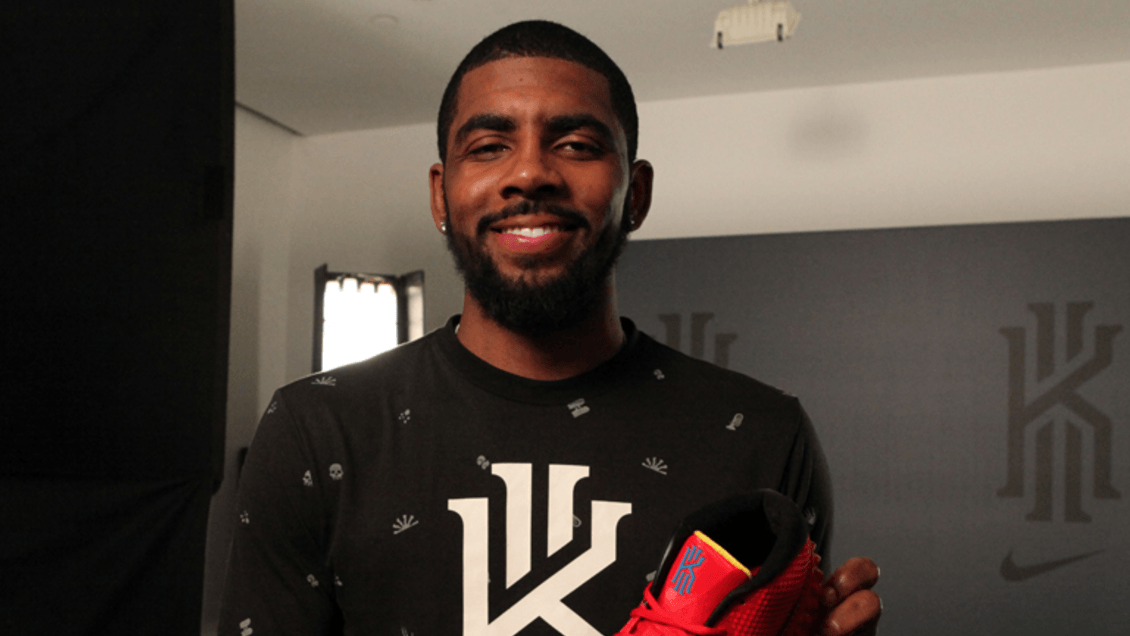 When it comes to prime locations for a retail store, there aren't many plots of land more valued than Times Square in New York City. Over the last decade or so, retailers have been involved in a branding arms race on those few acres of pavement; each competing to have the strongest presence.
Visitors to Times Square will encounter a myriad of shops and restaurants, including Foot Locker's new mega-store which opened last week. Foot Locker's new Times Square location is 17,000 square feet, two stories, and completely dedicated to sneakers and the swag that goes with them.
When patrons first enter the new store's lobby, a giant video screen and loads of classic sneakers will greet their eye. In the upstairs men's department, visitors will find three shop-in-shops, a Puma Lab, the second-ever Adidas Foundation location, and a 1,614 square-foot Foot Locker House of Hoops. Timberland, Converse, New Balance, New Era, Under Armour, Vans, Asics, and Stance products also have presentations in the new store.
Kyrie Irving, Cleveland Cavaliers star point guard, is a known sneaker-head. The former number one pick in the 2011 NBA Draft was on-scene as the new Foot Locker opened their doors for the first time. Myles Raymer of Esquire.com has Irving's opinion of the sprawling complex in his recent article.
It's awesome," Irving said of the store. "I went downstairs to the Nike Fly Zone and I'm seeing all these different Js (Michael Jordan's), man. I'm like, if I saw all this when I was a kid, just lined up — AJ1 (Air Jordan 1) to the 12s to the 9s, to the Pennys (Anfernee Hardaway's) to the Scottys (Scottie Pippen's) — just everything that was exclusive. The culture's just growing so much."
Irving, wearing a pair of his Kyrie 3's, explained that each model of his signature shoe represents a different phase of his life. Of his newest shoe, Irving said they're "definitely down to business. Definitely very direct. What you see is what you get."
When asked what he wears outside of his own shoe, Irving replied without hesitation.
Js," Irving replied. "Them Js, man. I've become more of a sneaker-head now that I'm older than I was before. Before I'd take all my Jordans and my sister would get so mad at me because I'd play outside in some Air Jordan 7s or 8s and just ruin them. Now I'm seeing it and I'm appreciating it more."
The new store places Irving front and center in it's kid's department. Marco Henry Negrete of Complex.com asked the crafty ball-handler how it feels to have Nike and Foot Locker positioning him as one of the top athletes marketed to kids, and what responsibilities go along with it.
A lot, but you also understand that they really are quenching knowledge. To be a part of that and be able to get that story out, about not only myself, but what Foot Locker does, Kids Foot Locker, House of Hoops, everything that those brands entail. I think we all share the consensus that we want to inspire what's best for the next generation coming up as well as moments that are culturally defining for what's now. It's moment to moment but for me, I just take it as a social responsibility to connect everyone and anyone, especially the kids. They're so awesome, they're so innocent and they really just want to do what's best, and all we want to do is lay out that foundation for them to follow."