Kyrie Irving says NBA All-Stars will play more defense in future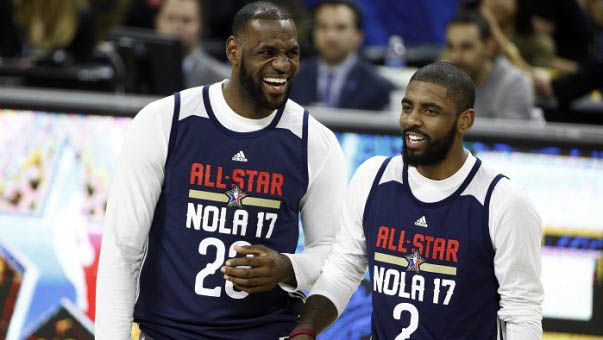 Cavs superstar point guard Kyrie Irving usually lets his game do the talking, but as of late, the Duke product has made some very bold claims. Firstly, Irving shocked the basketball world saying the earth is flat. Now, he's made another big call regarding the NBA All-Star game moving forward.
As most would agree, this past All-Star Weekend saw perhaps the least competitive All-Star game ever. The contest set a record of 374 points scored, eclipsing the previous mark of 369 set last season. The scoring has gradually gone up, as the year before last saw 321 points put up, and the year before that 318. It's a trend that is taking over the showcase event, seeing the game becoming less competitive each passing season.
Another long standing record was broken, with All-Star game MVP Anthony Davis breaking Wilt Chamberlain's 55-year record of 42 points, with 52 of his own on the night. All-Star weekend was held in New Orleans, and the Pelicans' big man was hosting the prestigious event, so perhaps his teammates saw it fitting to help him achieve the record. If that wasn't enough, Davis' teammate Russell Westbrook dropped 41 points in just 20 minutes. Both teams shot above 56 percent and needless to say, little to no defense was played whatsoever.
Irving may only be slight in stature compared to others he shared the court with that night, but his competitive drive and burning desire to compete rages on more so than most. With that, Irving was a little disappointed in the defensive effort displayed in the main event via Cleveland.com.
"I think going forward, the All-Star experience will probably get a little harder in terms of defense," Irving said Sunday night.
Irving had three steals on the night to go along with 22 points, 14 assists and seven rebounds, but he would much rather a competitive game rather than putting up numbers.
Golden State Warriors head coach Steve Kerr coached the Western Conference All-Stars, and despite his conference taking home the victory, he echoed Irving's feelings.
"I think that in the past, at least generally in the fourth quarter, guys have picked it up," West coach Steve Kerr said. "That's what I was expecting. It didn't happen tonight. I would like to see it more competitive. I'm not sure how to do it."
Everyone including Irving knows it would be hard to bring an all-out affair in one off-game specially designed for the fans. It's very likely, especially considering the heavy workload throughout the year as well as the risk of injury, but in order to achieve this, Irving understands it would have to come from the players themselves and discussed beforehand.
"I told my team tonight, a couple of my teammates that I was just going to come out and try to come out aggressive and keep the pace going," Irving said. "But they're a little matador in terms of the layups that they let go, a few guys standing at halfcourt.

"It's all in good fun, but I definitely think that, if we want a competitive game, guys will probably have to talk about it before the game."
Fellow teammate and 13-time All-Star LeBron James took a different view despite his love to compete also. James, who has been under the spotlight again with the heavy minutes he's playing this season, explained that the game is for the fans, and that the most important thing is that no injuries are sustained which will hurt franchises.
"I think the biggest thing coming out of the game is that everybody leaves injury-free," James said. "We gave the fans what they wanted to see and everyone left injury-free. Another successful All-Star weekend for myself and everyone."
James has been a part of his fair share of competitive All-Star games at 32-years-old, and Irving understands there is a bigger picture at stake, especially for his Cavaliers, but being just 24-years-old he would love to mix it with the best in a competitive environment whilst he has the chance.
"Going forward, I'm sure we've got to talk about it and just go out and compete," Irving said.
This isn't the last you'll see Irving representing the East, but next time he'll be looking for a higher level of competition.
One thing is for sure, the Cavs will definitely need his fire and desire come playoff time.