If it wasn't already obvious, the NBA is a Point Guard-drive league. Skill sets of the demanding position always include impeccable finesse, robotic dribbling and what they lack in size they make up with play-making. The Cleveland Cavaliers boast one of the league's premiere Point Guards in Kyrie Irving; but when comparing Kyrie to his competition, you begin to get headaches over all the different combinations and split hairs. Ultimately, and most importantly for Cleveland, Irving is competent in fulfilling his role at the top of the key for this team. That said, Cavs Nation can't help but investigate where our Point Guard stands in the league's finest. Here are Cavs Nation's top 10 Point Guards in the NBA, today.
Start the gallery at #10 on the next page!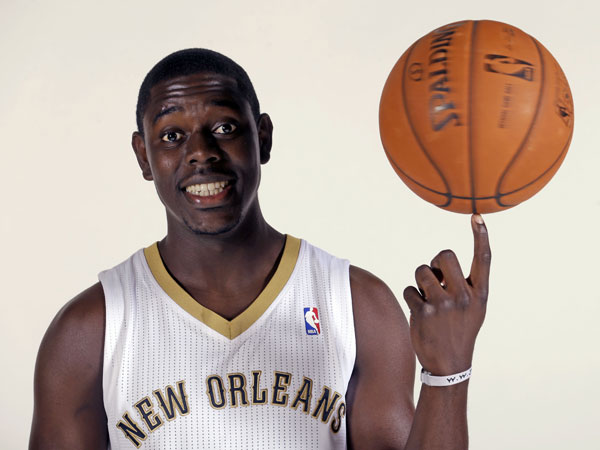 #10 Jrue Holiday – New Orleans Pelicans
The only point guard on the list whose team isn't doing to hot is Jrue Holiday. Even with above-par numbers, the Pelicans are only 13-13 and are 8 games behind division leader Memphis. Holiday, however, is holding his own, putting up 15.9 ppg, 7.1 apg, and 3.3 rpg while also limiting turnovers to 2 per game.
Continue to #9 on the next page!
#9 Jeff Teague – Atlanta Hawks
Also putting up career-highs is the Hawks' Jeff Teague. In 31.3 minutes per game, Teague is putting up 16.8 ppg, 7.0 apg, and 2.5 rpg, while also shooting 47%. His performance is helping Atlanta keep its 2nd place spot behind the Wizards in the Southeast Division.
Continue to #8 on the next page!
#8 Mike Conley – Memphis Grizzlies
Another point guard leading their team to the top of their division is the Grizzlies' Mike Conley. His 17.8 ppg, 6.2 apg, and 3.0 rpg are all career highs, and he is also shooting 46% and 40% from 3. Also minimizing his turnovers and fouls to 2.3 and 2.1 respectively, it is no wonder the Grizzlies are 21-5 and leading the Rockets by 1.5 games.
Continue to #7 on the next page!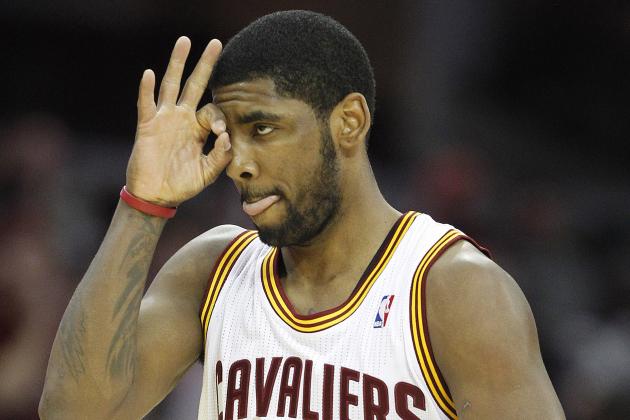 #7 Kyrie Irving – Cleveland Cavaliers
The big question coming into the season was how well Kyrie would adapt to playing with LeBron and K-Love. He has been silencing a lot of critics, coming in with numbers match his career stats, as well as improving his shooting. In 38 minutes per game, Kyrie is averaging 19.8 points, 5.2 assists, and 3 boards. He is also shooting 46.9%, with 39.9% from beyond the arc and 87.2% from the free throw line, all career highs. It's no wonder why the Cavs have won 7 of their last 10 and only sit a game and a half behind the Bulls.
Continue to #6 on the next page!
#6 Kyle Lowry – Toronto Raptors
Also putting up career-high stats is Toronto Raptor's point guard Kyle Lowry. Averaging 19.4 ppg, 7.8 apg, and 4.6 rpg, as well as 44% shooting, Lowry is a top 10 point guard. Some of the negatives he has are 3.1 fouls per game and 2.2 turnovers per game. With 8 double-doubles, and 5 coming in the last 10 games, he's leading the Raptors on a 5 game win streak and 21-6 overall record.
Continue to #5 on the next page!
#5 Russell Westbrook – Oklahoma City Thunder
The only reason Russell Westbrook isn't higher on this list is because he hasn't played a whole lot this season, missing 14 games with a broken hand. But in only 11 games back, his numbers have been very impressive, averaging 27.2 ppg, 7.2 apg, and 5.5 rpg in only 34 minutes. He's also shooting the best of his career with 47% and 33% from 3. On of the only negatives is the amount of turnovers, at 3.8 per game.
Continue to #4 on the next page!
#4 John Wall – Washington Wizards
Averaging a double-double, as well as leading point guards with 16 double-doubles, John Wall ranks 4th in top point guards so far. With averages of 17.9 ppg, 10.6 apg, 4.6 rpg, and a shooting percentage of 45%, it's no wonder the Wizards have 19-6 record and are in 1st place in the Southeast Division and are on a 6 game win streak.
John Wall also has this:
Continue to #3 on the next page!
#3 Damian Lillard – Portland Trailblazers
The Portland Trailblazers, led by an explosive Damian Lillard, are sitting atop the Northwest Division with a 21-6 record. Lillard is having a career season, putting up 21.6 ppg, 6.2 apg, and 5.1 rpg. He is also shooting 46% from the field and 39% from 3. Pair it with only 2.6 turnovers per game, and he ranks 3rd in the top point guards from around the league.
Continue to #2 on the next page!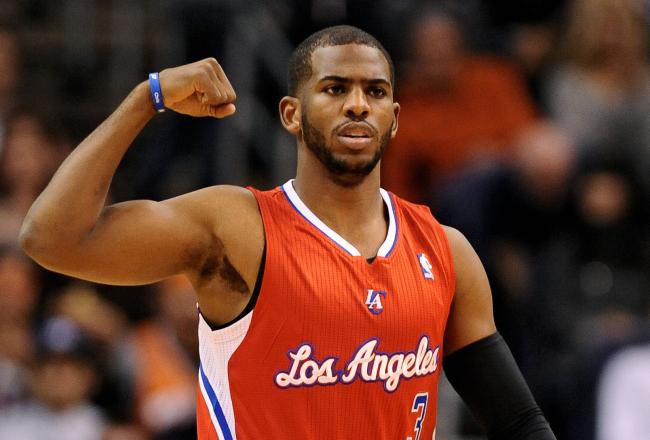 #2 Chris Paul – Los Angeles Clippers
Chris Paul is also having a terrific season, leading to the Clippers to an 18-8 record, placing them 2nd in the Pacific Division. Paul is averaging nearly a double-double with 17.5 ppg and 9.9 apg and has 14 double-doubles and 1 triple-double this season. Paul is also limiting turnovers with 2.1 per game.
Continue to the next page to see the NBA's top Point Guard today:
#1 Stephen Curry – Golden State Warriors
Steph Curry is undoubtedly one of the best point guards in the league. With 23.9 ppg, 7.6 apg, and 5.3 rpg, he is having his best season. On top of those stats he is shooting 48.5% from the field and 39% from beyond the arc, while only averaging 3.3 turnovers per game with 2.2 fouls.
Continue to the next page to see the Point Guards who just missed the top 10:
Honorable Mentions:

Ty Lawson (Denver Nuggets): 15.2 ppg, 10.7 apg, 3.1 rpg, 40% shooting, 3.1 TO

Could easily make argument to switch with Jrue Holiday.
Brandon Knight (Detroit Pistons): 17.5 ppg, 5.4 apg, 4.6 rpg, 43% shooting, 3.4 TO

Kemba Walker (Charlotte Bobcats): 16.4 ppg, 5.6 apg, 4.2 rpg, 40% shooting, 1.5 TO

Very clutch late, but very inconsistent early.
Eric Bledsoe (Phoenix Suns): 15.8 ppg, 5.7 apg, 4.9 rpg, 44% shooting, 3.3 TO

Young, getting better. Couple years away from top 10 caliber.
Derrick Rose (Chicago Bulls): 16.8 ppg, 5.1 apg, 3.3 rpg, 42.1% shooting, 3.3 TO
Quite simply, if he's healthy he can be the most unstoppable player in the NBA let alone the best PG.
Rajon Rondo (Dallas Mavericks): 8.2 ppg, 10.7 apg, 7.5 rpg, 39% shooting, 3.9 TO
Coming off injury and transitioning into a new team has hurt his performance significantly, but once he's back on his feet he will undoubtedly return to the passing Point Guard bar he set.