Kyle Korver switching from Kobe to Kyrie shoes to alleviate tension on foot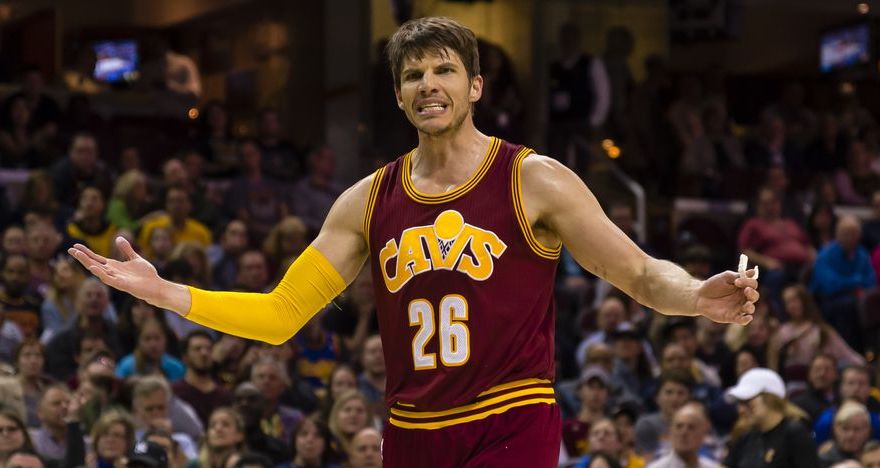 Having missed 10 games in March due to an inflamed tendon in his left foot, the Cleveland Cavaliers are taking a cautious approach to Kyle Korver's injury. Part of the recovery process is not rushing him back on the floor until he fully heals, as well as allowing him to choose what footwear he wishes to use.
It has been reported by Joe Vardon of Cleveland.com that the 36-year-old Creighton product will switch from the Nike Kobe A.D. he previously wore to the Kyrie 3 shoes which has built-in extra support to alleviate some of the tension in his foot.
However, his teammate, Kyrie Irving, made it clear that he did not ask him to wear his kicks but is happy to know that he finds them comfortable and provides enough support to his recovering foot.
"I didn't tell Kyle to switch to my shoe, but that's awesome that it works for him."
The Cavs traded for Korver earlier this season to address their need for a knockdown shooter from the wing spot as well as his ability to play multiple positions. He has been playing better in 29 appearances for the Wine and Gold than he did with the Atlanta Hawks this year, with averages of 10.9 points, including 2.8 makes from beyond the arc, along with 2.7 rebounds and 1.0 assists.
The team is hoping the shoes will do the trick and will allow him to return to action soon. The Cavaliers only have six games left on their regular season schedule. Should Korver be cleared to play once again, he can use their remaining matches to get back into shape in order to be a major factor in their title defense.