The Cleveland Cavaliers have a major decision to make concerning the direction of the franchise in the wake of LeBron James' departure. They can attempt to make the playoffs this year, or they can fully commit to a rebuild. While fans can't get into general manager Koby Altman's head, there will be moves made that will tip Cleveland's hand. The biggest indicator of the Cavs' direction will be whether or not Kevin Love is traded.
When the Cavaliers traded Andrew Wiggins (and Anthony Bennett) for Love in the summer of 2014, they got one of the most dominant players of the past few years. In 2013-2014, Love averaged 26.1 points, 12.5 rebounds, and 4.4 assists per game, while shooting 46 percent from the field and 38 percent from beyond the arc.
When Love got to Cleveland, his role completely changed. Behind LeBron James and Kyrie Irving, Love became the third wheel. He was essentially relegated to standing in the corner, spacing the floor, and waiting for a pass off of a James or Irving drive.
He did get some post touches, but not nearly as many as he did in Minnesota. He averaged 16.4 points, 9.7 rebounds, and 2.2 assists per game while shooting 43 percent from the field and 37 percent from deep. Because he received less attention from opposing defenses, Love should theoretically shot better than he did as a member of the Timberwolves, but he didn't.
Once the playoffs began, the Cavs started playing some very good basketball, and they looked as if they had finally gelled as a team.
And then, during a short rebound sequence, everything changed.
Love's shoulder was separated, and he would miss the rest of the playoffs. The Cavaliers put up a valiant effort, but without Love (and later Irving), they just didn't have the firepower to outlast the upstart Golden State Warriors.
The next season, Love's numbers were extremely similar to what they were the year before. This time, however, Love made it through the playoffs injury-free, and Cavs and Warriors had a showdown with both teams healthy.
Love wasn't exactly great in the series, but he will forever be remembered for his defensive effort on Golden State's last shot to win the game.
In 2016-2017, Love struggled through a knee injury, but managed to make the All-Star team for the first time with the Cavs. Due to his injury, he was unable to play in the All-Star game. After Cleveland breezed through the playoffs, the Warriors, now with Kevin Durant, proved too tall a task for the Cavaliers, and Cleveland fell in five games. Love suffered a concussion in Game 2, but when when he did play, he wasn't very good.
In the offseason before the 2017-2018 campaign, Irving was traded to the Boston Celtics, and with new Cavalier Isaiah Thomas on the mend, Love moved into the secondary scorer's role, at least on paper.
In reality, Love's usage and offensive involvement didn't increase drastically (he actually averaged 2.1 fewer shot attempts per game), but he had his most efficient season since 2010-2011. He scored 17.6 points per game and shot 46 percent from the field and 42 percent from distance. He again was voted an All-Star, but was unable to participate in the game due to a wrist injury.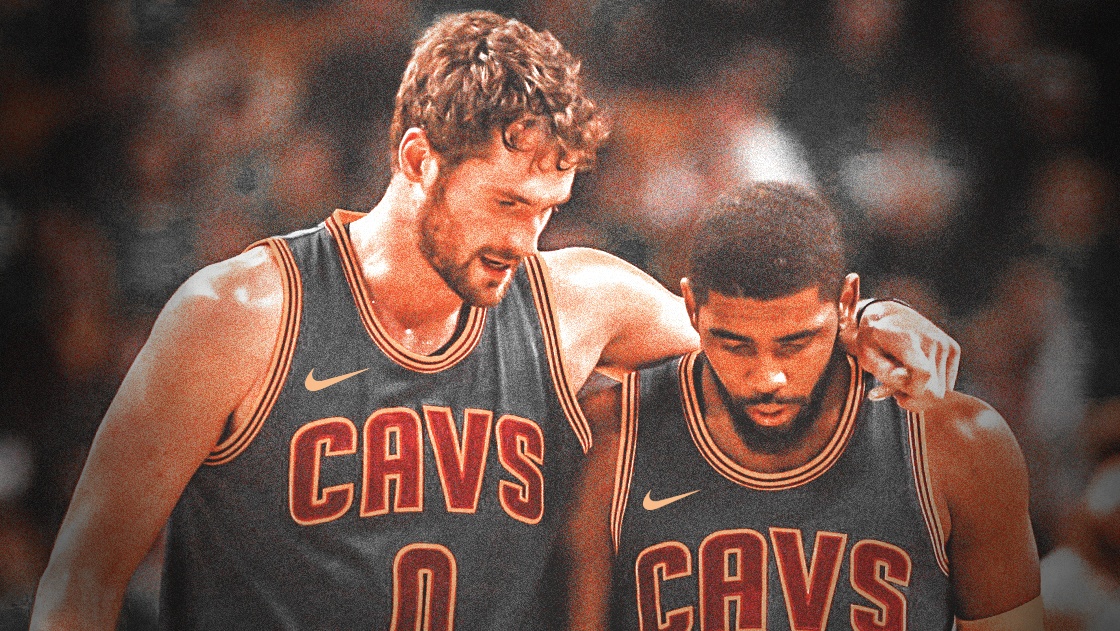 In the NBA Finals, Cleveland was swept by Golden State, but Love had his best championship series by far. He averaged 19.0 points, 11.3 rebounds, and 1.8 assists per game, while shooting 41% from the field and 32% from three. He didn't shoot all that well, but at the very least he proved that all the talk of him being a terrible fit against the Warriors was overblown.
Of course, even if that were the case, it doesn't matter anymore. The Cavs aren't going to be in the NBA Finals this year (or anytime soon).
The Cavaliers have stated publicly that they have no interest in trading Love, and have every intention of competing for a playoff berth this season.
This may or may not be true. The organization can't really say anything else. It would be quite the public spectacle for a professional sports team to come out and say "yes, we're going to trade our best player and we want to get a high lottery pick". Marc Cuban's Dallas Mavericks did as much last year, and they paid the price.
That mindset is what the Cavs should have, whether they admit it or not. The Atlanta Hawks own Cleveland's 2019 first-round pick if it falls outside of the top 10, so if the Cavaliers want to continue to add premium talent, they will need to become a high lottery team. And the best way to do that is to trade Love.
Now, Love's value is not what it was when he was traded originally, but he is still an All-Star, and one of the best power forwards in the game. He is still only-29 years-old, so he has plenty of time left in the league. In any trade package, the Cavs should look to acquire at least one good young player and a first-round pick. The Miami Heat, Portland Trailblazers, and Los Angeles Lakers are three teams that have been rumored as possible destinations for Love.
If the Cavaliers want to increase Love's trade value, they can always keep him until the trade deadline, force-feeding him the ball in the regular season in order to improve his stats.
If he can put up numbers similar to what he used to do in Minnesota, perhaps another team will give Cleveland an offer they cant't refuse. According to at least one report, this is precisely what the Cavs intend to do with Love.
If the Cavaliers decide to keep Love for good, making the All-Star team for a third consecutive season should be easy for him. With rookie Collin Sexton likely to be Cleveland's second-leading scorer, Love could end up attempting 19 shots per game like he did in 2011-2012.
At the very least, it would be interesting to see if Love could lead a team to the playoffs in the relatively weak Eastern Conference. The eight seed is up for grabs, and the Cavs would be competing with teams like the Charlotte Hornets and Miami Heat.
The problem is, the worst possible thing Cleveland can do is finish in ninth or tenth place in the East. Not only would they not make the playoffs, but their draft pick would most likely fall outside of the top 10. So nothing would have been accomplished.
The Cavaliers (hopefully) have a plan for the future, and Kevin Love is possibly the largest part of that, whether he is traded or not.